LPDB-KUMKM Edukasi Akses Modal Usaha Wirausahawan Pemula dan `Startup`
Indonesian Govt Socializes Access to Business Capital for Young Entrepreneurs
Reporter : Gusmiati Waris
Editor : Cahyani Harzi
Translator : Dhelia Gani

PUBLISHED: Kamis, 01 November 2018 , 20:42:00 WIB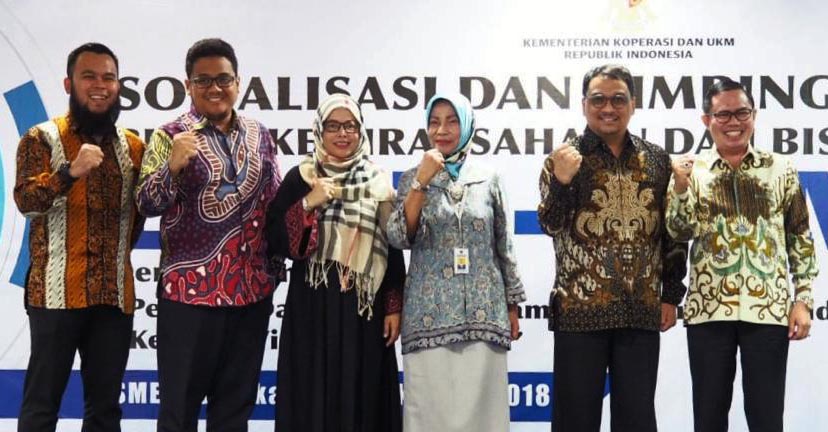 BIMTEK & SOSIALISASI: Direktur Pembiayaan Syariah Jaenal Aripin dan Direktur Bisnis LPDB-KUMKM, Iman Pribadi bersama Deputi Pembiayaan Kemenkop UKM, Yuana Sutyowati (ke-3 kanan) dan peserta Bimtek (Foto: istimewa)
Jakarta (B2B) - Sebagai rangkaian acara dari Insyaf (Indonesia Syariah Fair) yang akan dilaksanakan pada tanggal 27-29 November 2018 di Balai Kartini, Jakarta, Lembaga Pengelola Dana Bergulir Koperasi dan Usaha Mikro, Kecil dan Menengah (LPDB-KUMKM) menggelar Sosialisasi dan Bimbingan Teknis Bisnis Kewirausahaan dan Bisnis Startup di Smesco Indonesia.
Kegiatan yang diperuntukkan bagi para pelaku usaha pemula atau startup binaan Serikat Saudagar Nusantara (SSN) yang usahanya baru berusia di bawah 2 tahun tersebut, merupakan langkah dalam memberikan pemahaman dan berbagai informasi mengenai akses pembiayaan, baik melalui LPDB-KUMKM maupun perbankan yang menjadi mitra LPDB-KUMKM.
Dalam sambutannya, Direktur Pembiayaan Syariah LPDB-KUMKM, Jaenal Aripin, mengungkapkan, "Kegiatan ini bertujuan untuk memperluas akses permodalan bagi para pelaku UMKM dan pelaku bisnis startup, dan mensosialisasikan penyaluran pembiayaan dana bergulir LPDB-KUMKM."
Menurut Jaenal, pihaknya telah menggandeng perbankan syariah sebagai alternatif pembiayaan bagi UMKM pemula ataupun startup, guna memudahkan akses permodalan usaha.
Hal tersebut diamini Direktur Bisnis LPDB-KUMKM, Iman Pribadi, yang mengatakan bahwa peserta dalam acara tersebut diikuti oleh mayoritas pelaku usaha pemula atau startup yang masih di bawah 2 tahun. Maka dari itu LPDB-KUMKM berupaya memberikan bimbingan teknis untuk mendapatkan akses pembiayaan dana bergulir ataupun pembiayaan dari perbankan.
"Agar mereka mengetahui bahwa LPDB, jika tidak dapat memberikan akses pembiayaan, bisa melalui perbankan yang merupakan mitra LPDB-KUMKM," tegas Iman.
Selain itu, kegiatan sosialisasi juga merupakan upaya mewujudkan tujuan pemerintah dalam rangka pengembangan kewirausahaan untuk menciptakan lapangan kerja baru, dengan memberikan edukasi kepada pelaku usaha UMKM dalam hal akses permodalan.
Iman juga menjelaskan bahwa upaya tersebut merupakan sinergi antara Kementerian Koperasi dan UKM dengan LPDB-KUMKM sebagai satuan kerja dengan berbagai institusi jasa keuangan, sebagai wujud implementasi ´LPDB-KUMKM sebagai lembaga yang inklusif´ dalam pengembangan sektor produktif di Indonesia.
Iman berharap, para pelaku usaha pemula atau startup dapat membawa banyak manfaat dan informasi yang berguna untuk mengakses Dana Bergulir LPDB-KUMKM bagi pengembangan bisnisnya.
"Diharapkan dari kegiatan ini nantinya ada wirausaha pemula yang bisa mendapatkan akses permodalan melalui program ini baik secara langsung dari Kementerian Koperasi dan UKM, LPDB-KUMKM maupun program dana bergulir yang disalurkan melalui lembaga perantara mitra LPDB-KUMKM," tambah Iman.
Jakarta (B2B) - As the series of Indonesia Syariah Fair activities or the Insyaf here, 27 to 29 November 2018, so the Indonesia´s fund management institutions lending to cooperatives and SMEs or the LPDB-KUMKM held socialization and technical guidance on entrepreneurship and Startup business in Smesco Building, Jakarta.
Activities intended for startups assisted by the Serikat Saudagar Nusantara (SSN) to provide understanding and information about access to business capital financing through LPDB-KUMKM or LPDB partner banks.
In his remarks, Director of Sharia Financing LPDB-KUMKM Jaenal Aripin said the activity was aimed at expanding capital access for SME entrepreneurs and startup businesses, and dissemination of LPDB venture capital financing."
According to Mr Aripin, his party has cooperated with Islamic banking as an alternative financing for beginner SMEs or startups, to facilitate access to business capital.
It was justified by the Director Business of the LPDB-KUMKM, Iman Pribadi said that some participants are startups under two years, and LPDB-KUMKM provides technical guidance on business capital loans.
"The goal is provide information and socialization to prospective entrepreneurs to get access of business capital from banks," Mr Pribadi said.
In addition, socialization activities are also an effort to realize the government´s goal of developing entrepreneurship to open employment opportunities, by educating SMEs to access business capital loans.
Mr Pribadi explained that the effort was a ministry synergy with LPDB with various financial service institutions, to realize LPDB as an inclusive institution to support the development of productive sectors in Indonesia.
Mr Pribadi expects startups to provide many benefits and information that is useful for accessing business capital loans from LPDB to develop their businesses.
"It is expected that from this activity, there will be novice entrepreneurs who have access to capital directly from the ministry or LPDB-KUMKM," Mr Pribadi said.