Jamsyar Komitmen Dukung Pemulihan Ekonomi Nasional
Indonesia Anticipate Covid-19 by Weaker Health Systems
Reporter : Gusmiati Waris
Editor : Cahyani Harzi
Translator : Dhelia Gani

PUBLISHED: Selasa, 28 Juli 2020 , 02:10:00 WIB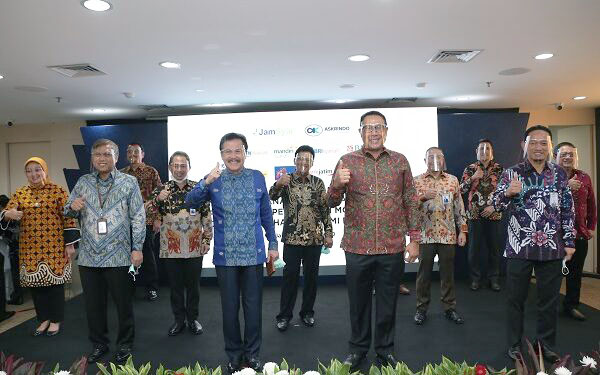 PELAKU UMKM: Jamsyar berupaya memastikan agar pelaku usaha mikro, kecil dan menengah [UMKM] dapat bertahan dan bangkit, sehingga dapat berkontribusi pada perekonomian nasional [Foto: Humas Jamsyar]
Jakarta [B2B] - Kegiatan usaha penjaminan atas pembiayaan lembaga keuangan syariah, PT Jaminan Kredit Indonesia Syariah [Jamsyar] berkomitmen mendukung program Pemulihan Ekonomi Nasional [PEN] melalui kerjasama dengan PT Askrindo Syariah, untuk mendukung penjaminan pembiayaan modal kerja yang disalurkan oleh perbankan syariah di tengah pandemi Covid-19 yang berdampak pada perekonomian nasional.
"Jamkrindo Syariah atau Jamsyar berkomitmen mendukung penuh program PEN yang diinisiasi oleh pemerintah untuk melindungi, mempertahankan dan meningkatkan ekonomi para pelaku usaha yang terdampak oleh pandemi Covid-19," kata Direktur Utama Jamsyar, Gatot Suprabowo usai penandatanganan kerjasama di Jakarta, Senin [27/7].
Menurutnya, melalui penjaminan pembiayaan modal kerja maka Jamsyar berupaya memastikan agar pelaku usaha mikro, kecil dan menengah [UMKM] dapat bertahan dan bangkit, sehingga dapat berkontribusi pada perekonomian nasional.
Direktur Utama PT Jamkrindo, Randi Anto mengatakan bahwa perjanjian kerja sama tersebut menindaklanjuti kerjasama sebelumnya yang dilakukan Jamkrindo dan Askrindo dengan beberapa bank umum pada awal Juli lalu [7/7].
"Adapun terjamin yang dapat dijamin adalah UMKM yang berbentuk usaha perorangan dan badan usaha yang terdampak pandemi Covid-19," kata Randi Anto.
Menurutnya, pihak terjamin dapat menerima pinjaman untuk modal kerja hingga Rp10 miliar. Terjamin juga tidak masuk dalam Daftar Hitam Negara [DHN] serta memiliki pembiayaan dalam kualitas performing financing per 29 Februari 2020.
Hingga Juni 2020, Jamsyar membukukan volume penjaminan Rp15,66 triliun atau meningkat secara YoY sebesar 119,75%. Ada pun pencapaian Imbal Jasa Kafalah Jamsyar mencapai Rp160,35 miliar.
"Pada posisi Juni 2020, total aset Jamsyar mencapai Rp1,22 triliun atau tumbuh 115 % dibandingkan 2019," kata Gatot Suprabowo.
Jakarta [B2B] - Unit of sharia companies of a subsidiary of Credit Guarantee Indonesia Corp., locally known as the Jamkrindo, Jamkrindo Syariah called the Jamsyar targets business growth in 2020 for guarantee up to IDR35.01 trillion by adding business partners without loosening the quality of services to meet the needs of the insured. The target achievement will be supported by the development of 14 service unit offices, by exploring business potential in eight cities without neglecting the potential of the region, and local development banks in the local area become business partners.