Tekuluk Jambi, Smesco Promosikan Penutup Kepala Wanita khas Melayu
Indonesian Ministry Promotes Jambi Culture and Craft in Jakarta
Reporter : Gusmiati Waris
Editor : Cahyani Harzi
Translator : Dhelia Gani

PUBLISHED: Minggu, 25 November 2018 , 21:06:00 WIB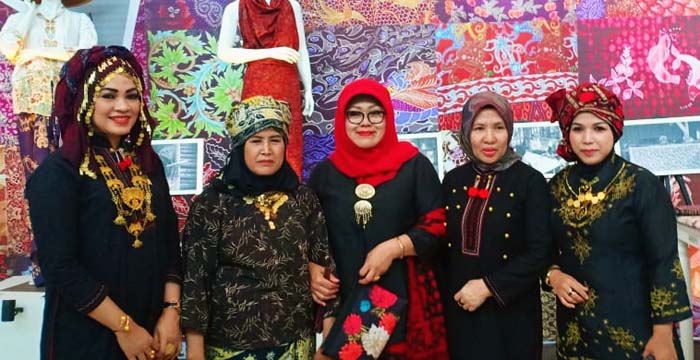 PROMOSI BUDAYA: Direktur Utama Smesco Indonesia, Emilia Suhaimi (hijab merah) bersama Kepala Museum Siginjai Jambi, Nurlaini (ke-2 kiri) dan kaum wanita Jambi mengenakan tekuluk (Foto: Humas LLP)
Jakarta (B2B) - Tekuluk, penutup kepala wanita khas Jambi berbahan dasar kain atau songket dan batik menjadi ´maskot´ dari pameran batik dan pakaian adat bertajuk Jambi Tuntas Festival, yang dibuka oleh Plt Gubernur Jambi H Fachrori Umar didampingi Direktur Utama Smesco Indonesia, Emilia Suhaimi di Jakarta, Minggu (25/11).
Emilia Suhaimi mengatakan Jambi Tuntas Festival disingkat JTF merupakan event daerah ke-5 untuk memperkenalkan produk dan budaya Jambi, membuka interaksi perajin Jambi dengan publik maupun mengenal kuliner dan kerajinan khas Jambi yang sulit ditemukan di pasaran saat ini.
"Contohnya tekuluk ini sebagai penutup kepala wanita dari batik atau songket Jambi. Kami berterima kasih kepada para pihak yang mendukung pengembangan KUMKM di setiap provinsi," kata Emilia Suhaimi.
Kepala Museum Siginjai Jambi, Nurlaini mengatakan tekuluk merupakan warisan leluhur yang mulai ditinggalkan, dan seiring perjalanan waktu mengalami perubahan bentuk dan saat ini tercatat ada sekitar 98 jenis tekuluk di Jambi.
"Keberadaan tekuluk sendiri diketahui ada sejak zaman Kerajaan Melayu, sebuah kerajaan di Sumatera sekitar abad ke-7. Pada masa itu, tekuluk dipakai kaum ibu dalam berbagai kegiatan," kata Nurlaini.
Jakarta (B2B) - Tekuluk, a typical Jambi female headgear from songket or batik being a ´mascot´ for a traditional clothing exhibition titled Jambi Tuntas Festival, who was opened Acting Jambi Governor Jambi H Fachrori Umar accompanied by the Director of Smesco Indonesia, Emilia Suhaimi here on Sunday (November 25).
Mrs. Suhaimi said Jambi Tuntas Festival was the 5th promotional event for Jambi culture, also promotion of Jambi handicrafts and culinary products that are hard to find on the market today.
"For example, tekuluk as a women´s head covering from batik or songket Jambi. We thank the parties who support the development of SMEs in each province," she said.
Director of the Siginjai Jambi Museum, Nurlaini, said that Tekuluk is an ancestral heritage, and has changed its form and currently there are around 98 types of tekuluk in Jambi.
"Tekuluk was used in the Malay Kingdom in Sumatra in the 7th century. At that time, Tekuluk was used by women for various activities," Nurlaini said.