Bali Open 2018 Didominasi PTMSI Badung, Kopkar Tirtaasih Buleleng Jawara
Indonesia`s Table Tennis Competition the 2018 Bali in Denpasar was Closed
Reporter : Gusmiati Waris
Editor : Cahyani Harzi
Translator : Dhelia Gani

PUBLISHED: Selasa, 03 Juli 2018 , 21:16:00 WIB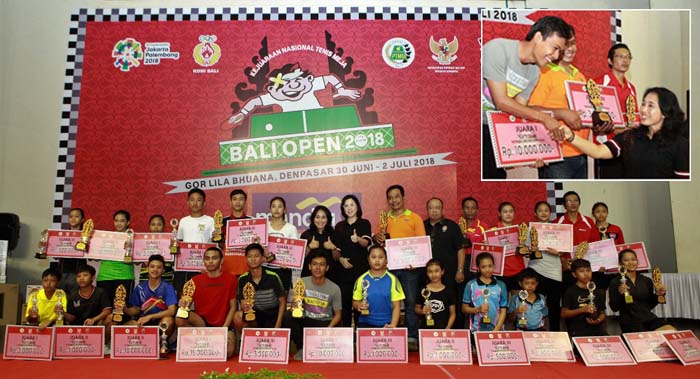 Ketua PTMSI Bali, Bintang Puspayoga menyerahkan medali dan hadiah uang pembinaan Rp10 juta kepada juara pertama Bali Open 2018 (inset atas) dan foto bersama para pemenang (Foto2: Humas Kemenkop UKM)
Denpasar, Bali (B2B) - Atlet tenis meja dari Persatuan Tenis Meja Seluruh Indonesia (PTMSI) Kabupaten Badung mendominasi Bali Open 2018, yang berakhir Senin (2/7). Ketua PTMSI Provinsi Bali, Bintang Puspayoga mengapresiasi dukungan keluarga pada putra-putri mereka yang bersaing dengan 349 atlet untuk memperebutkan hadiah Rp171 juta, sementara puluhan doorprize berupa barang elektronik diperebutkan atlet dan penonton melalui undian.

PTMSI Badung mendominasi Bali Open 2018 dengan meraih lima posisi terhormat, dua atlet juara pertama, satu orang juara kedua, dan dua atlet juara ketiga. Sementara PTM Rajawali menorehkan prestasi dengan mengantarkan lima atletnya meraih medali pada kejuaraan tenis meja yang dibuka oleh Kapolda Bali Irjen Petrus Reinhard Golose, Sabtu (30/6), dan ditutup pada Senin (2/7) oleh Bintang Puspayoga.

"Bali Open 2018 berjalan sukses tak lepas dari dukungan Kementerian Koperasi dan UKM, Polda Bali, dan para sponsor yang mendukung pelaksanaan acara sehingga berlangsung meriah," kata Bintang Puspayoga.

Menurutnya, Bali Open 2018 merupakan agenda tahunan PTMSI Bali sebagai rangkaian dari kegiatan Hari Bhayangkara dan Hari Koperasi Nasional (Harkopnas). Diikuti 349 peserta yang dibagi dalam sembilan kategori peserta dari seluruh kelompok usia, dan kalangan masyarakat seperti antar instansi pemerintah, koperasi dan UKM, maupun antar wartawan, dan panitia menyediakan hadiah total Rp349 juta.
Denpasar of Bali (B2B) - Table tennis athletes of Bali´s Indonesia Table Tennis Association or PTMSI and athletes of Badung district dominate the 2018 Bali Open in Denpasar, the provincial capital of Bali, which closed on Monday (July 2). Head of the PTMSI Bali province, Bintang Puspayoga appreciate the support of families for their children that compete with 349 athletes.

The PTMSI Badung dominates the 2018 Bali Open after winning five medals, while PTM Rajawali also won five medals at a provincial table tennis competition opened by Bali Police Chief Inspector General Peter Reinhard Golose on Saturday (Juny 30) and closed on Monday (July 2) by Bintang Puspayoga.

"The 2018 Bali Open run successfully supported by Indonesian Cooperatives and SMEs, Bali Police, and sponsors who support table tennis competition," Mrs Puspayoga said.

According to her, the Bali Open 2018 is the annual agenda of PTMSI in Bali as a series of commemoration activities of police day and Indonesian cooperative day. followed by 349 which was divided into nine categories of participants from all age groups, and civil society such as civil servants, cooperative managers and SME entrepreneurs, journalists, to compete for a total prize of 349 million rupiah.