Caleg Gagal Pilih ke `Orang Pintar` Atasi Stres Pasca Pemilu
Sleepless Nights for Indonesia`s Election `Losers`
Editor : Ismail Gani
Translator : Novita Cahyadi

PUBLISHED: Kamis, 25 April 2019 , 02:12:00 WIB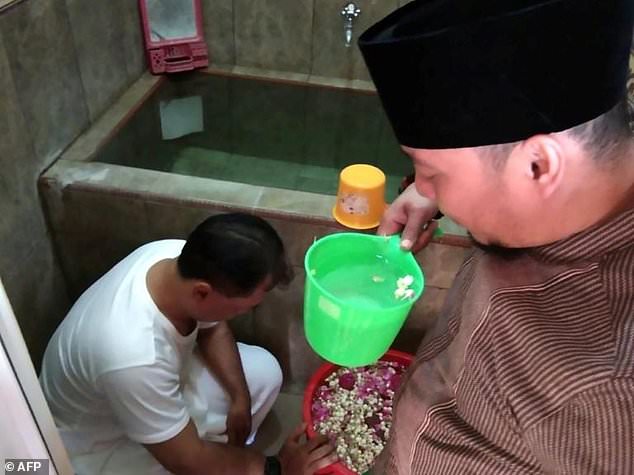 Foto: AFP/MailOnline
CALON legislatif [Caleg] Yayat Abdurahman bertaruh bahwa dia akan terpilih di antara sekitar 245.000 Caleg yang bersaing pada Pemilu serentak pekan lalu, tapi impiannya menjadi anggota parlemen memudar dengan cepat setelah surat suara pemilih dihitung.

Gagal melenggang ke Senayan membuat Yayat tertekan dan memutuskan untuk konsultasi ke pusat penyembuhan minta didoakan seorang ulama agar tidak stres dan kemudian menyiramnya dengan air berisi bunga sebagai bagian dari ritual penyembuhan.

"Awalnya saya optimis dan merasa percaya diri," katanya.

"Saya pikir 'saya harus menang, saya harus mendapatkan suara terbanyak'. Tapi sekarang saya merasa lebih ragu."

Apabila Yayat Abdurahman kalah dalam Pemilu yang berlangsung di negara demokrasi terbesar ketiga di dunia yang akan diumumkan oleh Komisi Pemilihan Umum [KPU] bulan depan, dia tidak akan sendirian.

Lebih dari 200.000 kandidat di negara mayoritas Muslim dipastikan gagal terpilih, mengakibatkan sebagian besar dari mereka kehilangan pekerjaan dan setumpuk utang karena biaya kampanye yang besar.

"Mereka stres, mereka tidak bisa tidur," kata Ujang Busthomi, kepala pusat penyembuhan Islam di kota Cirebon Jawa Barat, di mana Abdurahman bergabung dengan sekitar setengah lusin Caleg yang mengikuti pengobatan pasca Pemilu serentak.

"Mereka kehabisan uang dan tidak tahu bagaimana mereka akan melunasi utang mereka," tambahnya.

Caleg Gagal
Sejumlah rumah sakit di seluruh Indonesia tengah siaga menanti kedatangan pasien pasca Pemilu untuk menjalani pengobatan guna mengatasi stres, depresi dan penyakit lain.

Rumah sakit dimaksud antara lain rumah sakit jiwa di Makassar di Sulawesi Selatan yang melakukan renovasi sebelum Pemilu untuk memberi peluang bagi 'Caleg gagal' untuk menjalani pengobatan kejiwaan.

"Dalam pemilihan legislatif terakhir ada kandidat yang dimasukkan ke rumah sakit karena gangguan kejiwaan atau depresi setelah mereka gagal terpilih," kata direktur rumah sakit Dadi Arman Bausat.

"Setiap kali ada pemilihan, sejumlah Caleg gagal dirawat di rumah sakit."

Sementara para politisi di negara-negara lain juga menghadapi risiko kegelisahan pascapemilu, sistem Indonesia meningkatkan peluang.

Caleg tidak menerima dukungan keuangan dari partai mereka dan mereka harus membayar uang muka dari kantong mereka sendiri untuk menjalankan - dan seringkali berakhir dengan bersaing melawan saingan dan sesama anggota partai yang mungkin dekat dengan mereka, secara pribadi dan politik.

Bahkan bagi para pemenang, kemenangan di Indonesia yang penuh dengan korupsi dapat berarti mengambil suap untuk melunasi hutang kampanye yang besar, kata pengamat.

Rasmi Sikati tahu akibat dari kekalahan di Pemilu.

Wanita berusia 38 tahun itu membatalkan pencalonannya dalam Pemilu tahun ini setelah mengingat waktu, energi dan uang yang dihabiskan setelah gagal menjadi Caleg DPRD pada 2014 seperti dikutip AFP yang dilansir MailOnline.

"Jumlah uang yang harus saya keluarkan tidak sedikit - itu jutaan rupiah (ribuan dolar)," kata Sikati yang menggunakan nama samaran.

"Tapi itu tidak seberapa dibandingkan dengan harga diriku. Saya malu dan stres. Itu adalah beban psikologis terberat."
POLITICAL hopeful Yayat Abdurahman bet that he would be a winner among some 245,000 candidates in Indonesia's huge election last week, but his dreams of public office are fading fast as the votes get tallied.

So the stressed-out candidate checked into an Islamic healing centre where a cleric prayed for his future and doused him in flower-infused water as part of traditional cleansing ritual.

"At the beginning I was optimistic and feeling confident," he said.

"I thought 'I have to win, I have to get the most votes'. But now I'm feeling more doubtful."

If Abdurahman loses when the world's third-biggest democracy publishes official results next month, he won't be alone.

More than 200,000 candidates in Muslim majority Indonesia's biggest-ever election will miss their goal, leaving many with no job and often huge campaign debts.

"They are stressed out, they can't sleep," said Ujang Busthomi, head of the Islamic healing centre in West Java's Cirebon city, where Abdurahman joined some half a dozen candidates admitted for post-election treatment.

"They have run out of money and don't know how they'll pay off their debts," he added.

- Wounded political warriors -
Hospitals nationwide have been gearing up for an expected influx of post-poll patients seeking treatment for stress, depression and other maladies -- an election-time staple in the Southeast Asian archipelago.

Among them is a psychiatric hospital in Makassar on Sulawesi island that did a pre-election renovation to make way for wounded election warriors.

"In the last legislative elections there were candidates put in hospital because they had psychiatric disorders or depression after they failed to get elected," said Dadi hospital director Arman Bausat.

"Every time there's an election, some candidates get hospitalised."

While politicians in other countries are also at risk of post-election anxiety, Indonesia's system raises the odds.

Hopefuls do not receive financial support from their parties and they have to fork out a down payment from their own pockets to run -- and often end up competing against both rivals and fellow party members who they may be close to, personally and politically.

Even for the winners, victory in corruption-riddled Indonesia can mean resorting to taking bribes in order to pay off big campaign debts, observers said.

Rasmi Sikati knows the bitter sting of political defeat.

The 38-year-old cancelled her candidacy in this year's polls after recalling the time, energy and money spent on an unsuccessful run for a local legislative job in 2014.

"The amount of money I had to spend wasn't small -- it was millions of rupiah (thousands of dollars)," Sikati told AFP, using a pseudonym.

"But that's nothing compared to my self-esteem. I was embarrassed and hurt. That was the heaviest psychological burden."