PLN Kolaps, Presiden Jokowi Marah pada Plt Dirut Sripeni Inten Cahyani
Indonesia President Bashes State Power Company over Blackouts
Editor : Ismail Gani
Translator : Novita Cahyadi

PUBLISHED: Selasa, 06 Agustus 2019 , 02:12:00 WIB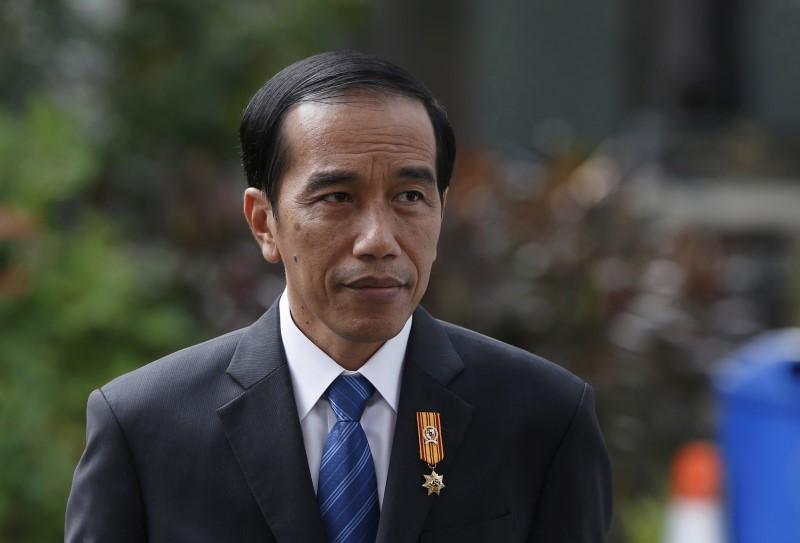 Presiden RI Joko Widodo [Foto: Reuters]
PERUSAHAAN listrik negara, PLN, seharusnya memiliki rencana untuk mencegah pemadaman listrik besar-besaran yang merugikan 21 juta pelanggan di Jakarta dan provinsi lainnya, kata Presiden RI Joko Widodo pada Senin [5/8].
Setelah pemadaman listrik terbesar dalam 14 tahun terakhir, Minggu, Presiden Jokowi mendesak untuk mengetahui mengapa utilitas PT Perusahaan Listrik Negara (PLN) tidak memiliki rencana cadangan mengingat sejarahnya pemadaman.
"Hal-hal yang dapat menyebabkan pemadaman listrik ini tidak boleh terjadi lagi," kata Jokowi kepada pimpinan BUMN tersebut saat berkunjung ke kantor pusat PLN, seraya menyerukan perbaikan harus dilakukan dengan cepat seraya mempertanyakan tata kelola risiko.
Jakarta, pusat pemerintahan dan bisnis di Indonesia, mengalami pemadaman berkala yang biasanya berlangsung singkat dan terbatas pada area tertentu.
Listrik mati sekitar tengah hari pada Minggu setelah sirkuit transmisi yang salah memicu "tegangan cascading" yang memutus pembangkit listrik yang memasok listrik ke bagian barat pulau Jawa, yang meliputi ibukota, kata PLN.
Pemadaman itu, yang terbesar sejak kegagalan transmisi memutuskan aliran listrik di Jawa dan Bali pada 2005, menghentikan sistem kereta bawah tanah [MRT] Jakarta dan jalur kereta komuter, sehingga penumpang dirugikan.
Banyak kawasan di Jakarta kota masih mati lampu setidaknya selama sembilan jam, dan pada Senin masih ada keluhan di Twitter bahwa daya belum dipulihkan di beberapa daerah setelah 30 jam pemadaman listrik.
Rida Mulyana, Direktur Jenderal Listrik di Kementerian ESDM, mengatakan 21 juta sangat terpengaruh oleh pemadaman listrik.
Plt Direktur Utama PLN, Sripeni Inten Cahyani, mengingatkan tentang pemadaman berlanjut termasuk pemadaman bergilir, karena PLN berupaya memulihkan pasokan listrik.
Pembangkit listrik tenaga batu bara, yang memasok sebagian besar daya di pulau Jawa yang berpenduduk padat, membutuhkan "awal yang dingin" setelah pemadaman yang lama, kata Cahyani.
Menjelang tengah hari pada Senin, PLN mengatakan sejumlah pembangkit listrik telah dimulai kembali dan 23 gardu induk beroperasi. Tidak disebutkan berapa banyak rumah tangga dan bisnis yang masih tanpa listrik seperti dikutip Reuters yang dilansir MailOnline.
INDONESIA`S state power company PLN should have had plans in place to prevent a major electricity blackout that affected 21 million customers in Jakarta and neighbouring provinces, President Joko Widodo said on Monday.
In the wake of the biggest power outage in 14 years on Sunday, Widodo demanded to know why the utility PT Perusahaan Listrik Negara (PLN) did not have a back-up plan given its history of blackouts.
"Things that can cause this big event should not happen again in the future," Widodo told senior managers during a visit to PLN headquarters, calling for repairs to be made quickly.
Jakarta, the centre of government and business in Indonesia, suffers periodic blackouts that are usually short-lived and confined to certain areas.
Power failed around noon on Sunday after faulty transmission circuits triggered "cascading voltage" that disconnected power plants supplying electricity to the west part of Java island, which includes the capital, PLN said.
The outage, the biggest since a transmission failure cut power in Java and Bali in 2005, halted Jakarta's subway system and commuter train lines, stranding passengers.
Many parts of the city were without power for at least for nine hours, and on Monday there were still complaints on Twitter that power was yet to be restored in some areas after 30 hours.
Rida Mulyana, director general of electricity at the energy ministry, said 21 million customers were affected by the outage.
Sripeni Inten Cahyani, PLN's acting CEO, warned of further disruptions, including rolling blackouts, as the company worked to restore power.
Coal-fired power plants, which supply most of the power on the heavily populated island of Java, required a "cold start" after the lengthy outage, Cahyani said.
By midday on Monday, PLN said a number of power plants had been restarted and 23 substations were operating. It did not say how many households and businesses were still without power.