Jokowi Tegaskan Berupaya Keras Atasi Kebakaran Hutan dan Lahan
Indonesia `Doing Everything´ to Put Out Forest Fires - President Widodo
Editor : Ismail Gani
Translator : Novita Cahyadi

PUBLISHED: Rabu, 18 September 2019 , 21:31:00 WIB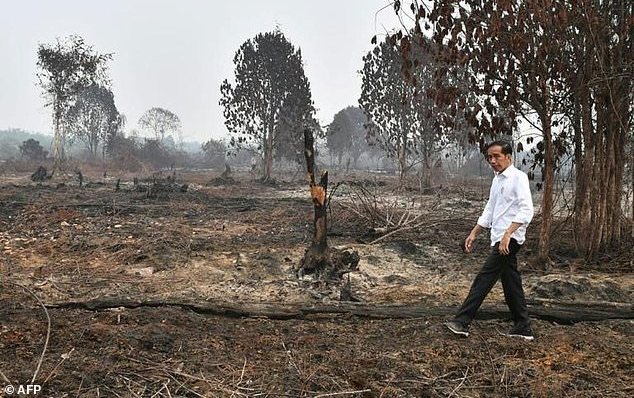 Presiden RI Joko Widodo meninjau kebakaran hutan dan lahan di Provinsi Riau [Foto: AFP/MailOnline]
INDONESIA berupaya mengatasi kebakaran hutan yang mengakibatkan kabut asap di seluruh Asia Tenggara dengan pesawat terbang, hujan buatan plus doa, kata Presiden RI dalam kunjungannya ke Provinsi Riau.
Kebakaran hutan dan lahan berkecamuk di Kalimantan dan Sumatra, mengakibatkan kabut asap di sejumlah provinsi - termasuk ke negeri jiran, Malaysia dan Singapura.
Dalam kunjungan ke provinsi Riau, Selasa, Joko Widodo mengatakan hampir 6.000 tentara dikerahkan ke lokasi kebakaran hutan dan lahan untuk mendukung pemadaman api.
"Kami telah melakukan segala upaya," katanya.
Seperti halnya petugas pemadam kebakaran di darat, puluhan pesawat digunakan untuk menyemai awan dan mengebom api dengan air, katanya.
"Kami juga telah berdoa," tambahnya, setelah menunaikan 'shalat minta hujan' di Masjid Amrulloh di Pekanbaru.
Kabut asap yang disebabkan oleh pembakaran yang disengaja dilakukan untuk membuka lahan perkebunan adalah masalah tahunan bagi Indonesia dan negara-negara tetangganya, tetapi tahun ini diperburuk oleh cuaca kering akibat kemarau.
Pihak berwenang pada Senin mengatakan mereka telah menangkap hampir 200 orang yang dicurigai terlibat dalam kegiatan yang menyebabkan kebakaran hutan dan lahan di luar kendali.
Empat perusahaan juga sedang diselidiki, kata pihak berwenang.
Badan meteorologi Perhimpunan Bangsa-Bangsa Asia Tenggara (ASEAN) mengatakan pada Selasa bahwa jumlah hotspot telah stabil, tetapi kabut tebal terus menyelubungi wilayah tersebut.
Di Kalimantan, pulau yang berbatasan dengan Malaysia dan Brunei, tingkat polusi 'berbahaya', menurut data kementerian lingkungan. Ratusan sekolah pada sejumlah provinsi di Kalimantan dan Sumatera untuk sementara ditutup.
Di Semenanjung Malaysia, TNI AU bekerja keras menyemai awan dengan bahan kimia dengan harapan bahwa hujan buatan akan membersihkan kabut asap.
Namun ratusan sekolah ditutup pada Selasa, mengakibatkan lebih dari 350.000 siswa diliburkan.
Kualitas udara berada pada tingkat "tidak sehat" atau "sangat tidak sehat" di banyak bagian Semenanjung Malaysia dan negara bagian Sarawak di Kalimantan, kata para pejabat.
Kualitas udara meningkat di Singapura dan berada dalam kisaran "sedang" setelah turun ke level "tidak sehat" selama akhir pekan, kata para pejabat di sana seperti dikutip AFP yang dilansir MailOnline.
INDONESIA is battling forest fires causing toxic haze across southeast Asia with aircraft, artificial rain and even prayer, President Joko Widodo said during a visit to a hard-hit area Tuesday.
Forest fires are raging on the islands of Borneo and Sumatra, sending a choking fug across the region -- including towards neighbours Malaysia and Singapore.
During a visit to Riau province in central Sumatra Tuesday, Widodo said nearly 6,000 troops had been sent to hot spots to help put out fires.
"We have made every effort," he said.
As well as firefighters on the ground, dozens of aircraft were being used to seed clouds and bomb blazes with water, he said.
"We have also prayed," he added, after a visit to Amrulloh Mosque in Pekanbaru.
The toxic smoke caused by deliberate burning to clear land for plantations is an annual problem for Indonesia and its neighbours, but has been worsened this year by particularly dry weather.
Authorities on Monday said they had arrested nearly 200 people suspected of being involved in activities that led to the out-of-control fires.
Four corporations were also being investigated, authorities said.
The Association of Southeast Asian Nations (ASEAN) meteorological agency said Tuesday the number of hotspots had stabilised, but a thick haze continued to cloak the region.
On Borneo island, which Indonesia shares with Malaysia and Brunei, pollution levels were "hazardous", according to environment ministry data. Hundreds of schools across Indonesia were shut.
In peninsular Malaysia, the met office and air force were working together to seed clouds with chemicals in the hope that rainfall would clear the haze.
But hundreds of schools were closed Tuesday, affecting more than 350,000 students.
Air quality was at "unhealthy" or "very unhealthy' levels in many parts of peninsular Malaysia and Sarawak state on Borneo, officials said.
Air quality improved in Singapore and was in the "moderate" range after slipping to "unhealthy" levels over the weekend, officials there said.