Ani Yudhoyono Meninggal Dunia di Singapura Disorot Media Asing
Former Indonesian First Lady Ani Yudhoyono Dies at 66
Editor : Ismail Gani
Translator : Novita Cahyadi

PUBLISHED: Sabtu, 01 Juni 2019 , 21:32:00 WIB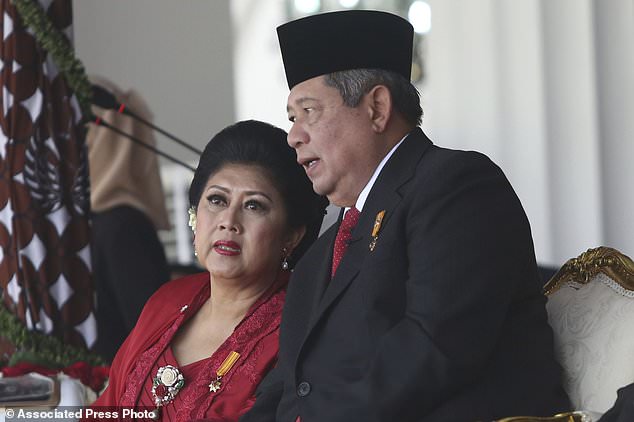 Foto: Associated Press/MailOnline
MANTAN ibu negara Indonesia Kristiani Herrawati Yudhoyono meninggal pada Sabtu karena leukemia di rumah sakit Singapura. Mendiang wafat di usia 66 tahun.
Kementerian Luar Negeri Singapura mengatakan dalam pernyataan resminya mengatakan istri mantan Presiden RI Susilo Bambang Yudhoyono [SBY] meninggal dunia di Rumah Sakit Universitas Nasional, tempat dia dirawat sejak Februari.
"Mendiang meninggal dunia dengan tenang dan keluarga menerimanya dengan ikhlas," kata Hatta Radjasa mewakili keluarga kepada wartawan di rumah sakit. Dia mengatakan bahwa Yudhoyono berada di samping istrinya selama menjalani perawatan medis.
Radjasa, ayah mertua dari putra kedua SBY, Ibas Yudhoyono mengatakan pemerintah Indonesia telah mengatur pemakaman dalam upacara kenegaraan di Taman Makam Pahlawan Kalibata di Jakarta Selatan untuk mantan ibu negara. Jenazah mendiang Ani Yudhoyono diterbangkan ke Jakarta, Sabtu malam.
Presiden RI Joko Widodo menyatakan belasungkawa pada konferensi pers di Istana Presiden di Bogor, Provinsi Jawa Barat.
"Saya meminta rakyat Indonesia untuk berdoa bersama untuk almarhumah Ani Yudhoyono, semoga dia mendapatkan tempat terbaik Tuhan dan semoga keluarga yang ditinggalkan diberi kesabaran," kata Jokowi.
Kristiani Herrawati Yudhoyono, yang dikenal dengan sapaan, Ani Yudhoyono, adalah ibu negara periode SBY berkuasa 2004 hingga 2014. Suaminya menjadi presiden keenam Indonesia setelah memenangkan pemilihan langsung kepala negara pertama di Indonesia pada 2004 di tengah harapan tinggi bahwa ia akan memperbaiki banyak masalah yang membebani negara Muslim terpadat di dunia, di antaranya meningkatnya militansi Islam, kemiskinan dan korupsi yang meluas.
Ayahnya, mendiang Sarwo Edhie Wibowo, adalah seorang pemimpin militer Indonesia yang berperan dalam penumpasan gerakan komunis G30S/PKI pada 1965.
Ani Yudhoyono diangkat sebagai wakil ketua Partai Demokrat dan berkampanye mendukung suaminya, SBY, ketika mencalonkan diri sebagai presiden pada 2004 dan 2009.
Selama masa pemerintahannya sebagai ibu negara, ia mengatur kampanye imunisasi polio dan "Mobil Pintar," di mana van diisi dengan buku-buku untuk dibaca anak-anak di seluruh negeri. Dia juga membantu dalam upaya bantuan ketika gempa bumi dahsyat disertai tsunami saat melanda Aceh pada 2004 yang menewaskan lebih dari 230.000 orang di sejumlah negara - korban terbesar di Aceh.
Mendiang Ani Yudhoyono meninggalkan seorang suami, dua putra dan cucu seperti dikutip Associated Press yang dilansir MailOnline.
FORMER Indonesian first lady Kristiani Herrawati Yudhoyono died Saturday of leukemia in a Singapore hospital. She was 66.
Singapore´s Foreign Ministry said in a statement that the wife of former President Susilo Bambang Yudhoyono died at National University Hospital, where she had been treated since February.
"She has left us forever in peace and the family has sincerely let her go," Hatta Radjasa, a representative of the family, told reporters in the hospital. He said that Yudhoyono had been at his wife´s bedside throughout her treatment.
Radjasa, the father-in-law of Yudhoyono´s second son, said Indonesia´s government had ordered a state funeral at Jakarta´s Kalibata heroes cemetery for the former first lady. Her body was returned to Jakarta, the capital, on Saturday night.
Indonesian President Joko Widodo expressed condolences at a news conference at the presidential palace in Bogor in West Java province.
"I call on Indonesians to pray together for her, may she have the best place by God and may the family that left behind have patience," Widodo said.
Kristiani Herrawati Yudhoyono, a politician who was known well by her nickname, Ani, was first lady from 2004 to 2014. Her husband became Indonesia´s sixth president after winning the country´s first-ever direct elections for head of state in 2004 amid high expectations that he would fix the many problems saddling the world´s most populous Muslim nation, among them rising Islamic militancy, massive poverty and widespread corruption.
Her father, Sarwo Edhie Wibowo, was an Indonesian military leader who played a role in directing troops during the Indonesian army´s extermination campaign that killed several hundred thousand civilians during anti-communist hysteria in the mid-1960s.
She was appointed as vice chair of her husband´s Democratic Party and campaigned for her him when he ran for president in 2004 and 2009.
During her era as first lady, she organized polio immunization campaigns and "Smart Cars," in which vans were filled with books for children to read across the country. She also assisted in relief efforts when a massive earthquake hit Indonesia in 2004 and spawned a giant tsunami off Sumatra island, killing more than 230,000 people in a dozen countries - the majority in Indonesia.
She is survived by her husband, two sons and grandchildren.