Rp216 Miliar, Nilai Proposal Dana Bergulir yang Diajukan 846 UMKM ke LPDB
Indonesian SMEs Enthusiastic Obtain Working Capital Loans of the Government
Reporter : Gusmiati Waris
Editor : Cahyani Harzi
Translator : Dhelia Gani

PUBLISHED: Sabtu, 01 Desember 2018 , 21:34:00 WIB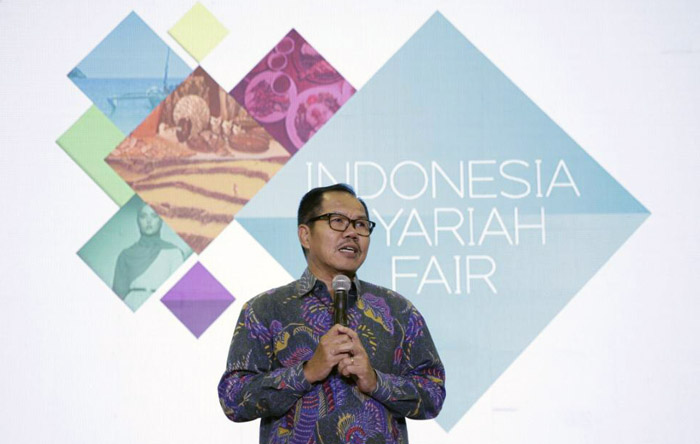 PENUTUPAN INSYAF: Direktur Utama LPDB - KUMKM Braman Setyo (Foto: Humas LPDB)
Jakarta (B2B) - Sekitar 846 usaha mikro, kecil dan menengah (UMKM) mengajukan permohonan dana bergulir senilai total Rp216 miliar kepada Lembaga Pengelola Dana Bergulir Koperasi Usaha Mikro Kecil dan Menengah (LPDB-KUMKM) pada pameran Indonesia Syariah Fair (Insyaf) di Jakarta, belum lama ini.
"Ini sangat luar biasa memberikan dampak positif, karena pelaku usaha sangat membutuhkan pembiayaan dana bergulir dari LPDB," kata Direktur Utama LPDB - KUMKM, Braman Setyo pada penutupan Insyaf.
Menurutnya, LPDB - KUMKM akan melibatkan lembaga perantara seperti koperasi, modal ventura, dan multi finance untuk menindaklanjuti permohonan pembiayaan tersebut.
LPDB-KUMKM membuka dua skema pembiayaan bagi UMKM, yakni konvensional dengan kisaran bunga antara 4,5% hingga 7% per tahun, dan syariah dengan sistem bagi hasil 70 berbanding 30.
"Kalau memang UKM (konvensional) sudah punya legalitas atau badan hukum bisa langsung mengajukan, tapi kalau belum punya, bisa mengajukan melalui lembaga perantara," kata Braman S.
Jakarta (B2B) - About 846 Indonesian small and medium enterprises or the UMKM submit proposals capital loans total of IDR216 billion to the Indonesia´s fund management institutions lending to cooperatives and SMEs or the LPDB-KUMKM at the Indonesia Syariah Fair exhibition here, recently.
"This is very remarkable to have a positive impact, because small and medium entrepreneurs really need LPDB support," said President Director of LPDB - KUMKM, Braman Setyo.
According to him, the LPDB - KUMKM will involve intermediary institutions such as cooperatives, venture capital, and multi finance to follow up of the financing application.
The LPDB opens two financing schemes namely conventional with a loan interest of up to 7% per year, and sharia with a profit sharing system of 70 to 30.
"If SMEs (conventional) have legal entities, they can immediately submit proposals, but if they don´t have them, they can go through an intermediary institution," Mr Setyo said.