Kursi DPR Kosong, Biarkan Pemilih yang Hukum Mereka di Pileg 2019
Indonesian House Speaker Defends MPs who Miss the Plenary Meeting
Reporter : Heru Subroto
Editor : Cahyani Harzi
Translator : Dhelia Gani

PUBLISHED: Selasa, 25 Desember 2018 , 21:34:00 WIB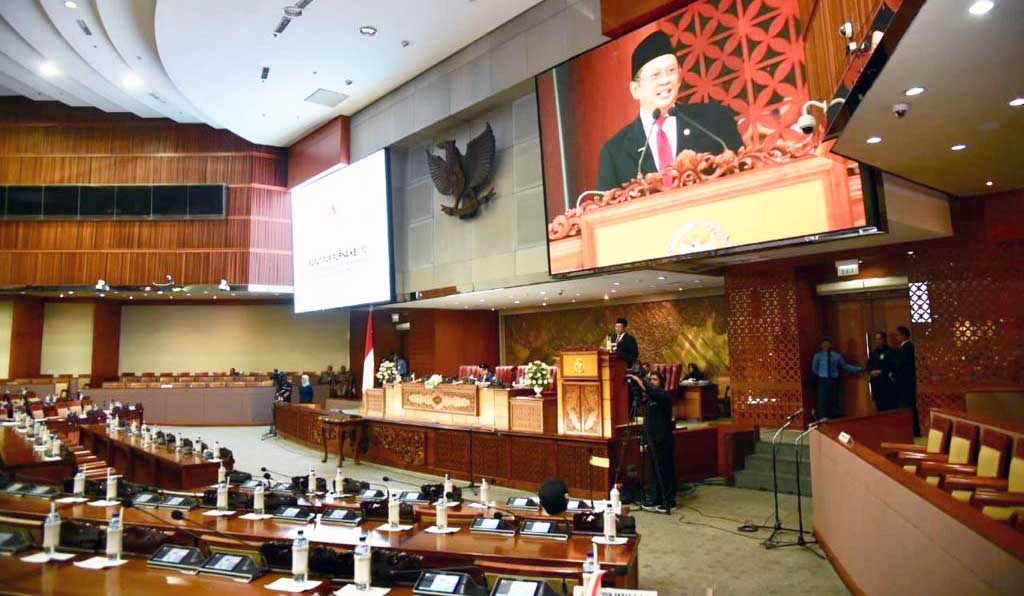 RAPAT PARIPURNA: Ketua DPR RI Bambang Soesatyo berbicara di depan sebagian besar kursi yang kosong (Foto: B2B/Heru Subroto)
Jakarta (B2B) - Kursi DPR kosong, menurut Ketua DPR Bambang Soesatyo, bukan berarti anggotanya bolos atau malas, karena anggota parlemen dan para senator di DPD bukan pekerja kantoran atau pabrik, melainkan wakil rakyat yang dipilih di daerah pemilihan (Dapil) masing-masing.
Bambang Soesatyo yang akrab disapa Bamsoet mengatakan, publik tidak perlu 'sotoy' dan 'kepo'. Biarkan rakyat pemilihnya di daerah yang menilai, apakah mereka benar-benar bolos atau malas.
"Atau justru sebaliknya, mereka rajin bekerja turun ke bawah berpanas-panas ke desa-desa membantu konstetuennya serta menjalankan tugas-tugas kedewanan seperti sosialisasi atau menyerap aspirasi meninggalkan kemewahan ruangan rapat yang dingin ber-AC," kata Bamsoet di Jakarta, Senin (24/12).
"Biarkan rakyat pemilih mereka yang menghukum dengan tidak memilihnya kembali jika mereka mengkhianati amanah yang sudah diberikan."
Jakarta (B2B) - The Indonesian parliament´s room is empty, according to House Speaker Bambang Soesatyo, it does not mean that MPs are absent or lazy, because parliamentarians and senators are not office workers or factories, but elected by the people in each electoral area.
Soesatyo said that the public does not need to be bothered, especially wanting to know a lot. Let the people judge whether they are truant or lazy.
"Or just the opposite, they diligently work to meet their constituents to find out about people´s aspirations," he said.
"Let the people were punished by not electing them in the general election in 2019."