Media Asing Soroti Emak-emak Pendukung Capres di Indonesia
Indonesia`s Desperate Housewives Chase Selfies on Election Trail
Editor : Ismail Gani
Translator : Novita Cahyadi

PUBLISHED: Sabtu, 06 April 2019 , 21:46:00 WIB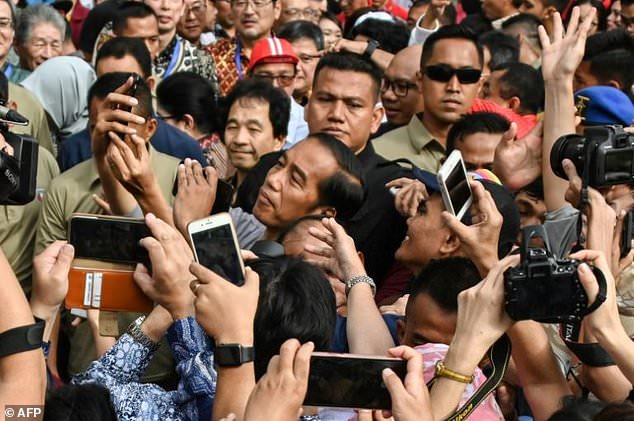 Presiden Jokowi di tengah kerumunan emak-emak yang ingin foto selfie dengan capres petahana [Foto: AFP/MailOnline]
AIR MATA mengalir di wajah Lilis Hastirini setelah dia menunggu berjam-jam untuk swafoto [selfie] dengan calon presiden petahanan, lantaran terhalang oleh himpitan sejumlah wanita yang juga ingin selfie.
Kejadian ini kerap berlangsung di tengah kampanye pemilihan presiden RI, karena banyak wanita mengidolakan calon presiden petahana, Joko Widodo, warga biasa mantan pengusaha mebel.
Lilis Hastirini adalah satu di antara sekitar 10.000 ibu rumah tangga lainnya akrab disapa sebagai ´emak-emak, kebanyakan berusia antara 20 dan 50, yang nekat berpanas-panas di tengah lapangan kampanye dan berdesak-desakan, mendorong petugas keamanan untuk mendekati Jokowi pada kampanye di Sragen, Jawa Tengah pekan ini.
"Saya sedih, saya tidak bisa berfoto dengannya," kata wanita usia 37 tahun itu kepada AFP ketika dia menangis dan meratap.
"Dia sepertinya orang yang baik, terlihat mengayomi."
Pria kurus, pencinta musik heavy metal berusia 57 tahun, akrab disapa Jokowi, tampaknya senang bertatap muka dengan ibu rumah tangga dan pemilih kunci lainnya - termasuk milenial yang menyumbang sekitar sepertiga dari pemilih - saat ia berjuang untuk mempertahankan kekuasaannya dalam pemilihan presiden pada 17 April.
Sekitar 192 juta orang Indonesia akan menentukan pilihannya untuk memberikan suara dalam pemilihan presiden di negara demokrasi terbesar ketiga di dunia, dengan rekor 245.000 kandidat bersaing untuk mendapatkan kursi parlemen di DPR hingga DPRD.
Dan mengumpulkan dukungan di media sosial sangat penting. Indonesia adalah salah satu pasar Instagram dan Facebook terbesar di dunia, dengan masing-masing sekitar 62 juta dan 130 juta pengguna.
Saingan satu-satunya Jokowi adalah Prabowo Subianto, seorang pensiunan jenderal militer dan menantu mendiang diktator Suharto, yang kerap tampil di depan publik dengan setelan safari khaki kasual dengan kacamata hitam.
Prabowo, juga berusaha untuk memenangkan pemilihan presiden dan penggemar wanita secara online, menyeimbangkan citra orang kuatnya dengan akun Instagramnya dan kucingnya yang suka diemong, bernama Bobby seperti dikutip AFP yang dilansir MailOnline.
TEARS STREAM down Lilis Hastirini´s mascara-smudged face after she waited hours to snap a selfie with Indonesia´s president, only to be thwarted by a crush of other female fans with the same idea.
It is a take-no-prisoners battle on the election trail in this selfie-mad nation, where few shots count more than a close up with "everyman" leader Joko Widodo, a former furniture salesman who rose from a riverside slum to high office.
Hastirini was among some 10,000 other desperate housewives, mostly aged between 20 and 50, who braved searing heat as they screamed and jostled, pushing past security guards to reach Widodo at an event in Sragen on Java island this week.
"I´m sad, I couldn´t get a picture with him," the 37-year-old told AFP as she sobbed and wailed.
"He seems like such a nice person, kind of fatherly."
The lanky, heavy-metal music-loving 57-year-old, best known as Jokowi, seems happy to oblige housewives and other key voters -- including millenials who account for about one-third of the electorate -- as he fights to keep a wide lead in the race for the presidency on April 17.
Some 192 million Indonesians are set to cast a ballot in the world´s third-biggest democracy, with a record 245,000 candidates vying for positions from the presidency and parliamentary seats all the way down to local council jobs.
And garnering support on social media is essential. Indonesia is one of Instagram and Facebook´s biggest markets globally, with some 62 million and 130 million users, respectively.
Jokowi´s sole rival is Prabowo Subianto, a retired military general and son-in-law of the late dictator Suharto, who has ditched his trademark suit and tie for a campaign-casual khaki safari suit with sunglasses.
Prabowo, as he is known, is also trying to win over women voters and fans online, balancing his strongman image with an Instagram account of him and his cuddly cat, Bobby.