Dekranas Sinergi Kemenkop Gelar Pelatihan UKM di Maluku Utara
North Maluku Handicraft is Ready Penetrate the Global Market
Reporter : Gusmiati Waris
Editor : Cahyani Harzi
Translator : Dhelia Gani

PUBLISHED: Rabu, 29 Agustus 2018 , 21:52:00 WIB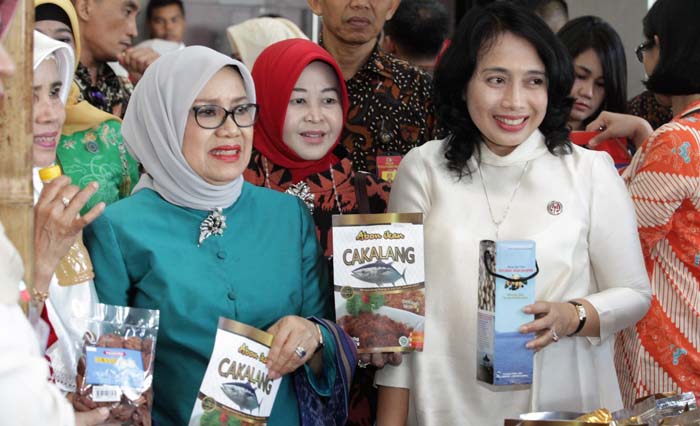 Ketua Umum Dekranas Hj Mufidah Jusuf Kalla (kiri) dan Ketua Bidang Manajemen Usaha Dekranas, Bintang Puspayoga di Ternate (Foto: Humas Kemenkop UKM)
Ternate, Maluku Utara (B2B) - Sedikitnya 451 pelaku usaha kecil menengah (UKM) di Provinsi Maluku Utara mengikuti pelatihan yang digelar Dewan Kerajinan Nasional (Dekranas) sinergi dengan Kementerian Koperasi dan UKM dan Tim Penggerak Pembinaan Kesejahteraan Keluarga (PKK) di Ternate pada Selasa (28/8).
Ketua Umum Dekranas Hj Mufidah Jusuf Kalla menyambut baik kegiatan pelatihan untuk meningkatkan kemampuan manajerial, kualitas produksi, kemasan, pemasaran, dan akses modal perbankan. Mengingat besarnya potensi produk kerajinan di Maluku Utara seperti tenun tradisional, batu bacan, dan kuliner khas Maluku Utara.
"Ke depan, kita akan terus menggali potensi di daerah agar bisa kita dikembangkan bersama, khususnya produk kerajinan. Tugas utama Dekranas adalah membina dan mengembangkan kerajinan produk UMKM di seluruh Indonesia," kata Mufidah.
Ketua Bidang Manajemen Usaha Dekranas, Bintang Puspayoga menambahkan Maluku Utara merupakan salah satu dari enam provinsi yang dipilih Dekranas untuk mengembangkan potensi UKM daerah.
Kegiatan serupa telah digelar di Manokwari, Provinsi Papua Barat, Tuban (Jawa Timur), Palembang (Sumatera Selatan), Banjarmasin (Kalimantan Selatan), dan yang terakhir di Palu (Sulawesi Tengah).
"Saya berharap melalui kegiatan ini, citra produk kerajinan Maluku Utara akan dikenal lebih luas hingga ke pasar internasional. Motif tenun khasnya tergolong unik seperti cengkeh, pala, kelapa, ikan dan karang," kata Bintang Puspayoga di tempat yang sama.
Ternate of North Mollucas (B2B) - At least 451 small and medium businesses or SMEs in North Mollucas province attended the training was held by the Indonesian Craft Council or Dekranas with Cooperatives and SMEs Ministry and Maluku Prosperous Women´s Organization in Ternate here on Tuesday (August 28).
Chairwoman of the Dekranas Hj Mufidah Jusuf Kalla supported training activities to improve managerial skills, product quality, packaging, marketing, and access to banking capital.
"In the future, we will continue to develop the potential of regional SMEs, especially handicraft products. Dekranas´s main task is to foster and develop handicraft products for SMEs across the country," said Mrs Kalla.
Director of Dekranas Business Management, Bintang Puspayoga said North Maluku is one of the six provinces that Dekranas chose to develop the potential of regional SMEs.
Similar activities were held in Manokwari of West Papua province, Tuban (East Java), Palembang (South Sumatra), Banjarmasin (South Kalimantan), and the last in Palu (Central Sulawesi).
"I hope North Maluku handicraft products will be known more widely to the international market. The unique woven motifs are unique such as cloves, nutmeg, coconut, fish and coral," said Mrs Puspayoga in the same place.