Rp100 Miliar, Pendanaan LPDB untuk UMKM di Provinsi Aceh
Indonesian Govt Allocates IDR100 billion for Cooperatives and SMEs in Aceh
Reporter : Gusmiati Waris
Editor : Cahyani Harzi
Translator : Dhelia Gani

PUBLISHED: Sabtu, 06 Oktober 2018 , 21:53:00 WIB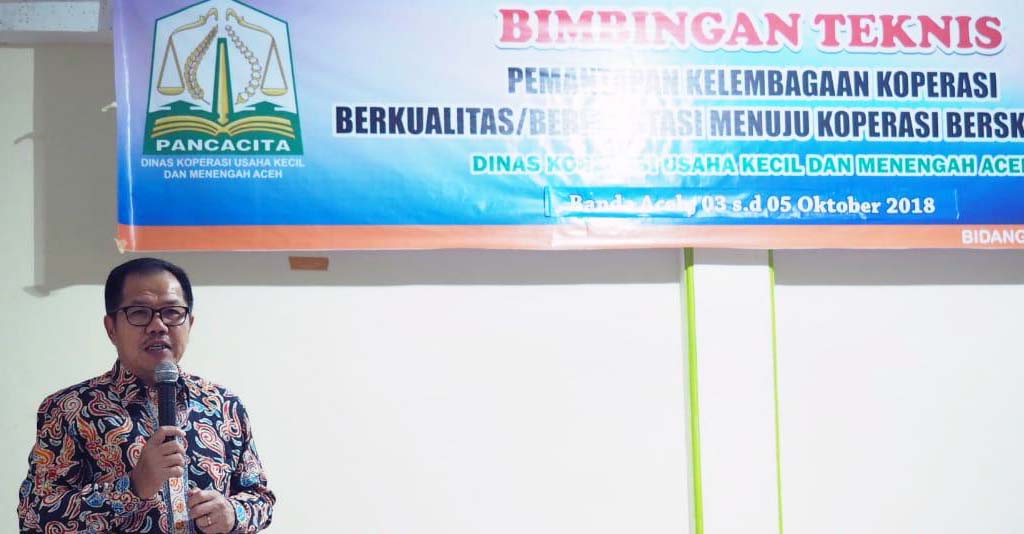 Direktur Utama LPDB - KUMKM Braman Setyo (Foto: istimewa)
Banda Aceh, Aceh (B2B) - Pemerintah RI alokasikan dana bergulir Rp100 miliar untuk koperasi dan usaha mikro kecil dan menengah (UMKM) di Provinsi Aceh, khususnya telah berbadan hukum. Bunga kredit dengan pola langsung tergolong rendah di kisaran 4,5% hingga 7% dan bagi hasil pola syariah 70:30.
Direktur Utama Lembaga Pengelola Dana Bergulir (LPDB-KUMKM) Braman Setyo mengatakan akan menyederhanakan prosesnya dengan menggandeng PT Jaminan Kredit Indonesia (Jamkrindo) yang akan menjamin sebagian besar modal bergulir yang diminta koperasi dan UMKM.
"Khusus UKM di Aceh yang belum memiliki badan hukum, maka skema dana bergulir dapat disiasati dengan lembaga keuangan lainnya, LPDB akan menggandeng Bank Aceh, bank perkreditan rakyat atau BPR dan bank lain yang mau bekerjasama," kata Braman Setyo pada diskusi dengan para pelaku KUMKM di Banda Aceh, Jumat (5/10).
Terkait proses, Braman Setyo menjelaskan, kini LPDB membuatnya lebih sederhana yakni dengan menggandeng PT Jamkrindo. Perusahaan di bawah Kementerian BUMN inilah yang meng-cover sebagian besar jaminan atas modal bergulir yang diminta koperasi atau UMKM.
"Jamkrindo yang nantinya akan merekomendasikan apakah sebuah koperasi dan UMKM layak diberikan bantuan modal bergulir atau tidak," kata Braman Setyo.
Dia menambahkan, bunga kredit yang diberikan LPDB dengan pola langsung dinilai sangat rendah dibandingkan lainnya. Untuk pertanian, perkebunan, perikanan, dan energi per tahun hanya 4,5%. Lalu kerajinan atau sektor riil 5%, koperasi simpan pinjam 7%, dan bagi hasil pola syariah 70:30.
Pada kesempatan yang sama, Hendra dari Jamkrindo Aceh mengatakan, pihaknya bisa memberikan jaminan 70% dari pinjaman yang diajukan. "Yang kami sangat perhatikan bagaimana kemampuan kelayakan usaha yang akan dijaminkan, jangka waktu sesuai kemampuan," ujar Indra.
Banda Aceh, Aceh (B2B) - The Indonesian government allocates IDR 100 billion for business capital loans to cooperatives and SMEs in Aceh Province, especially those that have legal entities. Credit interest is low in the range of 4.5% to 7% and the profit sharing of the sharia pattern is 70:30.
President Director of the Indonesia´s fund management institutions lending to cooperatives and SMEs or the LPDB-KUMKM Braman Setyo said the LPDB-KUMKM will make it simpler by collaborate with Jamkrindo.
"Especially for SMEs in Aceh that do not have a legal entity, the scheme of business capital loans can be dealt with by other financial institutions, the LPDB will collaborate with the Bank of Aceh, people´s credit banks and other banks that are willing to cooperate," said Mr Setyo here on Friday (October 10).
The process will be made simple by the LPDB by cooperating with Jamkrindo, who will be responsible for some of the collateral from the business capital loan needed by the cooperative or SMEs.
"Jamkrindo will recommend whether cooperatives and SMEs are eligible for capital loans or not," Mr Setyo said.
LPDB credit interest with a direct pattern is very low. Agriculture, plantations, fisheries and energy per year are only 4.5%. The real sector is 5%, savings and loan cooperatives are 7%, with the profit sharing of the sharia pattern 70:30.
On the same occasion, Hendra from Jamkrindo Aceh said, his party could provide 70% guarantee. "We really pay attention to the feasibility of the business that will be guaranteed, the period of time according to ability."