Berdayakan UMK, Bintang Puspayoga Apresiasi Klinik Bisnis Kuliner
Indonesian Govt Push SMEs Culinary to Develop Business Professionally
Reporter : Gusmiati Waris
Editor : Cahyani Harzi
Translator : Dhelia Gani

PUBLISHED: Minggu, 12 Agustus 2018 , 22:01:00 WIB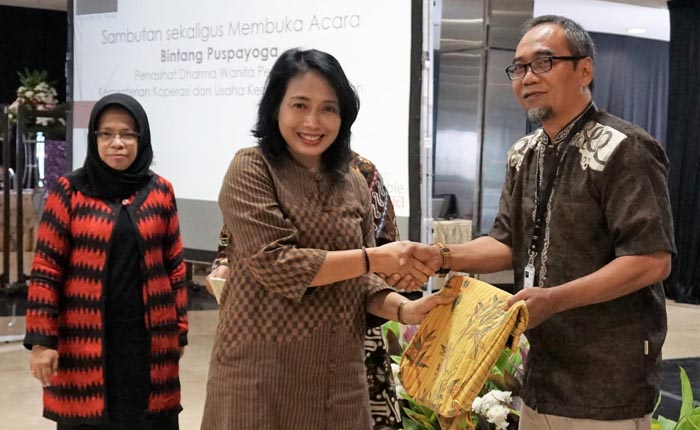 Penasihat DWP Kemenkop dan UKM Bintang Puspayoga (tengah) menyerahkan cenderamata kepada peserta pelatihan kuliner (Foto: Humas Kemenkop UKM)
Jakarta (B2B) - Sekitar 100 peserta dari dharma wanita persatuan (DWP) Kementerian Koperasi & UKM dan DWP Ditjen Perdagangan Dalam Negeri di Kementerian Perdagangan mengikuti pelatihan klinik bisnis pelaku usaha kuliner, yang bertujuan meningkatkan sinergi instansi pemerintah untuk memberdayakan usaha mikro kecil (UMK).
Penasihat DWP Kemenkop dan UKM Bintang Puspayoga mengapresiasi kegiatan klinik bisnis kuliner, yang memadukan teori dan praktik tentang tata kelola manajemen dan SDM kuliner, pengelolaan keuangan bisnis kuliner, motivasi dan pemahaman hygienitas usaha kuliner, maupun praktek pengelolaan makanan.
"Saya apresiasi kegiatan ini, ada teori dan praktek sebagai kegiatan sangat komplit. Kalau kita belajar teori saja tanpa praktek hasilnya tidak akan maksimal," kata Bintang Puspayoga saat menyampaikan sambutan pembukaan, Jumat (10/8).
Dia mengajak para pelaku usaha kuliner memperbaiki tata kelola kegiatan usahanya secara profesional, baik dari sisi manajemen keuangan, kemasan hingga sumber daya manusia, sehingga melalui pelatihan semacam inilah pelaku usaha dapat menjawab tantangan tersebut.
"Kami harapkan peserta dapat mengikuti pelatihan ini dengan baik. Mengapa ini penting karena pelaku-pelaku kecil seperti kuliner kadang-kadang berusaha bisa, tapi manajemennya belum profesional," kata Bintang Puspayoga.
Tampak hadir Dirjen Perdagangan Dalam Negeri Kemendag Tjahja Widayanti, Direktur Penggunaan dan Pemasaran Produk Dalam Negeri Ditjen Perdagangan Dalam Negeri Kemendag Luther Palimbong, Direktur Utama Lembaga Layanan Pemasaran Koperasi dan UKM (LLP-KUKM) Emilia Suhaimi, dan Suwiryo Cokro, salah satu konsultan bisnis kuliner.
Jakarta (B2B) - About 100 participants of the Wife´s Union at the Indonesian Cooperatives & SMEs and Trade Ministry take part in culinary business training to empower small micro businesses.
Chairwoman of the Wives Union at Cooperatives and SMEs Ministry, Bintang Puspayoga appreciates the culinary business training activities, which combines theory and practice regarding management and culinary HR management, financial management, culinary business hygiene, and food management practices.
"I appreciate training activities that combine theory and practice. Learning about theory without practice is not optimal," said Mrs Puspayoga at the opening speech here on Friday (August 10).
She invited culinary entrepreneurs to increase business activities with professionals about financial management, packaging and human resources.
"Training activities are important because small culinary entrepreneurs must develop management professionally," said Mrs Puspayoga.