Sertifikat Hak Cipta, Perajin Perak Celuk kian `PeDe` Hadapi Persaingan Global
Indonesian Govt Supports SME Entrepreneurs to Obtain Copyright Certificates
Reporter : Gusmiati Waris
Editor : Cahyani Harzi
Translator : Dhelia Gani

PUBLISHED: Selasa, 03 Juli 2018 , 22:09:00 WIB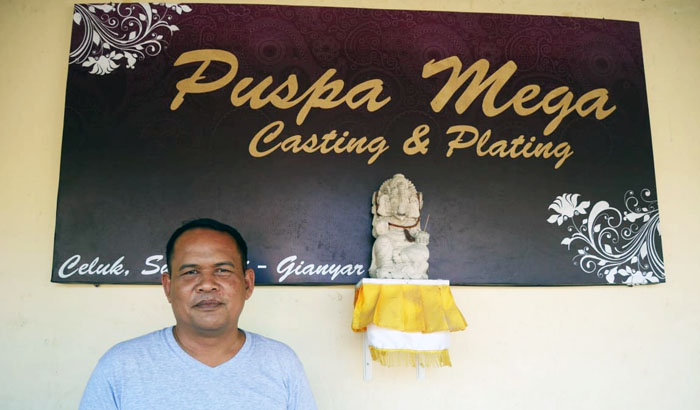 Ketua Celuk Design Center, Made Megayasa (Foto: B2B/Mya)
Gianyar, Bali (B2B) - Komunitas perajin perak Celuk di Kabupaten Gianyar, Provinsi Bali tidak lagi khawatir hasil disain mereka dicuri oleh pihak lain, dan semakin percaya diri alias ´pede´ menghadapi persaingan global setelah mendapatkan sertifikat Hak Cipta dan Hak Atas Kekayaan Intelektual (HAKI) yang difasilitasi oleh Pemerintah RI melalui Kementerian Koperasi dan UKM.

Ketua Celuk Design Center, Made Megayasa mengatakan para perajin Celuk semakin percaya diri menghadapi persaingan bebas saat ini, khususnya dari serbuan produk sejenis dari luar Bali maupun mancanegara.

"Kekayaan intelektual inilah yang akan menjadi aset sangat berharga bagi UMKM, khususnya perajin perak dalam berinovasi dan berkreasi," kata Made Megayasa saat ditemui di tempat usahanya, Puspa Mega di Kecamatan Sukawati pada Sabtu (30/6).

Asisten Deputi Standarisasi dan Sertifikasi Kemenkop UKM, Siti Darmawasita mengakui bahwa program sertifikat Hak Cipta dan HAKI dari Kemenkop UKM sebagai bentuk perlindungan terhadap kekayaan intelektual dari UMKM.

"Kemenkop UKM berjanji untuk membantu dengan fasilitas perkreditan, bantuan peralatan dan promosi luar negeri. Hingga saat ini, kementerian telah memfasilitasi lebih dari 2.550 UMKM di bidang garmen, perhiasan, cenderamata, dan lainnya," kata Siti Darmawasita.
Gianyar of Bali (B2B) - Celuk silver craftsman of Indonesia´s Gianyar district in Bali province finally has the copyright certificate and intellectual property rights, who was facilitated by Indonesian government through the Cooperatives and SMEs, according to Celuk silver craftsman.

Chairman of the Celuk Design Center, Made Megayasa said the Celuk craftsmen confident facing free competition, especially with similar products from outside Bali and abroad.

"Intellectual property rights and copyright are a valuable asset for SME entrepreneurs, especially Celuk silver craftsmen to innovate and create," said Mr Megayasa here on Saturday (June 30).

The ministry´s Assistant Deputy of Standardization and Certification, Siti Darmawasita acknowledged that the government program to support SME entrepreneurs got copyright certificate as the protection of intellectual property SMEs.

"The ministry promised to help with credit facilities, equipment support and overseas promotion. Until now, the ministry has facilitated more than 2,550 SMEs of garment, jewelry, souvenirs, and others," he said.