Kemenkop UKM Harapkan Lebih Banyak Notaris Koperasi Dukung SisminbhKop
Indonesian Govt will Encourage more Cooperative Notary Support SisminbhKop
Reporter : Gusmiati Waris
Editor : Cahyani Harzi
Translator : Dhelia Gani

PUBLISHED: Senin, 15 Januari 2018 , 22:11:00 WIB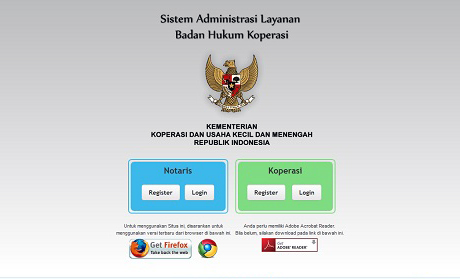 Foto: istimewa
Jakarta (B2B) - Pemerintah RI akan mendorong lebih banyak notaris pembuat akta koperasi (NPAK) untuk mendukung layanan online pendirian koperasi, sistem administrasi badan hukum koperasi (SisminbhKop) yang dikembangkan oleh Kementerian Koperasi dan UKM, dan saat ini dari 12.015 NPAK di seluruh Indonesia baru 2.748 notaris yang terdaftar di SisminbhKop.

Deputi Bidang Kelembagaan Kemenkop UKM, Meliadi Sembiring mengatakan bahwa kementerian akan mendorong lebih banyak notaris mendukung kinerja SisminbhKop, dari 12.015 NPAK baru 2.748 yang terdaftar atau baru 22,9% hingga 10 Januari 2018.

"Kami akan terus mendorong semakin banyak notaris yang melakukan registrasi ke Kemenkop dan UKM, karena kalau tidak registrasi maka tidak akan bisa online ke SisminbhKop," kata Meliadi Sembiring kepada pers di Jakarta, belum lama ini.

Menurut Meliadi, profesi notaris sangat vital karena menjadi satu-satunya yang dapat mengeluarkan akta badan hukum yang otentik, meskipun pendaftaran badan hukum koperasi maupun perubahan anggaran dasar kini dapat dilakukan secara online.

"Sejak 2016 ada sekitar 5.397 badan hukum koperasi baru yang diterbitkan notaris. Artinya, dengan jumlah sekitar 300-an badan hukum koperasi baru setiap bulan, bisa disebut bahwa semangat dan minat masyarakat untuk berkoperasi masih tinggi," katanya.
Jakarta (B2B) - Indonesian government will encourage more cooperative notary support online services establishing cooperatives, known by its Indonesian acronym SisminbhKop, was developed by the ministry of cooperatives and SMEs, and currently there are 12,015 cooperative notary across the country but only 2,748 notaries supported SisminbhKop, according to senior official.

The Deputy Minister of Institutional Meliadi Sembiring said Sembiring said that the ministry will encourage more notaries to support SisminbhKop, because until January 10, 2018 only 22.9% cooperative notary support the online service.

"We will continue to encourage more and more notaries who register, because without registration can not be online to the SisminbhKop," Mr Sembiring told the press here recently.

Notary profession is vital for issuing cooperative deeds, even though registration of cooperative legal entities and changes to the articles of association through online services.

He said until the end of 2017 there are 5,397 new cooperatives after the SisminbhKop launched in April 2016, meaning each day stand 10 cooperatives or 311 cooperatives per month.