Peringatan Keamanan, Kedubes AS Ingatkan Warganya Hindari Demo 22 Mei
U.S. Embassy Issues Indonesia Security Alert ahead of Election Results
Editor : Ismail Gani
Translator : Novita Cahyadi

PUBLISHED: Minggu, 19 Mei 2019 , 02:02:00 WIB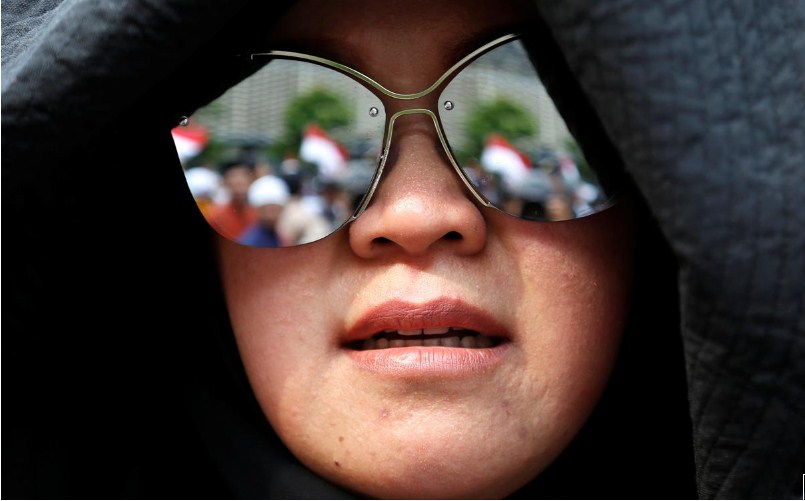 Foto: Reuters
KEDUTAAN Besar AS di Jakarta telah mengeluarkan peringatan keamanan [security alert] menjelang pengumuman hasil rekapitulasi Pemilu Serentak oleh Komisi Pemilihan Umum [KPU] pada Rabu, karena Kepolisian RI [Polri] telah menangkap hampir 30 terduga terorisn, termasuk beberapa yang menurut polisi mampu meledakkan bom menggunakan jaringan Wi-Fi.
Kedubes AS menyarankan warganya di Indonesia khususnya di Jakarta untuk menghindari kawasan yang akan menjadi konsentrasi massa unjuk rasa di Jakarta, dan di kota-kota lain termasuk Surabaya di Jawa Timur dan Medan di Sumatera Utara, dalam sebuah pernyataan yang dirilis pada pada Jumat, 17 Mei.
Pihak berwenang Indonesia mengatakan meningkatkan keamanan menjelang 22 Mei, ketika hasil resmi Pemilu Presiden [Pilpres] 17 April lalu akan diumumkan.
Kepala Divisi Hubungan Masyarakat Polri Irjen Mohammad Iqbal mengatakan kepada pers pada Jumat bahwa Densus 88 bahwa Polri sejak awal hingga pertengahan Mei telah menangkap 29 terduga teroris yang terkait dengan Jemaah Ansharut Daulah (JAD) - kelompok yang terkait dengan Negara Islam [ISIS] - dan menyita setidaknya lima bom rakitan di berbagai lokasi di Jawa dan Sulawesi Utara.
Beberapa tersangka telah menjalani pelatihan paramiliter dan pergi ke Suriah sebagai pejuang asing, kata Iqbal.
Polisi Indonesia juga mengungkapkan bahwa beberapa tersangka telah belajar cara menggunakan Wi-Fi untuk meledakkan perangkat peledak, tetapi tidak menguraikan secara jelas seberapa canggih rencana mereka.
Meledakkan bom menggunakan jaringan Wi-Fi dianggap sebagai teknik baru, kata Brigjen Pol Dedi Prasetyo, mengatakan kepada Reuters pada Selasa, dan berkeliling menggunakan sinyal telepon, yang dapat macet selama demonstrasi yang melibatkan banyak orang.
"Jika ada (ponsel) jammer, maka telepon tidak dapat beroperasi tetapi sinyal Wi-Fi tidak akan mengganggu, terutama saat menggunakan penguat sinyal," kata Prasetyo.
Juru bicara kepolisian tidak menjawab atau membalas panggilan telepon pada Sabtu untuk mendapatkan informasi lebih lanjut.
Polisi menangkap EY, seorang pemimpin lokal JAD di Bekasi, dekat Jakarta, pada 8 Mei di ibukota karena merencanakan serangan selama pengumuman pemilihan presiden minggu depan. Polisi mengidentifikasi tersangka hanya dengan inisialnya.
JAD tidak memiliki juru bicara resmi, dan tidak diketahui apakah ada tersangka yang memiliki perwakilan hukum.
"Untuk kelompok ini, demokrasi adalah ideologi yang tidak mereka setujui," kata Iqbal pada hari Jumat, menambahkan bahwa Polri menyarankan masyarakat untuk tidak keluar rumah apabila tidak merasa perlu saat pengumuman rekapitulasi KPU.
"Ini akan berbahaya karena mereka ingin menyerang siapa pun, termasuk petugas, dengan bom," katanya.
Penangkapan adalah bagian dari upaya Polri untuk memperketat keamanan sebelum pengumuman KPU pada 22 Mei, yang akan dikawal hampir 32.000 personel polisi dan TNI yang akan bersiaga di Jakarta.
Pengumuman ini diharapkan untuk mengkonfirmasi jumlah tidak resmi oleh lembaga survei swasta yang menunjukkan Presiden Joko Widodo telah memenangkan perlombaan, sebuah hasil yang telah diperdebatkan secara terbuka oleh lawannya, mantan jenderal Prabowo Subianto.
Pendukung Prabowo menyatakan akan akan melakukan unjuk rasa damai jika hasil resmi KPU mengonfirmasi kemenangan Jokowi, dan kelompok besar orang bisa keluar di jalan-jalan setelah pengumuman seperti dikutip Reuters yang dilansir MailOnline.
THE U.S EMBASSY in Jakarta has issued a security alert ahead of election results due on Wednesday, as Indonesian authorities have arrested nearly 30 suspected militants, including some who police say are able to detonate bombs using Wi-Fi networks.
The embassy advised U.S. citizens to avoid areas where large demonstrations may occur in Jakarta, and in other cities including Surabaya in East Java and Medan in North Sumatra, in a statement that was dated on Friday, May 17.
Indonesian authorities have said they are heightening security ahead of May 22, when the official result of last month´s presidential election will be announced.
Indonesian National Police spokesman, Muhammad Iqbal, told reporters in a briefing on Friday that police this month have arrested 29 suspects linked to Jemaah Ansharut Daulah (JAD) - the largest Islamic State-linked group in the country - and confiscated at least five homemade bombs in various locations across Java and North Sulawesi.
Some of the suspects have had paramilitary training and went to Syria as foreign fighters, Iqbal said.
Indonesian police also revealed that some of the suspects have learned how to use Wi-Fi to detonate explosive devices, but it was not immediately clear how advanced their plans were.
Detonating bombs using a Wi-Fi network is considered a new technique, Dedi Prasetyo, another National Police spokesman, told Reuters on Tuesday, and gets around using phone signals, which can be jammed during rallies involving large crowds.
"If there is (cell phone) jammer, then phones are not operable but the Wi-Fi signal will not be disturb, especially when using signal amplifier," Prasetyo said.
The police spokesmen did not answer or return phone calls on Saturday to get more information.
The police arrested EY, a local leader of JAD in Bekasi, near the capital Jakarta, on May 8 in the capital for plotting attacks during next week´s announcement of the presidential election. The police identified the suspect only by his initials.
JAD does not have an official spokesman, and it is not known if any of the suspects have retained legal representation.
"For this group, democracy is an ideology that they do not agree with," Iqbal said on Friday, adding that the National Police advise people not to make unnecessary trips on the day the results are announced.
"This would be dangerous because they want to attack anyone, including officers, with bombs," he said.
The arrests are part of the authority´s efforts to tighten security ahead of an announcement by the General Election Commission (KPU) on May 22, when nearly 32,000 police and military personnel will be on standby in Jakarta.
The announcement is expected to confirm unofficial counts by private pollsters that showed incumbent President Joko Widodo as having won the race, a result which has been publicly disputed by his contender, ex-general Prabowo Subianto.
Prabowo´s supporters have pledged to protest peacefully if the official result confirms Widodo´s victory, and large groups of people could be out in the streets after the announcement.