Smesco Pikat Atlet Asian Games Belanja Produk UKM
2018 Asian Games Athletes Love Indonesian Handicraft Products
Reporter : Gusmiati Waris
Editor : Cahyani Harzi
Translator : Dhelia Gani

PUBLISHED: Rabu, 29 Agustus 2018 , 22:22:00 WIB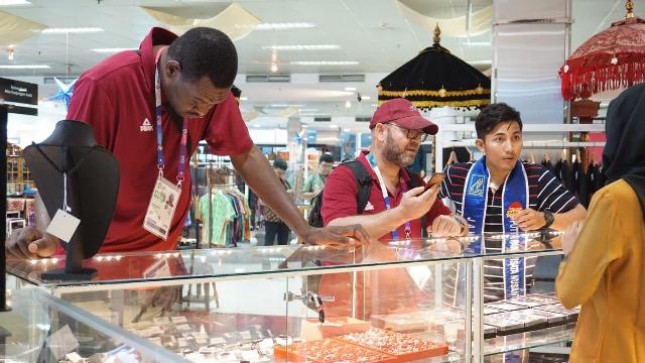 Foto: istimewa
Jakarta (B2B) - Keunggulan produk kerajinan UKM Indonesia menarik perhatian atlet tinju Kazakhstan, Aslanbek Shymbergenov yang memborong lima syal seharga Rp825.000 untuk istrinya, yang dia beli saat berkunjung di Gedung Smesco Jakarta.
"Saya datang ke Smesco mencari oleh-oleh untuk istri dan anak," kata Aslanbek yang mengaku berkeliling hampir 20 menit untuk melihat-lihat sebelum memutuskan membeli lima syal tersebut.
Aslanbek Shymbergenov adalah salah satu dari ratusan atlet peserta Asian Games 2018 di Jakarta yang mendapat kesempatan mengunjungi Smesco sebagai salah satu destinasi belanja utama resmi bagi atlet dan ofisial dari pesta olahraga terbesar di Asia tersebut.
Begitu pula atlet Iran, Torest dan Robert yang mengaku berniat sama mencari kerajinan khas Indonesia. Torest memilih topeng Barong yang terbuat dari keramik, buatan UKM dari Bali.
Torest juga membeli kopi Aceh merek Ulee Kareng Robusta. Total nilai belanjanya adalah Rp4,18 juta.
"Kami senang bisa ke Indonesia dan berkunjung ke sini (Smesco). Orang Indonesia ramah-ramah dan budayanya sangat bagus," kata Torest.
Jakarta (B2B) - The diversity and uniqueness of Indonesian SME handicraft products at the Smesco Building in Jakarta attracts the attention of Kazakh boxing athletes, Aslanbek Shymbergenov, which bought five scarves worth of Rp825,000 for his wife.
"I came to Smesco looking for souvenirs for my wife and children," said Mr Shymbergenov, who claimed to be looking for almost 20 minutes before deciding to buy five scarves.
Mr Shymbergenov is one of hundreds of athletes participating in the 2018 Asian Games in Jakarta, the opportunity to visit Smesco as one of the main shopping destinations for athletes and officials in Jakarta, Indonesia capital city.
The Iranian athletes, Torest and Robert, said they intend to look for Indonesian crafts. Torest chose Barong masks made of ceramics from Balinese SMEs.
Torest also bought Aceh coffee, the Ulee Kareng Robusta brand. He spending IDR 4.18 million.
"We are happy to visit in Indonesia and came here (Smesco). Indonesian people are friendly and the culture is good," Torest said.