`Spin Off` Kunci Sukses Koperasi Indonesia Hadapi Persaingan Global
Cooperatives in Indonesia should Spin Off for Business Development
Reporter : Gusmiati Waris
Editor : Cahyani Harzi
Translator : Dhelia Gani

PUBLISHED: Sabtu, 24 Maret 2018 , 22:24:00 WIB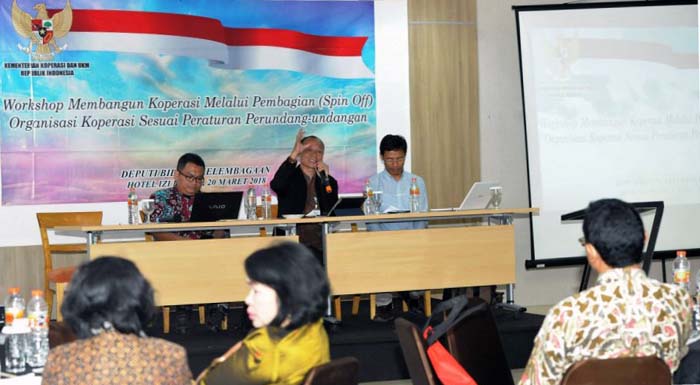 Asisten Deputi Peraturan Perundang-undangan di Deputi bidang Kelembagaan Kemenkop UKM, Salekan (Foto: Humas Kemenkop UKM)
Jakarta (B2B) - Koperasi di Indonesia harus melakukan rekayasa kelembagaan melalui spin-off, membentuk badan hukum baru yang beroperasi di bawah sistem grup, holding atau konsorsium; dengan pembagian organisasi ke berbagai sektor usaha baik jasa, produksi dan konsumsi; yang bertujuan mengembangkan koperasi secara transformatif untuk menyikapi kondisi internal dan menghadapi perubahan lingkungan eksternal.
Hal itu terungkap dari workshop ´Membangun Koperasi melalui Spin Off´ yang dibuka oleh Deputi Bidang Kelembagaan Kementerian Koperasi dan UKM, yang diwakili Asisten Deputi Peraturan Perundang-undangan, Salekan dan dihadiri oleh 120 peserta di Jakarta, belum lama ini.
"Sasaran dari spin off agar koperasi mampu menjadi badan usaha yang sehat, tangguh, kuat, dan mandiri sekaligus mampu berperan dalam perekonomian nasional," kata Salekan.
Hadir sebagai pembicara yaitu Pendiri Serikat Tani Qoryag Toyibah Salatiga, Bahruddin; Koordinator Dosen Koperasi FEB UI, Abdillah Ahsan; Ketua Asosiasi Kader Sosio-Ekonomi Strategis, Suroto; Managing Directory Keling Kunang Group, Yohanes Rumpak; dan Wakil Ketua Pengurus Induk Koperasi Kredit, Agar Elias.
Menurutnya, Kemenkop UKM terus mengupayakan spin off di Indonesia untuk memperkuat pengembangan bisnis koperasi, mengingat tren global saat ini bahwa koperasi secara horisontal sudah mulai membangun jaringan bisnis di tingkat koperasi primer dengan spin off.
Selama ini, koperasi di Indonesia secara kelembagaan belum ada yang mengarah ke integrasi horisontal untuk membangun konglomerasi sosial melalui mekanisme spin off. Secara bisnis koperasi masih didominasi usaha simpan pinjam (KSP/USP) sekitar 79.543 unit atau 51,97% dari 153.060 unit koperasi.
"Kalau koperasi kita masih seperti ini terus dan tidak melakukan rekayasa kelembagaan dengan lakukan spin off, maka bisnis koperasi akan tertinggal jauh dari bisnis lainnya," kata Salekan.
Jakarta (B2B) - Cooperatives in Indonesia should conduct spinoffs, establishing new legal entities operating under a group, holding or consortium system; by dividing the organization into various business sectors such as services, production and consumption; as transformative cooperative as a response to internal and external environmental changes.
It was revealed of the workshop on building a cooperative through a spin off ´opened by the Deputy Minister of Institutional represented by Assistant Deputy of Legislation, Salekan here and attended by 120 participants, recently.
"The target of spin off for cooperatives able to become a healthy business entity, strong, and independent and play an important role in the national economy," said Salekan who goes by one name, like many Indonesians.
According to him, the ministry continues to seek spin off to strengthen the business development of cooperatives, because of global demand, cooperatives in Indonesia horizontal should start to build business network at primary cooperative level with spin off horizontally.
So far, cooperatives in Indonesia have not institutionalized horizontal integration to build social conglomeration through spin off mechanisms. In business the cooperative is still dominated by savings and loan business or KSP / USP about 79,543 units around 51.97% of 153,060 cooperative units across the country.