40.013 Dibubarkan, Kemenkop UKM Reformasi Total Koperasi
Mismanagement, Indonesian Govt Dissolved 40,013 Cooperatives across the Country
Reporter : Gusmiati Waris
Editor : Cahyani Harzi
Translator : Dhelia Gani

PUBLISHED: Rabu, 27 Februari 2019 , 22:31:00 WIB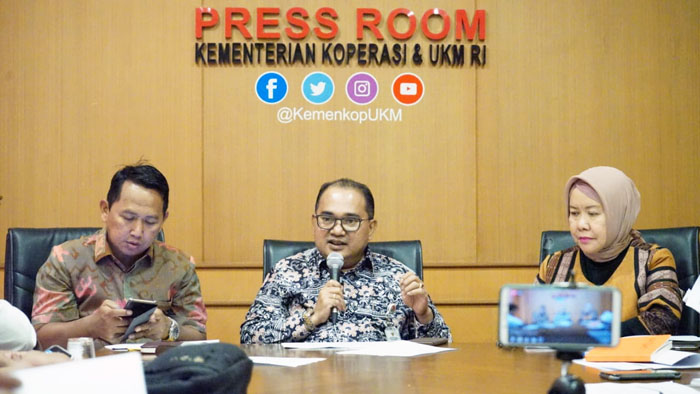 Sekretaris Kemenkop UKM, Meliadi Sembiring (tengah)
Jakarta (B2B) - Kementerian Koperasi dan UKM sejak 2015 hingga 2018 membubarkan 40.013 koperasi, yang sebelumnya mencapai 212.576 unit pada 2014, dan saat ini 34.417 unit koperasi dalam proses kurasi dan rekonsiliasi data, sebagai hasil dari reformasi total koperasi di era Pemerintahan Joko Widodo - Jusuf Kalla.
Sekretaris Kemenkop UKM Meliadi Sembiring mengatakan bahwa pemerintah terus menggulirkan reformasi total koperasi, yang mengutamakan kualitas ketimbang kuantitas sehingga memberikan manfaat ekonomi yang besar bagi pengurus dan anggota koperasi.
"Bila koperasi dikelola secara baik dan kredibel, maka akan memberikan manfaat ekonomi yang besar bagi pengurus dan anggota koperasi," kata Meliadi Sembiring kepada pers di Jakarta, Rabu (27/2).
Menurutnya, ada ada tiga upaya reformasi total koperasi. Pertama adalah terkait reorientasi yakni mengubah paradigma pendekatan pembangunan koperasi dari kuantitas menjadi kualitas untuk mewujudkan koperasi modern yang berkualitas serta berdaya saing tinggi dengan jumlah anggota aktif yang terus meningkat.
Kedua, rehabilitasi dengan memperbaiki dan membangun database system koperasi melalui online data system (ODS) untuk memperoleh sistem pendataan koperasi yang lebih baik dan akurat.
Ketiga adalah pengembangan dengan terus berupaya meningkatkan kapasitas koperasi sebagai badan usaha berbasis anggota yang sehat, kuat, mandiri dan tangguh serta setara dengan badan usaha lainnya, melalui regulasi yang kondusif, memperkuat SDM, kelembagaan, pembiayaan, pemasaran dan kemajuan teknologi.
Jakarta (B2B) - Indonesian Cooperatives and SMEs Ministry of 2015 to 2018 dissolved 40,013 cooperatives, from 212,576 units in 2014, and currently 34,417 units undergo curation and data reconciliation after total cooperative reform in the era of Joko Widodo administration.
Secretary of Indonesian Cooperatives and SMEs Ministry, Meliadi Sembiring that the government continues to roll out total reforms of cooperatives, which prioritize quality over quantity so as to provide benefits to management and members of cooperative.
"If the cooperative is managed properly and credibly, it will provide benefits to the management and members of the cooperative," Sembiring told the press here on Wednesday (February 27).
According to him, there are three total cooperative reform efforts. The first is related to reorientation, namely changing the paradigm of the cooperative development approach from quantity to quality.
Second, rehabilitation by building a cooperative database system through an online data system for accurate cooperative data systems.
Third is development by continuing to strive to increase capacity of cooperatives as member-based business entities that are healthy, strong, independent and resilient and is equivalent to other business entities, through conducive regulations, strengthening human resources, institutions, financing, marketing and technology.