Jubir Kabar `Bencana Alam` Indonesia Meninggal Disorot Dunia
Indonesia`s Famed Disaster Dpokesman Dies of Cancer
Editor : Ismail Gani
Translator : Novita Cahyadi

PUBLISHED: Minggu, 07 Juli 2019 , 22:33:00 WIB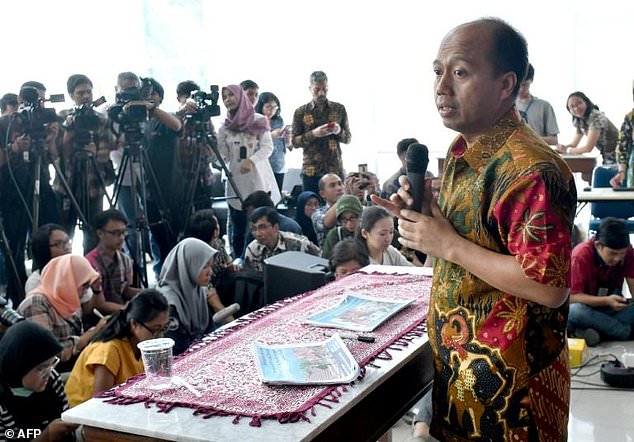 Sutopo - yang meninggalkan istri dan dua anaknya - memegang gelar PhD dalam sumber daya alam dan lingkungan, dengan keahlian dalam hidrologi dan penyemaian awan [Foto: AFP/MailOnline]
JURU BICARA Badan Nasional Penanggulangan Bencana [BNPB] Sutopo Purwo Nugroho - yang menjadi terkenal di dunia internasional karena tetap melaksanakan tugasnya tanpa lelah meski mengidap kanker paru-paru stadium empat - meninggal dunia pada usia 49 tahun.
Dikenal sebagai Pak Topo (Bapak Topo), Nugroho adalah wakil Pemerintah RI untuk menyampaikan perkembangan terkini dalam serangkaian bencana alam, termasuk gempa-tsunami yang menewaskan ribuan orang di Palu, Sulawesi Tengah pada 2018.
Sutopo meninggal dunia Minggu pagi di sebuah rumah sakit di Guangzhou, Cina, tempat dia menjalani perawatan untuk kanker yang telah menyebar ke tulang-tulangnya dan beberapa organ vital, kata BNPB.
"Kami semua merasa telah kehilangan Pak Sutopo. (Dia) sosok yang terkemuka dan gigih dalam menyampaikan informasi bencana di Indonesia," kata BNPB melalui pernyataan resmi di Instagram.
Bencana tsunami di kota Palu menegaskan kegigihan Sutopo untuk berjuang mengatasi penyakitnya dan memilih menghadiri konfrensi pers harian, menerima telepon wartawan dan berkomunikasi di media sosial dengan sangat cepat bahkan ketika dirinya yang dikenal bukan sebagai perokok mendapat perawatan intensif untuk kanker paru-paru stadium IV.
Pucat dan tampak lebih kurus daripada sebelumnya, Sutopo mendapat kabar buruk pada Januari 2018 bahwa dia sekarat dan tidak akan lama bertahan hidup.
Sutopo - yang meninggalkan istri dan dua anaknya - memegang gelar PhD dalam sumber daya alam dan lingkungan, dengan keahlian dalam hidrologi dan penyemaian awan.
Dia menghabiskan bertahun-tahun sebagai peneliti dan bermimpi menjadi profesor, menolak tawaran untuk mengambil pekerjaan juru bicara pemerintah tiga kali sampai bosnya meyakinkan dia bahwa latar belakangnya akan mendapat kepercayaan publik. Dia akhirnya mengambil jabatan tersebut pada 2010.
Diakui secara luas di Indonesia, Sutopo secara teratur meng-update hampir 200.000 followers-nya di Twitter dan 70.000 followers di Instagram.
Dia dilaporkan berjanji kepada istrinya untuk mengurangi jam kerjanya kerjanya tetapi masih berhasil meng-update informasi tentang tanah longsor yang mematikan pada Februari 2018 meski masih menjalani perawatan di rumah sakit, media setempat melaporkan.
Kemudian pada Agustus 2018, dia mengirimkan laporan tentang bencana gempa mematikan di pulau Lombok, di sebelah Bali, beberapa menit setelah menyelesaikan sesi kemoterapi.
Sutopo mengatakan dia memiliki lebih dari 3.000 kontak di telepon genggamnya sementara umpan media sosialnya dipenuhi dengan update dan gambar dramatis yang menunjukkan dampak gempa, tsunami, tanah longsor, dan letusan gunung berapi.
Dia melihat dirinya sebagai pelayan publik hingga akhir hayatnya seperti dikutip AFP yang dilansir MailOnline.
"Ini bukan tentang berapa lama hidupmu," katanya. "Ini tentang apa yang kamu lakukan dalam hidupmu."
INDONESIA´S disaster agency spokesman Sutopo Purwo Nugroho -- who shot to international fame for keeping up a 24/7 schedule while battling terminal cancer -- has died at the age of 49.
Affectionately known as Pak Topo (Mr Topo), Nugroho was the face of government efforts to get word out on the latest developments in a string of natural disasters, including a quake-tsunami that killed thousands on Sulawesi island in 2018.
He died early Sunday at a hospital in Guangzhou, China, where he was undergoing treatment for cancer which had spread to his bones and several vital organs, Indonesia´s disaster agency said.
"We all feel we have lost Pak Sutopo. (He was) the foremost and indomitable figure in delivering disaster information in Indonesia," the agency said in a statement on Instagram.
The disaster in the city of Palu highlighted Nugroho´s refusal to pass the torch as he dragged himself to daily press briefings, taking reporters´ calls and communicating on social media at a frantic pace even as the non-smoker got treatment for Stage IV lung cancer.
Pale and visibly thinner than in the past, Nugroho got the grim news in January 2018 that he was dying and might have as little as a year to live.
Nugroho -- who is survived by his wife and two children -- held a PhD in natural resources and the environment, with an expertise in hydrology and cloud-seeding.
He spent years as a researcher and dreamed of becoming a professor, rejecting offers to take up the government spokesman job three times until his then boss convinced him that his background would earn him the public´s trust. He took the position in 2010.
Widely recognised in Indonesia, Nugroho regularly updated his nearly 200,000 followers on Twitter and 70,000 followers on Instagram.
He reportedly promised his wife to slow down his work schedule but still managed to get out a 200-word update on a deadly landslide back in February 2018 from his hospital bed, local media reported.
Then in August of that year, he was sending out reports on a deadly quake disaster on Lombok island, next to Bali, minutes after finishing a chemotherapy session.
Nugroho said he had more than 3,000 contacts in his mobile phone while his social media feeds are filled with updates and dramatic images showing the aftermath of quakes, tsunamis, landslides and volcanic eruptions.
He saw himself as a public servant to the end.
"It´s not about how long your life is," he said. "It´s about what you do in your lifetime."