Generasi Milenial Diajak Kemenkop UKM Ikuti Program Wirausaha Pemula
Indonesia Millennial Generation are Invited to Develop Entrepreneurship
Reporter : Gusmiati Waris
Editor : Cahyani Harzi
Translator : Dhelia Gani

PUBLISHED: Kamis, 06 September 2018 , 22:36:00 WIB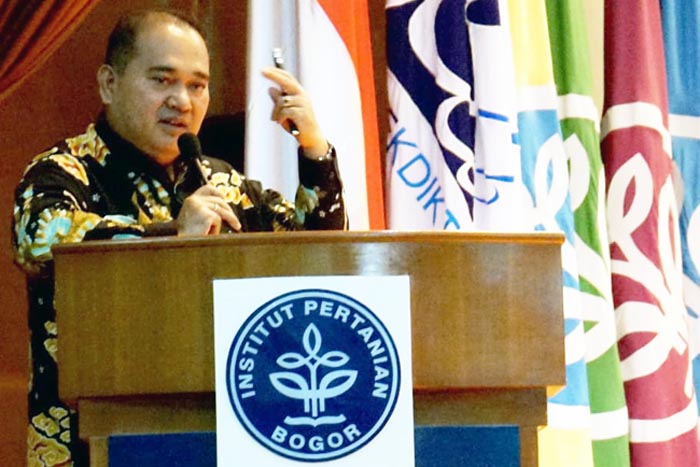 SEMINAR KOPERASI: Sesmenkop UKM Meliadi Sembiring memberi arahan pada seminar dan diskusi di IPB (Foto: Humas Kemenkop UKM)
Bogor, Jawa Barat (B2B) - Pemerintah RI mengajak mahasiswa sebagai generasi milenial untuk mengikuti 'program wirausaha pemula' yang digelar Kementerian Koperasi dan UKM, untuk membangun minat kewirausahaan di kalangan generasi muda, sehingga tidak hanya berorientasi mencari pekerjaan setelah lulus kuliah melainkan membuka peluang kerja.
"Saya mengajak mahasiswa untuk mengikuti program ini, dengan membuat proposal usaha. Proposal yang disetujui akan mendapatkan bantuan dana untuk usahanya. Pemerintah sudah bekerjasama dengan 10 perguruan tinggi," kata Sekretaris Kementerian Koperasi dan UKM Meliadi Sembiring di Bogor, Rabu (5/9).
Meliadi mengingatkan bahwa koperasi dan UMKM di negara mana pun menjadi tulang punggung negara saat perekonomian dalam keadaan krisis, sehingga kehadiran wirausaha pemula akan mendorong penguatan perekonomian nasional.
"Pertumbuhan ekonomi kita di atas lima persen, persoalannya apakah merata? Nah, koperasi dan UKM mengapa jadi penting, karena jumlahnya banyak sehingga gini rasio bisa kita perbaiki. Kemiskinan akan menurun melalui pengembangan koperasi dan UMKM," kata Meliadi pada seminar dan diskusi bertajuk "Koperasi Sektor Riil yang Berdaya Saing dalam Pembangunan yang Inklusif menghadapi Tantangan Disparitas Ekonomi'.
Sementara Wakil Rektor Bidang Kerjasama dan Sistem Informasi di Institut Pertanian Bogor (IPB) Prof Dr Ir Dodik Ridho Nurrachmat meminta para mahasiswa untuk turut mengembangkan koperasi dan UMKM, dan menjadikan koperasi sebagai tempat mengembangkan peluang bisnis.
"Mimpi saya nanti mahasiswa membuka usaha dan tergabung dalam koperasi yang mempunyai efek wow. Jadi, ketika ada yang bertanya kerja di mana dan dijawab koperasi, reaksinya pun wow. Kita harus jadikan koperasi sebagai soko guru perekonomian kita," kata Dodik.
Bogor of West Java (B2B) - Indonesian government invites students as millennial generation to join the 'beginner entrepreneurship program' held by the Cooperatives and SMEs Ministry, to build entrepreneurial interest among the younger generation, so it is not oriented to find a job after graduation but open employment opportunities.
"I invite students to join this program, by making a business proposal. The proposal after being approved will receive a grant for his business. The government has collaborated with 10 universities," said Secretary of the Cooperatives and SMEs Ministry, Meliadi Sembiring here on Wednesday (September 5).
Mr Sembiring reminded that cooperatives and SMEs in any country become the backbone of the country's economy, when the economic crisis so that novice entrepreneurs will strengthen the national economy.
"Our economic growth above five percent, whether there is economic equality? Cooperatives and SMEs are important, because they can reduce the gini ratio. Poverty will decrease through the development of cooperatives and SMEs," he said.
While the Vice Chancellor of Bogor Agricultural University, Prof Dr Ir Dodik Ridho Nurrachmat asking students to participate in developing cooperatives and SMEs, and make cooperatives a place to develop business opportunities.
"Students must develop business opportunities through the cooperatives. We must make the cooperative as the teacher of the Indonesian economy," he said.