Pertumbuhan 74,89%, Nilai Penjaminan Jamsyar Agustus 2018 Tembus Rp13,2 T
Indonesia`s Sharia Guarantee Value Shows the Positive Trend
Reporter : Gusmiati Waris
Editor : Cahyani Harzi
Translator : Dhelia Gani

PUBLISHED: Rabu, 19 September 2018 , 22:47:00 WIB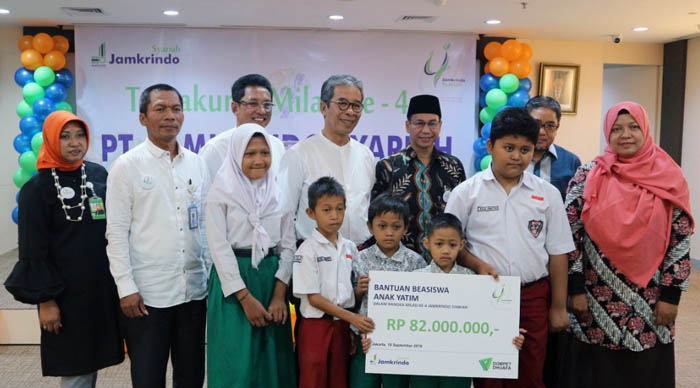 MILAD JAMSYAR: PT Jamkrindo Syariah memberikan beasiswa bagi yatim piatu di Tangerang, Banten sebesar Rp82 juta untuk 41 anak yatim melalui kerjasama dengan Dompet Dhuafa (Foto: B2B/Mya)
Jakarta (B2B) - Nilai penjaminan PT Jamkrindo Syariah disingkat Jamsyar hingga tahun keempat terus meningkat dengan pertumbuhan 74,89%, dari Rp4 triliun pada 2015 meningkat ke Rp13,2 triliun per Agustus 2018. Sementara total aset hingga akhir Agustus 2018 melambung ke Rp636,9 miliar dari Rp288,5 miliar pada 2015.
Begitu pula dengan Imbal Jasa Kafalah (IJK) per Agustus 2018 mencapai Rp213,9 miliar padahal pada 2015 hanya Rp36,8 miliar, dengan pertumbuhan IJK cash basic adalah 109,27%, sehingga pangsa pasar penjaminan syariah Jamsyar adalah 65,60% apabila mengacu pada total IJK accrual dan IJK yang ditangguhkan.
Direktur Utama Jamkrindo Syariah Gatot Suprabowo mengatakan nilai penjaminan Jamsyar dari tahun ke tahun terus meningkat dengan tingkat pertumbuhan 74,89% per tahun dari 2015 ke 2017.
"Bahkan Januari sampai Agustus 2018, volume penjaminan mencapai Rp13,2 triliun," kata Gatot Suprabowo kepada pers di sela perayaan HUT keempat di Jakarta, Rabu (19/9).
Terkait IJK, dia menguraikan bahwa peningkatan perolehan IJK cash basic selain karena pertumbuhan bisnis juga didukung perubahan komposisi produk, khususnya beberapa tahun terakhir mendekati 50% lantaran komposisi penjaminan cash loan dengan jangka waktu relatif panjang ketimbang non cash loan yang relatif pendek.
"Komposisi tersebut cukup bagus, karena akan membuat volatilitas pendapatan penjaminan semakin baik," kata Gatot Suprabowo.
Sementara dari total aset, per Agustus 2018 mencapai Rp636,9 miliar dari Rp288,5 miliar pada 2015 atau meningkat 221% ketimbang aset 2015. Dari sisi kemampuan meraih laba, return of equity Jamsyar per Agustus 2018 mencapai 10,21% sementara hingga akhir 2015 baru mencapai 2,66%.
Jakarta (B2B) - Guarantee funds provided by Jamkrindo Syariah, unit sharia companies of a subsidiary of Credit Guarantee Indonesia Corp., locally known as the Jamkrindo, Jamkrindo Syariah called the Jamsyar continues to increase with 74.89% growth until 2018 of IDR4 trillion in 2015 increased to IDR13.2 trillion per August 2018. While the total assets until the end of August 2018 soared to Rp636.9 billion from Rp288.5 billion in 2015.
Similarly, the Payments Services Kafalah or the IJK per August 2018 reached Rp213,9 billion, while in 2015 only Rp36,8 billion, with the growth of IJK cash basic is 109.27%, so that Jamsyar´s sharia guarantee market share is 65.60%.
Director of Jamkrindo Syariah Gatot Suprabowo said the value of Jamsyar guarantee from year to year continued to increase with a growth rate of 74.89% per year from 2015 to 2017.
"Even January to August 2018, the guarantee volume reached IDR13.2 trillion," Mr Suprabowo told the press here on Wednesday (September 19).
Regarding IJK, he elaborated about increase of IJK cash basic acquisition because of business growth and changes in product composition, especially the last few years approached 50% because of the composition of long-term cash loan guarantees rather than short term non cash loans.
"The composition is quite good, because it will make guarantee income volatility even better," Mr Suprabowo said.
While total assets, per August 2018 reached IDR636,9 billion of IDR288,5 billion in 2015 or an increase of 221% compared to 2015 assets. In terms of profitability, Jamsyar´s return of equity per August 2018 reached 10.21% while until the end of 2015 it only reached 2.66%.