Rp525 Miliar, LPDB KUMKM Salurkan Dana Bergulir Syariah via KPPS Sekunder
Indonesian Govt Supports Development of the Rural Economy
Reporter : Gusmiati Waris
Editor : Cahyani Harzi
Translator : Dhelia Gani

PUBLISHED: Kamis, 24 Januari 2019 , 22:48:00 WIB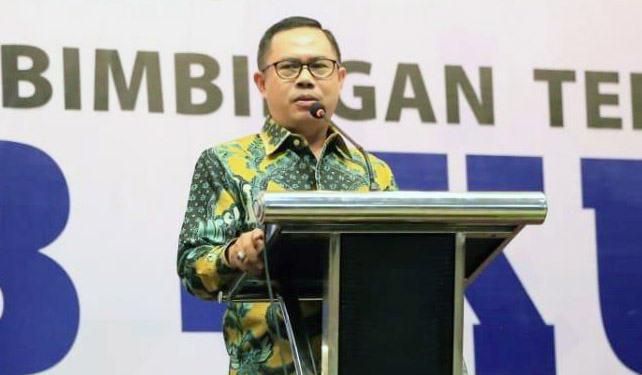 Direktur Pembiayaan Syariah LPDB-KUMKM Jaenal Aripin (Foto: Humas LPDB - KUMKM)
Tarakan, Kaltara (B2B) - Pemerintah RI mengalokasikan dana bergulir pola syariah pada 2019 sebesar Rp525 miliar, untuk mempercepat penyerapan dana tersebut maka Lembaga Pengelola Dana Bergulir Koperasi Usaha Mikro, Kecil dan Menengah (LPDB-KUMKM) akan prioritaskan penyalurannya melalui Koperasi Simpan Pinjam dan Pembiayaan Syariah (KSPPS) sekunder sekaligus menguatkan lembaga keuangan di desa yang selama ini belum tersentuh program Apex KSPPS.
Direktur Pembiayaan Syariah LPDB-KUMKM Jaenal Aripin mengatakan koperasi sekunder yang selama ini belum terbina dengan baik, sesuai instruksi dari Komite Ekonomi dan Industri Nasional atau KEIN agar ada program keberpihakan sektor keuangan di desa, maka dana bergulir syariah yang menjadi pilot project.
Menurutnya, ke depan tengah diupayakan KSPPS sekunder menjadi holding bagi KSPPS primer guna mengatasi masalah kekurangan likuiditas KSPPS. Dikatakan KSPPS mengalami keterbatasan modal karena selama ini sumber modal lebih banyak mengandalkan dari anggota.
"Koperasi sekunder itu juga menguatkan lembaga keuangan di desa. Jadi nanti lewat sekunder-sekunder itu yang akan menguatkan primer-primer, termasuk juga program dari KEIN," katanya.
Strategi berikutnya, kata Jaenal Aripin, LPDB-KUMKM akan bekerja sama dengan asosiasi-asosiasi pengusaha untuk menghimpun UMKM calon mitra. Sebab tahun ini LPDB-KUMKM akan mulai menyalurkan dana bergulir langsung ke UMKM seiring tengah diubahnya Peraturan Menteri Keuangan (PMK) Nomor 75 Tahun 2011 tentang Tarif Layanan Dana Bergulir.
Tarakan of North Borneo (B2B) - Indonesian government allocates sharia capital loans in 2019 amounting to IDR525 billion, to realize that the Indonesia´s fund management institutions lending to cooperatives and SMEs or the LPDB-KUMKM will prioritize through Savings and Credit Cooperatives and Islamic Financing or the KSPPS also strengthen financial institutions in villages that have not received capital assistance from the government.
Director of Sharia Financing LPDB-KUMKM Jaenal Aripin said the move was in accordance with instructions of the National Economic and Industrial Committee or the KEIN so that there is a partiality program in the rural economy, then the Islamic business capital loan becomes a pilot project.
According to him, KSPPS will be a secondary holding for the primary KSPPS in the future to overcome the problem of lack of liquidity.
"The secondary cooperative also strengthens financial institutions in the villages," Aripin said.
The next strategy, said Aripin, LPDB-KUMKM will work with business associations to gather SMEs who are potential partners.