Tata Kelola Perusahaan, Jamsyar Raih Penghargaan Top GRC Awards 2019
Jamsyar Won the 2019 Top Governance, Risk and Compliance Award
Reporter : Gusmiati Waris
Editor : Cahyani Harzi
Translator : Dhelia Gani

PUBLISHED: Kamis, 29 Agustus 2019 , 22:05:00 WIB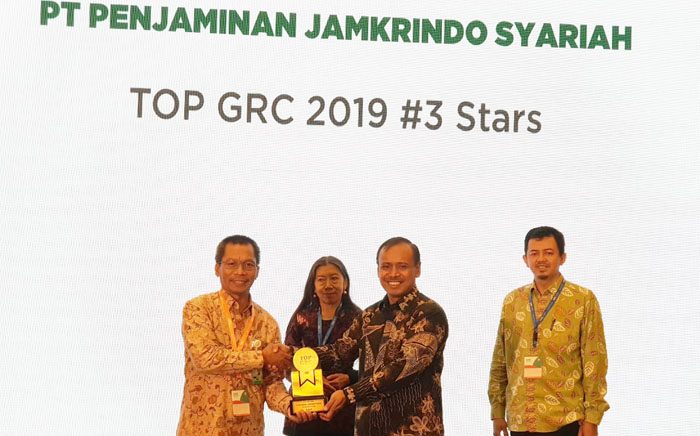 PENGHARGAAN 2019: Direktur Operasional Jamsyar, Achmad Sonhadji menerima penghargaan Top GRC 2019 [Foto: Humas Jamsyar]
Jakarta [B2B] - Perusahaan penjaminan kredit syariah, PT Jamkrindo Syariah [Jamsyar] menyabet penghargaan sebagai Top GRC 2019 pada ajang Top Governance, Risk and Compliance Award 2019 [GRC Award] yang digelar bersamaan dengan kegiatan GRC Summit 2019 di Jakarta, belum lama ini. Penghargaan diterima oleh Direktur Operasional Jamsyar, Achmad Sonhadji
"Penghargaan Top GRC Awards 2019 bermakna penting bagi Jamsyar, menunjukkan bahwa perusahaan tumbuh dan berkembang dinamis, yang tercermin dari laporan keuangan," kata Achmad Sonhaji kepada pers di Jakarta usai menerima penghargaan.
Menurutnya, Jamsyar juga telah telah melaksanakan sistem operasional dan teknologi informasi, infrastuktur, dan implementasi tata kelola perusahaan yang baik disingkat (GCG), manajemen risiko dan manajemen kepatuhan pada tingkat yang baik.
Sebagaimana diketahui, TOP GRC Award 2019 adalah ajang apresiasi di bidang tata kelola perusahaan yang baik atau [good corporate governance/GCG], manajemen risiko dan manajemen kepatuhan.
TOP GRC diikuti lebih dari 500 perusahaan yang terdiri dari BUMN, perusahaan terbuka [publik], swasta nasional dan multinasional, kemudian diseleksi menjadi 200 perusahaan finalis dan ditetapkan 52 perusahaan sebagai penerima penghargaan TOP GRC 2019.
Kegiatan penghargaan digelar oleh Komite Nasional Kebijakan Governance [KNKG], Indonesia Risk Management Professional Association [Irmapa], Institute Compliance Professional Indonesia [ICoPI], Perkumpulan Professional Governance Indonesia dan didukung oleh Center For Risk Management & Sustainabillity serta Majalah Top Business.
Jakarta [B2B] - Indonesian sharia credit guarantee company, Jamkrindo Syariah Corp [Jamsyar] won the Top GRC 2019 award at the 2019 Top Governance, Risk and Compliance Award [GRC Award] which was held concurrently with the 2019 GRC Summit in Jakarta, recently. The award was received by the Jamsyar´s Director of Operations, Achmad Sonhadji.