ASEAN Exchange Visit, Perkuat Koperasi Pertanian Kelola Nilai Tambah Kelapa
ASEAN Held an Exchange Visit for Coconut Value Added in Indonesia
Reporter : Gusmiati Waris
Editor : Cahyani Harzi
Translator : Dhelia Gani

PUBLISHED: Kamis, 25 Oktober 2018 , 22:53:00 WIB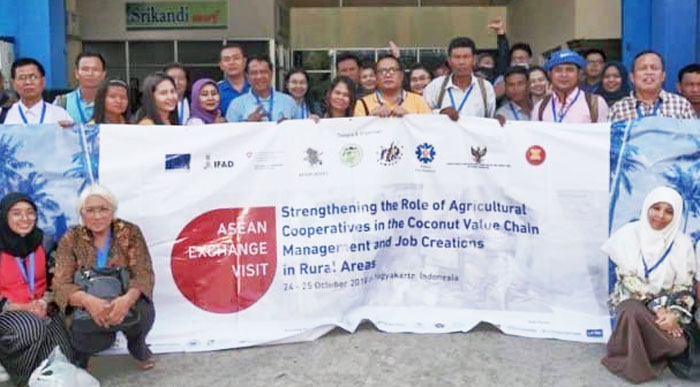 Peserta ASEAN Exchange Visit di Purworejo (Foto: istimewa)
Purworejo, Jateng (B2B) - Sedikitnya 75 peserta dari tujuh negara anggota ASEAN mengikuti Exchange Visit, 24-25 Oktober di Kabupaten Purworejo, Provinsi Jawa Tengah dan Yogyakarta, yang diadakan oleh Kementerian Koperasi dan UKM dan ASEAN Farmers Organizations Support Programme (AFOSP), untuk memperkuat peran koperasi pertanian dalam pengelolaan rantai nilai kelapa dan penciptaan lapangan kerja di pedesaan.
Victoria Br Simanungkalit selaku perwakilan dari ASEAN Sectoral Working Group Agricultural Cooperative (ASWGAC) untuk Indonesia, menyatakan bahwa Indonesia merupakan produsen kelapa nomor terbesar di ASEAN, namun para petani Indonesia masih memerlukan edukasi untuk mengubah pola pikir mereka agar produknya memiliki nilai tambah.
"Indonesia adalah produsen kelapa menjadi nomor satu diwilayah ASEAN, tetapi dalam hal hasil produksi kelapa khususnya coconut oil nomor dua dikarenakan para petani lebih senang menjual bahan mentah daripada dijual dalam bentuk olahan," kata Victoria kepada pers, Kamis (25/10).
Victoria yang juga Plt Sekretaris Deputi Bidang Produksi dan Pemasaran di Kemenkop dan UKM menegaskan pemerintah telah mendorong para petani untuk meningkatkan nilai tambah produk kelapa menjadi produk turunan yang nilai jualnya lebih tinggi, seperti gula kelapa kristal, minyak kelapa, dan VCO.
"Satu butir kelapa dapat diturunkan menjadi produk bernilai tinggi, contohnya sabut kelapa bahkan dapat menjadi jok kursi mobil," katanya.
Destry Anna Sari dari ACEDAC menambahkan pengembangan produk olahan kelapa yang inovatif dan berkualitas serta berpotensi ekspor membutuhkan dukungan akademisi, perusahaan swasta, pemerintah untuk mendukung pemberdayaan UMKM menciptakan bisnis yang inklusif.
"Kunci sukses mengembangkan ASEAN sebagai kawasan berbasis produksi adalah melalui penguatan peran koperasi pertanian. Dalam hal ini, pemerintah terlibat dan berkolaborasi dengan organisasi atau asosiasi petani dan sektor swasta untuk membangun kemitraan solid yang menguntungkan petani dan koperasi di ASEAN," kata Destry.
Purworejo of Central Java (B2B) - At least 75 participants of ASEAN member states attended the exchange visit here on October 24-25 held by Indonesian Cooperatives and SMEs Ministry and the ASEAN Farmers Organizations Support Program (AFOSP), to strengthen the role of agricultural cooperatives to increase coconut value added as an economical product and employment opportunities in the countryside.
Victoria Br Simanungkalit as representative of ASEAN Sectoral Cooperative Agricultural Working Group (ASWGAC) for Indonesia said Indonesia is the big coconut producer in ASEAN, but Indonesian farmers still need education to change their mindset so that their products have added value.
"Indonesia is the big coconut producer in ASEAN, but in terms of value-added products, Indonesia is second because farmers choose to sell raw coconut rather than processed products," she said.
Mrs. Simanungkalit, who is also a senior ministry official, said that the government is encouraging farmers to increase the value-added of coconut into derivative products with a higher selling value such as crystal coconut sugar, coconut oil, and VCO.
Destry Anna Sari from ACEDAC said the development of innovative and high quality coconut processed products as an export product requires the support of academics, private companies, government to support the empowerment of cooperatives and SMEs to create inclusive businesses.
"The key to success in developing ASEAN as an agricultural production-based area is through strengthening agricultural cooperatives. The government collaborates with farmers´ organizations or associations and private sector builds partnerships for farmers and cooperatives in ASEAN," Mrs Simanungkalit said.