Dunia Sorot Gugatan Pilpres Prabowo ke Mahkamah Konstitusi
Defeated Indonesia Candidate to Challenge Vote at Top Court
Editor : Ismail Gani
Translator : Novita Cahyadi

PUBLISHED: Kamis, 23 Mei 2019 , 22:54:00 WIB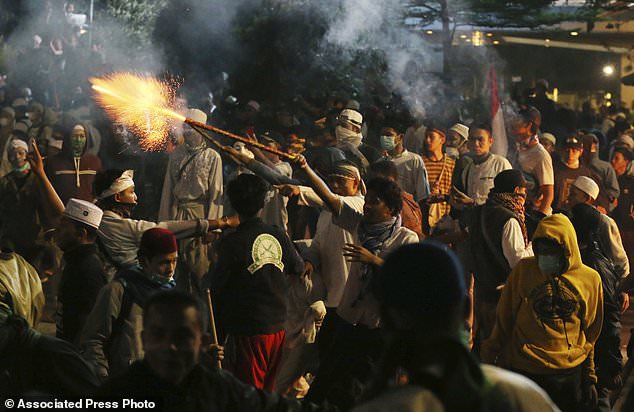 Foto: Associated Press/MailOnline
KANDIDAT yang kalah dalam Pemilihan Presiden 2019 [Pilpres] diperkirakan akan mengajukan gugatan ke Mahkamah Konstitusi, Kamis, setelah Jakarta kembali tenang paska unjuk rasa yang berujung kerusuhan pada Selasa dan Rabu.
Tim sukses Prabowo Subianto menuding penyelenggaraan Pilpres 2019 berlangsung curang secara terstruktur, sistematis dan masif namun diperkirakan tidak dapat memberikan bukti yang kredibel tentang kecurangan dimaksud. Rencananya, hari ini mengajukan gugatan ke MK.
Dikabarkan enam orang tewas dalam kerusuhan yang dimulai Selasa dini hari setelah unjuk rasa damai pasca pengumuman hasil rekapitulasi Pemilu Serentak 2019 dan Pilpres pada 17 April 2019 dimenangkan oleh calon petahana Joko Widodo dengan perolehan suara 55,5% dan memastikan jabatan presiden untuk periode kedua.
Prabowo Subianto, yang juga dikalahkan oleh Joko Widodo pada 2014, juga menolak untuk menerima hasil Pilpres dan malah menyatakan dirinya sebagai pemenang Pilpres.
Badan Pengawas Pemilu [Bawaslu] awal pekan ini menolak tudingan Prabowo tentang integritas pemilu setelah satu-satunya bukti penipuan yang diberikan oleh timnya adalah tautan ke media online.
Kerusuhan di Jakarta disebut sebagai sesuatu yang direncanakan, dan tidak spontan dan ratusan orang tersangka ditangkap yang sebagian besar berasal dari luar Jakarta.
Polisi menemukan ambulans yang penuh dengan batu dan senjata lainnya. Beberapa dari mereka yang ditangkap mengantungi amplop berisi uang Rp250 ribu sampai Rp500 ribu, kata Kabid Humas Polda Metro Jaya, Kombes Pol Argo Yuwono. Upah minimum di Jakarta adalah Rp100 ribu per hari.
Pemerintah telah mengerahkan sekitar 50.000 polisi dan tentara di Jakarta. Banyak penduduk menghindari pusat kota yang menjadi lokasi sasaran pengunjuk rasa, sementara kantor pusat Bawaslu dan Komisi Pemilihan Umum [KPU] seperti dikutip Associated Press yang dilansir MailOnline.
THE DEFEATED candidate in Indonesia's presidential election is expected to challenge the result in court Thursday as calm returned to the capital following a 24-hour spasm of apparently orchestrated violence.
The campaign team of former general Prabowo Subianto has alleged massive election fraud but not provided any credible evidence. It has said it will file a challenge to the Constitutional Court on Thursday.
Six people died in rioting that started Tuesday night during peaceful protests at official results which confirmed President Joko Widodo had won 55.5% of the vote in the April 17 election, securing him a second term.
Subianto, who was also defeated by Widodo in 2014, has refused to accept the result and instead declared himself the winner.
The election supervisory agency earlier this week rejected Subianto's complaint about the election's integrity after the only evidence of fraud provided by his team was links to online articles.
The rioting in Jakarta was planned and not spontaneous and many of the several hundred arrested had come from outside Jakarta, according to police.
Officers found an ambulance filled with stones and other weapons. Some of those arrested had envelopes containing 250,000-500,000 rupiah ($17-$34), said Jakarta police chief Argo Yuwono. The minimum wage in Jakarta is about $9 a day.
The government has deployed some 50,000 police and soldiers in Jakarta. Many residents have left the city and parts of the downtown are closed to traffic, with the election supervisory agency and Election Commission barricaded with razor wire.