Bangkai Paus Penuh Sampah, "Fakta Mengerikan," kata WWF Indonesia
Sperm Whale is Found Dead with 115 Plastic Drinking Cups in Its Stomach in Indonesia
Editor : Cahyani Harzi
Translator : Dhelia Gani

PUBLISHED: Selasa, 20 November 2018 , 22:59:00 WIB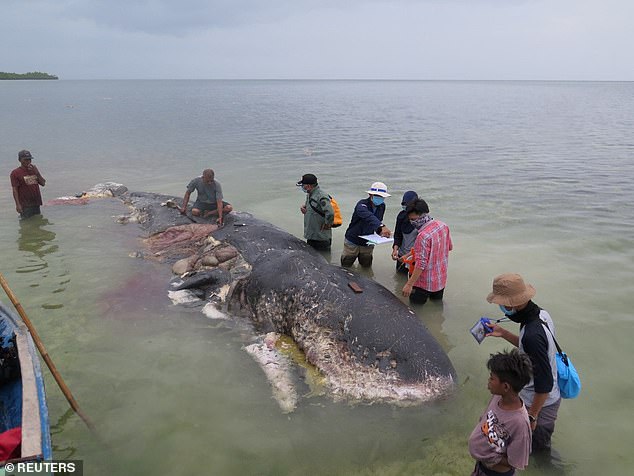 Foto: Reuters/MailOnline
BANGKAI PAUS yang hanyut di Wakatobi, Provinsi Sulawesi Tenggara ditemukan penuh berisi sampah plastik di perutnya, termasuk 115 gelas plastik dan dua sandal jepit.
Tim penyelamat menemukan bangkai membusuk ikan paus sperma sepanjang sembilan meter pada Senin di dekat perairan Kapota, Wakatobi, Sultra menurut Kepala Taman Nasional Wakatobi, Heri Santoso.
Sampah di perut bangkai paus antara lain 115 cangkir plastik, empat botol plastik, 25 kantong plastik, dua sandal jepit, karung nilon dan lebih dari 1.000 sampah plastik lainnya.
Penyebab kematian itu masih belum diketahui dan bangkainya harus dikubur pada Selasa tanpa necropsy karena kondisinya yang membusuk.
Dwi Suprapti, koordinator konservasi spesies laut di WWF Indonesia, mengatakan: ´Meskipun kami belum dapat menyimpulkan penyebab kematian, fakta yang kami lihat benar-benar mengerikan.´
Indonesia, sebuah negara berpenduduk 260 juta orang, adalah pencemar plastik terbesar kedua di dunia setelah China, menurut sebuah penelitian yang diterbitkan dalam jurnal Science pada Januari.
Indonesia menghasilkan 3,2 juta ton sampah plastik dalam setahun, dimana 1,29 juta ton mencemari di laut, kata penelitian tersebut.
Luhut Binsar Pandjaitan, Menteri Koordinator Kemaritiman Indonesia, mengatakan penemuan paus itu harus meningkatkan kesadaran publik tentang perlunya mengurangi penggunaan plastik, dan telah memacu pemerintah untuk mengambil tindakan yang lebih keras untuk melindungi lautan.
"Saya sangat sedih mendengar ini," kata Luhut yang baru-baru ini berkampanye untuk menekan menggunakan plastik.
´Ada kemungkinan bahwa banyak hewan laut lainnya juga terkontaminasi dengan sampah plastik dan ini sangat berbahaya bagi kehidupan kita.´
Dia mengatakan pemerintah sedang berusaha mengurangi penggunaan plastik, termasuk mendesak toko-toko untuk tidak menyediakan kantong plastik bagi pelanggan dan mengajarkan tentang masalah lingkungan mulai dari sekolah dasar untuk memenuhi target pemerintah mengurangi penggunaan plastik sebesar 70% pada 2025.
"Ambisi besar ini dapat dicapai jika orang belajar memahami bahwa sampah plastik adalah musuh bersama," katanya kepada AP seperti dikutip Press Association yang dilansir MailOnline.
A DEAD WHALE that washed ashore in eastern Indonesia has been found to have a 13lbs lump of plastic waste in its stomach, including 115 plastic drinking cups and two flip-flops.
Rescuers found the rotting carcass of the 31-foot male sperm whale on Monday near Kapota waters in the Southeast Sulawesi province, according to Wakatobi National Park chief Heri Santoso.
The waste in its stomach included 115 plastic cups, four plastic bottles, 25 plastic bags, two flip-flops, a nylon sack and more than 1,000 other plastic pieces.
The cause of the death was still unknown and the carcass was to be buried on Tuesday without a necropsy because of its decayed condition.
Dwi Suprapti, a marine species conservation coordinator at WWF Indonesia, said: ´Although we have not been able to deduce the cause of death, the facts that we see are truly awful.´
Indonesia, an archipelago of 260 million people, is the world´s second-largest plastic polluter after China, according to a study published in the journal Science in January.
It produces 3.2 million tons of mismanaged plastic waste a year, of which 1.29 million tons ends up in the ocean, the study said.
Luhut Binsar Pandjaitan, Indonesia´s coordinating minister of maritime affairs, said the whale´s discovery should raise public awareness about the need to reduce plastic use, and had spurred the government to take tougher measures to protect the ocean.
´I´m so sad to hear this,´ said Mr Pandjaitan, who recently has campaigned for less use of plastic.
´It is possible that many other marine animals are also contaminated with plastic waste and this is very dangerous for our lives.´
He said the government is making efforts to reduce the use of plastic, including urging shops not to provide plastic bags for customers and teaching about the problem in schools nationwide to meet a government target of reducing plastic use by 70 per cent by 2025.
´This big ambition can be achieved if people learn to understand that plastic waste is a common enemy,´ he told AP.