RI Ancam Mundur dari Kesepakatan Paris akibat Diskriminasi Sawit
Indonesia Threatens to Quit Paris Climate Deal over Palm Oil
Editor : Ismail Gani
Translator : Novita Cahyadi

PUBLISHED: Rabu, 27 Maret 2019 , 22:07:00 WIB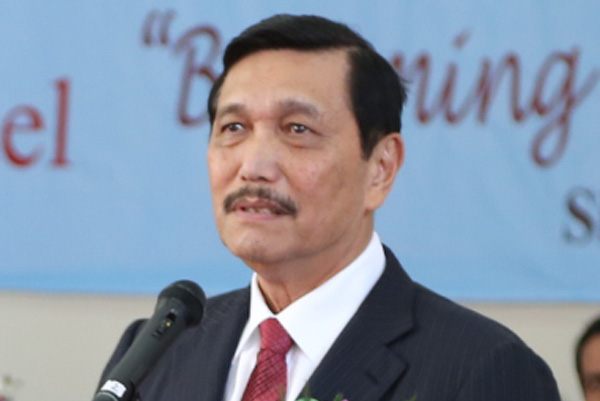 Menko Kemaritiman RI Luhut B Panjaitan [Foto;B2B/Mac]
INDONESIA mengancam untuk mundur dari Perjanjian Paris [Paris Agreement] terkait perubahan iklim apabila Uni Eropa melanjutkan rencananya untuk menghentikan penggunaan minyak sawit bahan bakar mesin (BBM) energi terbarukan.
Indonesia, produsen minyak kelapa sawit terbesar di dunia telah mengecam Uni Eropa [UE] setelah minyak kelapa sawit diklasifikasikan sebagai tanaman berisiko yang menyebabkan deforestasi yang signifikan dan memutuskan bahwa penggunaannya dalam bahan bakar terbarukan harus dihentikan pada 2030.
Berbicara di sebuah forum kelapa sawit, Menko Kemaritiman Luhut Pandjaitan, yang mengawasi sumber daya kelautan dan alam, mengatakan UE "tidak boleh meremehkan Indonesia" dan berjanji pemerintah akan dengan tegas membela kepentingan nasionalnya.
Budidaya kelapa sawit kerap dituding sebagai penyebab penggundulan hutan dan menghancurkan habitat hewan langka seperti orangutan dan harimau Sumatra.
Pemerintah Indonesia, bagaimanapun, mengatakan kelapa sawit membutuhkan jauh lebih sedikit tanah untuk menghasilkan minyak dibandingkan dengan tanaman seperti kedelai.
"Jika AS dan Brasil dapat meninggalkan kesepakatan iklim, kita harus mempertimbangkan itu. Mengapa tidak?" kata Luhut.
Di bawah kesepakatan Perjanjian Paris, Indonesia telah berkomitmen untuk mengurangi emisi gas rumah kaca tanpa syarat sebesar 29% dan secara kondisional sebesar 41% pada 2030.
Pada Selasa, pemerintah mengatakan berencana untuk mengadopsi kebijakan ekonomi berkelanjutan yang dapat membantu mengurangi emisi gas rumah kaca sambil meningkatkan pertumbuhan ekonomi.
"AS sama sekali tidak dikenai sanksi oleh UE (setelah meninggalkan kesepakatan Paris)," kata Peter Gontha, staf khusus di kementerian luar negeri Indonesia.
Dia juga mengatakan Indonesia menghadapi tekanan UE atas minyak kelapa sawit meskipun pemerintah mengumumkan moratorium izin untuk perkebunan baru.
Indonesia mengklaim kelapa sawit didiskriminasi oleh UE untuk melindungi pasar minyak Eropa seperti minyak bunga matahari dan minyak lobak.
Indonesia telah mengatakan sedang bersiap untuk menantang UE dan Petunjuk Energi Terbarukan (RED II) di Organisasi Perdagangan Dunia segera setelah diterapkan. Pemerintah juga memeriksa hubungannya dengan anggota UE yang mendukung tindakan tersebut.
Delegasi UE untuk Indonesia dan Brunei mengatakan blok itu mematuhi aturan WTO dan terus terbuka untuk diskusi dengan pemerintah Indonesia mengenai masalah ini.
Awal pekan ini, pejabat Kementerian Perdagangan Indonesia mendesak perusahaan sawit untuk melakukan tindakan hukum atas masalah mereka sendiri di pengadilan seperti dikutip Reuters yang dilansir MailOnline.
A SENIOR Indonesian minister warned on Wednesday Southeast Asia's biggest economy could consider exiting the Paris climate deal if the European Union goes ahead with a plan to phase out palm oil in renewable transportation fuel.
Indonesia, the world's biggest palm oil producer, has lashed out at the EU after the bloc classified palm oil as a risky crop that caused significant deforestation and ruled that its use in renewable fuel should stop by 2030.
Speaking at a palm oil forum, Luhut Pandjaitan, the coordinating minister overseeing maritime and natural resources, said the EU "should not underestimate Indonesia" and pledged the government would firmly defend its national interest.
Palm cultivation is often blamed for deforestation and destroying the habitat of endangered animals such as orangutans and Sumatran tigers.
Indonesia's government, however, says palm requires far less land to produce oil compared to crops such as soy and rapeseed.
"If the U.S. and Brazil can leave the climate deal, we should consider that. Why not?" Pandjaitan said.
Under the Paris climate accord, Indonesia has committed to reducing its greenhouse gas emissions unconditionally by 29 percent and conditionally by 41 percent by 2030.
On Tuesday, the government said it plans to adopt sustainable economic policies which could help cut greenhouse gas emissions while boosting economic growth.
"The U.S. was not sanctioned at all by the EU (after leaving the Paris accord)," said Peter Gontha, special staff at Indonesia's foreign ministry.
He also said Indonesia faced EU pressure over palm oil despite the government declaring a moratorium on permits for new estates.
Indonesia claims palm is being discriminated against by the EU to protect the market of European oils such as sunflower and rapeseed oils.
Indonesia has said it is preparing to challenge the EU and its Renewable Energy Directive (RED II) at the World Trade Organization as soon as it is implemented. The government is also examining its relations with EU members which support the act.
EU delegates for Indonesia and Brunei have said the bloc is complying with WTO rules and continues to be open for discussion with Indonesian government over the issue.
Earlier this week, and Indonesian Trade Ministry official urged palm companies to log legal action of their own over the issue at courts.