2019 - 2024, Koperasi dan UKM akan Kian Maju Didukung Karakter Jokowi - Amin
Indonesian Cooperatives and SMEs will Develop in Joko Widodo Administration
Reporter : Gusmiati Waris
Editor : Cahyani Harzi
Translator : Dhelia Gani

PUBLISHED: Rabu, 22 Mei 2019 , 23:15:00 WIB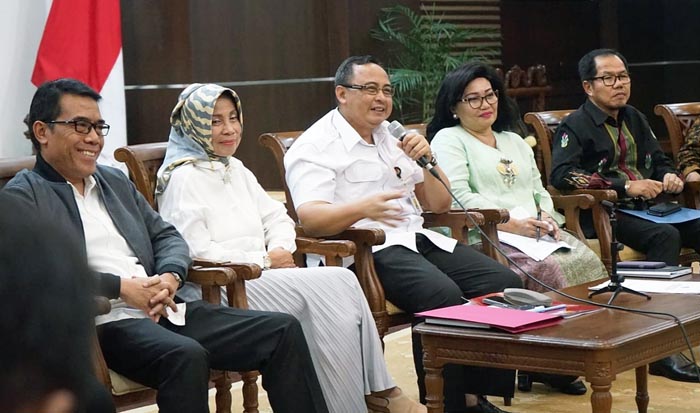 BUKA BERSAMA: Sesmenkop UKM, Rully Indrawan [ke-3 kiri] menjawab pers didampingi para pejabat eselon satu Kemenkop UKM [Foto: B2B/Mya]
Jakarta [B2B] - Karakter Pemerintah RI di era Joko Widodo dan Ma´ruf Amin ke depan, 2019 - 2024, diperkirakan cenderung mendukung penguatan ekonomi masyarakat menengah ke bawah sehingga membuka peluang bagi koperasi dan UMKM untuk maju menatap masa depan, didukung Kementerian Koperasi dan UKM [Kemenkop UKM].

"Karakter pemerintah dari presiden terpiih 2019 cenderung mendukung penguatan ekonomi di level menengah ke bawah, maka koperasi dan UMKM akan semakin berkembang dalam lima tahun ke depan," kata Sekretaris Kemenkop UKM, Rully Indrawan kepada pers di Jakarta, Selasa [21/5].

Menurutnya, Kemenkop UKM dalam beberapa tahun terakhir mendapatkan dukungan penuh dalam upaya penguatan dan pemberdayaan koperasi dan UMKM, yang diperkirakan akan mendapatkan porsi penting lima tahun ke depan.

"Keberpihakan pemerintah mendatang tercermin dari beberapa pemkiran KH Ma´ruf Amin yang kuat tentang ekonomi umat, ini adalah modal awal bahwa koperasi dan UMKM akan menjadi perhatian sangat penting," kata Sesmenkop Rully Indrawan.

Dia mengaku optimistis pada rencana strategis Kemenkop UKM dalam lima tahun ke depan akan sinkron dengan karakter pemerintahan Jokowi - Amin.

Sementara Deputi Bidang Produksi dan Pemasaran Victoria br Simanungkalit menyoroti sosok Jokowi sebagai pemimpin yang secara konkrit menunjukkan keberpihakan dan kepeduliannya pada koperasi dan UMKM.

"Lihat saja sepatu dan jaket yang dikenakan Presiden Jokowi, semuanya produk UKM dan diperlihatkan kepada publik sebagai produk milenial yang bisa Go Global, hal itu yang membuat koperasi dan UMKM semakin termotivasi," kata Victoria br Simanungkalit.
Jakarta [B2B] - Character of Indonesia´s Joko Widodo and Ma´ruf Amin administration of 2019 - 2024, tend to support strengthening of middle to lower economic, so that it can provide opportunities for developing cooperatives and SMEs, supported by the Cooperatives and SMEs Ministry.

"Character of the 2019 elected president tends to support people´s economic development, cooperatives and SMEs will develop in the next five years," Secretary of Cooperatives and SMEs Minister, Rully Indrawan told the press here on Tuesday [May 21].

According to him, the ministry in recent years is fully supported to empower cooperatives and SMEs, which is expected to get greater support in the next five years.

"The government´s partisanship is reflected in some of KH Ma´ruf Amin´s ideas about the people´s economy, as commitment that cooperatives and SMEs will be the government´s main focus," Indrawan said.

He said he was optimistic that the ministry´s strategic plan for the next five years would be in sync with the character of Joko Widodo administration.