Rentenir Merajalela, Ini Kiat Jamaah Masjid di Depok Atasi Bisnis Riba
Jamaah Mosques in Indonesia Apply these Tips to Solve Usury Business
Reporter : Gusmiati Waris
Editor : Cahyani Harzi
Translator : Dhelia Gani

PUBLISHED: Minggu, 29 Juli 2018 , 23:21:00 WIB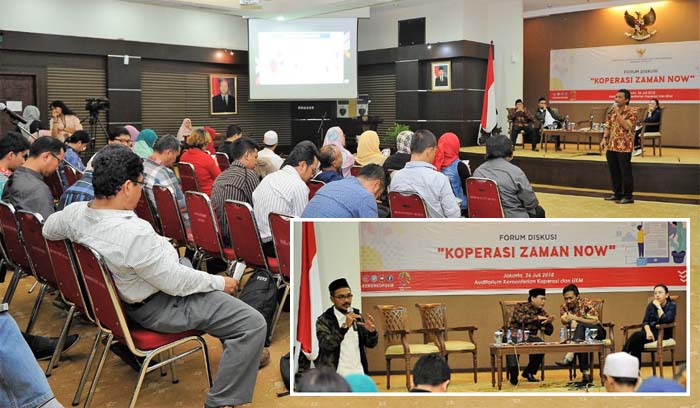 Ketua Koperasi Baldah; Asdep Penyuluhan Kemenkop UKM, Bagus Rahman; PR Manager Kosakti Amrul Hakim. (Foto2: Humas Kemenkop UKM)
Jakarta (B2B) - Saat ini ditengarai banyak masyarakat yang bergelut di bisnis riba, dan lebih banyak lagi warga masyarakat yang terjerat utang bunga-berbunga kepada rentenir, kondisi memprihatinkan tersebut mendorong 1.400 mesjid di Kota Depok, Provinsi Jawa Barat berinisiatif mengumpulkan Rp2,8 miliar per pekan dari dana kotak amal jamaah mesjid, kemudian dimanfaatkan mengelola dana umat Muslim dengan metode Syariah melalui badan usaha koperasi.
"Kami mengumpulkan dana kotak amal dari 1.400 mesjid di Depok dan terkumpul 2,8 miliar rupiah per minggu, dana itulah yang dikelola dengan cara syariah melalui koperasi," kata Ketua Koperasi Baldah KH I´ie Naseri Muhammad pada forum group discussion (FGD) bertema ´Koperasi Zaman Now´ di Jakarta, Kamis (26/7).
Menurutnya, apabila jemaah mesjid di Depok mampu mengumpulkan dana sebanyak itu, apabila langkah serupa dilakukan di seluruh Indonesia untuk membendung bisnis riba, dengan jumlah 800.000 mesjid akan menjadi potensi ekonomi yang luar biasa dan dapat mensejahterakan rakyat untuk mencapai kemakmuran dunia dan akhirat.
Sementara Sekretaris Kementerian Koperasi dan UKM, Meliadi Sembiring mengingatkan tentang koperasi yang baik di era saat ini dan ke depan adalah harus mengikuti kemajuan teknologi dan tuntutan kekinian, maka koperasi ´zaman now´ dituntut mampu melakukan identifikasi lingkungan khususnya kemampuan SDM, sumber pembiayaan, dan kegiatan pemasaran.
"Koperasi zaman now itu bagaimana bisa hidup, tumbuh dan berkembang dengan mengikuti perkembangan teknologi dan tuntutan pasar," kata Meliadi Sembiring.
Asisten Deputi bidang Penyuluhan pada Deputi Kelembagaan Kemenkop dan UKM Bagus Rahman menyoroti tentang potensi pemuda sebagai generasi milenial mencapai 143,26 juta orang yang aktif menggunakan internet atau 54,66% dari 262 juta penduduk Indonesia.
"Dari jumlah tersebut, koperasi harus dapat menarik pengguna internet di kalangan usia muda dengan aplikasi menarik sehingga mereka dengan sukarela terlibat dalam koperasi," kata Bagus Rahman.
Pembicara lain, PR Manager Kosakti, Amrul Hakim mengulas tentang ciri generasi milenial sebagai sosiopreneur, karena mampu menghubungkan pemilik modal dengan pemilik lahan seperti di Bogor.
"Contohnya di Bogor, ada kelompok tani yang minim modal kemudian terhubung melalui internet dengan pemilik modal, sehingga terjadi sinergi luar biasa karena kedua belah pihak bersemangat tinggi untuk berusaha," kata Amrul Hakim.
Jakarta (B2B) - Currently, many Indonesians are in the usury business, and many more citizens are entrenched with interest-bearing debt to the loan sharks, it encouraged 1,400 mosques in Depok city of West Java province initiative to collect 2.8 billion per week from mosque charity box donations, then the funds of Muslims are managed by the Sharia method through cooperative business entities.
"We collected of mosque charity box donations from 1,400 mosques in Depok and collected 2.8 billion rupiahs per week, then managed by sharia method through the cooperative," said Chairman of Cooperative Baldah KH I´ie Naseri Muhammad in his speech as speaker in forum group discussion here on Thursday (July 26).
According to him, if the mosque congregation in Depok can do that, if imitated across the country, to stem the usury business with 800,000 mosques would be a tremendous economic potential, and to the welfare of the people.
Meanwhile Secretary of Cooperatives and SMEs Ministry, Meliadi Sembiring said the cooperatives in Indonesia today and in the future must be able to adapt technological developments and the present demand, then the cooperative is required to identify the environment, especially the ability of human resources, financing sources, and marketing activities.
"Today´s cooperative is how to survive, develop, by following the development of technology and market demands," Mr Sembiring said.
Senior official of the ministry, Bagus Rahman highlights about the millenial generation of Indonesia reached 143.26 million people which is active using the internet or 54.66% of 262 million Indonesians.
"Cooperatives should be able to attract internet users from the younger generation with interesting applications so they will be interested in cooperatives," Mr Rahman said.
Another speaker, PR Manager Kosakti, Amrul Hakim reviews about characteristics of millennial generation as the sociopreneur, because it connects the capital owners with land owners, such as Bogor.
"For example in Bogor, there are groups of farmers who lack capital and then connected via the internet with the capital owners, resulting in synergy because both parties are eager to manage agribusiness opportunities," Mr Hakim said.