Kebakaran Hutan, TNI dan Polri Dukung BNPB Cegah Kabut Asap
Indonesia Sends Thousands of Security Personnel to Combat Forest Fires
Editor : Ismail Gani
Translator : Novita Cahyadi

PUBLISHED: Rabu, 31 Juli 2019 , 23:28:00 WIB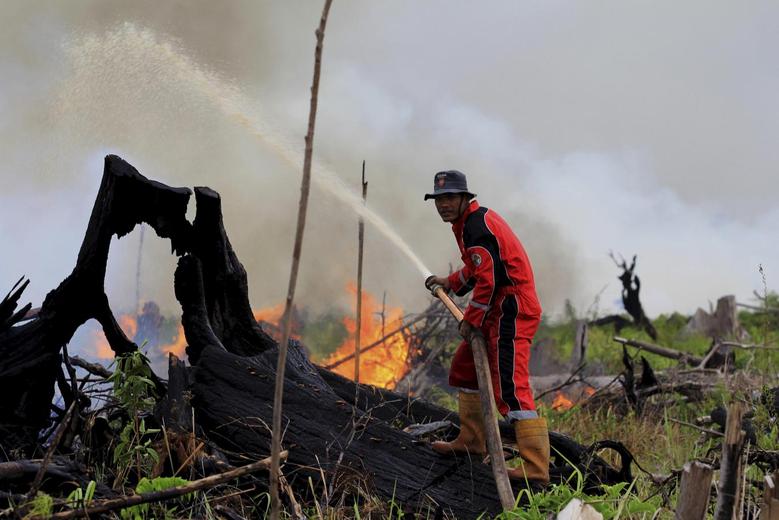 Foto: Reuters
INDONESIA mengerahkan ribuan personel militer dan polisi untuk memadamkan kebakaran hutan setelah mengumumkan keadaan darurat di enam provinsi di Sumatra dan Kalimantan, kata seorang pejabat mitigasi bencana, Rabu [31/7].
Indonesia menghadapi tekanan global untuk mengakhiri teknik membuka hutan dengan cara membakar, terutama diterapkan untuk membuka lahan kelapa sawit dan hutan tanaman industri [HTI] untuk memenuhi bahan baku pabrik kertas, khususnya dampak dari kebakaran pada 2015.
Kebakaran hutan yang dinilai sebagai cara paling cepat dan mudah untuk membersihkan lahan selama musim kemarau mengakibatkannya tidak terkendali, mengakibatkan kabut asap yang dapat mencemari lingkungan di negara tetangga seperti Singapura dan Malaysia.
Kekeringan melanda sebagian besar wilayah Indonesia akibat pola cuaca El Nino berdampak luas pada musim kemarau, kata para pejabat cuaca, dengan puncaknya sekarang diperkirakan mulai dari pertengahan Agustus hingga pertengahan September.
Jumlah titik panas telah meningkat, dengan 124 titik yang cukup kuat untuk memicu kebakaran hebat terdeteksi secara nasional pada Rabu pagi, kata Agus Wibowo, juru bicara Badan Nasional Penanggulangan Bencana [BNPB].
Pemerintah telah mengumumkan keadaan darurat di provinsi Riau, Sumatra Selatan, Kalimantan Barat, Jambi, Kalimantan Selatan, dan Kalimantan Tengah, di mana lahan gambut yang luas sangat rentan terhadap kebakaran, tambahnya.
Pihak berwenang telah mengerahkan 5.679 personel tambahan ke lima provinsi, yang didatangkan dari personel TNI, anggota polisi, dan petugas BNPB daerah.
Juga sedang dikerahkan pesawat yang dapat menjalankan operasi pengeboman air. Di Riau, otoritas bencana telah menyediakan 17 helikopter, dengan 10 lebih dari dukungan pihak swasta, militer dan kementerian kehutanan, katanya.
Di ibukota Riau, Pekanbaru, beberapa guru dan anak-anak sekolah mengenakan masker di ruang kelas dan terpaksa membatasi aktivitas di luar ruangan karena kekhawatiran kabut asap, kata kantor berita Antara.
Untuk membantu menghentikan kebakaran dan melestarikan tanaman, pihak berwenang beralih ke penyemaian awan, dengan menembakkan api garam ke awan untuk membuat hujan buatan.
Hampir 50 juta dari 260 juta penduduk Indonesia menghadapi kekeringan di 28 dari 34 provinsi, kata Dody Usodo Hargo Suseno, seorang pejabat kementerian koordinasi untuk pembangunan manusia.
Presiden Joko Widodo, yang sedang melakukan kunjungan kerja Provinsi Sumatera Utara, memanggil pejabat dari petinggi TNI untuk mendesak mereka agar segera menghentikan kebakaran hutan, kata sekretariat kabinet dalam sebuah pernyataan.
Bulan ini, Mahkamah Agung Indonesia menguatkan putusan terhadap Joko Widodo, menteri kabinet dan gubernur provinsi yang mengaitkan penanganan mereka atas kebakaran 2015 seperti dikutip Reuters yang dilansir MailOnline.
INDONESIA is deploying thousands of military and police to douse forest fires after declaring an emergency in six provinces on the island of Sumatra and in the province of Kalimantan on Borneo, a disaster mitigation official said on Wednesday.
Indonesia has faced global pressure to put an end to slash-and-burn clearance of land, often to plant palm and pulp plantations, particularly after devastating fires in 2015.
Fires Indonesian farmers use to clear land during the dry season can rage out of control, bringing a choking haze that can affect neighbours such as Singapore and Malaysia.
Drought has hit large parts of the archipelago as a mild El Nino weather pattern disrupts the dry season, weather officials say, with its peak now expected to run from mid-August to mid-September.
The number of hot spots has been increasing, with 124 intense enough to suggest fires detected nationwide by Wednesday morning, said Agus Wibowo, a spokesman for the National Disaster Mitigation Agency.
The government has declared an emergency in the provinces of Riau, South Sumatra, West Kalimantan, Jambi, South Kalimantan and Central Kalimantan, where extensive peatlands are particularly prone to fires, he added.
Authorities have brought in 5,679 additional personnel to five of the provinces, drawn from the military, police and the regional disaster mitigation agency, Wibowo said.
Also being deployed are aircraft that can run water bombing operations. In Riau, disaster authorities have made available 17 helicopters, with 10 more pressed in from private firms, the military and the forestry ministry, he added.
In Riau's capital of Pekanbaru, some teachers and school children wore masks in classrooms and were urged to limit outdoor activity because of haze concerns, the Antara state news agency said.
To help stop the fires and preserve crops, authorities are turning to cloud-seeding, by shooting salt flares into clouds to try and trigger rains.
Nearly 50 million of Indonesia's population of 260 million face drought in 28 of its 34 provinces, said Dody Usodo Hargo Suseno, an official of the coordinating ministry for human development.
President Joko Widodo, who is on a trip to the island of Sumatra, called officials from the military chief on down to urge them to immediately stop the forest fires, the cabinet secretariat said in a statement.
This month, Indonesia's Supreme Court upheld a judgment against Widodo, cabinet ministers and provincial governors that attributed blame over their handling of the 2015 fires.