Kemenkop UKM Dukung Mahasiswa Kembangkan Ekonomi Syariah berbasis IT
Indonesian Govt Supports Students to Develop Sharia Economy based on IT
Reporter : Gusmiati Waris
Editor : Cahyani Harzi
Translator : Dhelia Gani

PUBLISHED: Rabu, 07 Maret 2018 , 23:34:00 WIB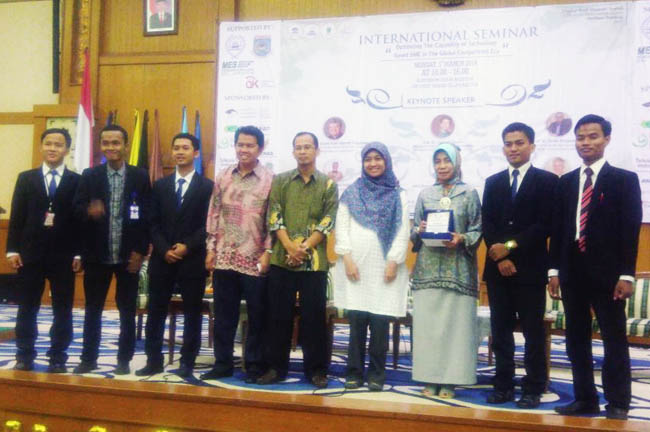 Deputi Bidang Pembiayaan Kemenkop UKM, Yuana Sutyowati (ke-3 kanan) bersama pembicara dan panitia seminar (Foto: Humas Kemenkop UKM)
Jakarta (B2B) - Pemerintah RI mendukung pengembangan inkubator bisnis syariah berbadan hukum koperasi bagi mahasiswa perguruan tinggi sebagai wirausaha pemula melalui program bisnis appraisal untuk melakukan sinergi dengan Kementerian Koperasi dan UKM, dengan menerapkan sistem manajemen berbasis teknologi informasi (IT) sehingga koperasi dan UKM memilki daya saing di era kompetisi global.

Hal itu mengemuka dari seminar internasional 'optimalisasi kapabilitas UKM berbasis IT di era kompetisi global' di kampus Universitas Islam Negeri (UIN) Syarief Hidayatullah di Tangerang, Banten yang dihadiri 500 peserta, belum lama ini, dengan keynote speech Deputi Bidang Pembiayaan Kemenkop UKM, Yuana Sutyowati mewakili Menkop UKM AAGN Puspayoga. Tampak hadir Staf Ahli Ekonomi Bupati Tanggerang, Budiawan; Rektor UIN, Prof Dede Rosyada; Dr Adiwarman Azwar Karim; dan Mohammad Nasir Tajang dari Baznas.

Deputi Yuana Sutyowati mengatakan pemerintah mendorong pengembangan keilmuan dan praktik ekonomi syariah di kalangan mahasiswa antara lain melalui pengembangan inkubator bisnis syariah untuk menumbuhkan wirausaha pemula dan pengembangan lembaga bisnis baik berbadan hukum koperasi atau lainnya.

Dia juga mengapresiasi keberadaan Forum Silaturahim Ekonomi Islam (FoSSEI) sebagai komunitas pencinta ekonomi Islam, dan merupakan komunitas generasi muda yang potensial dalam pengembangan ekonomi syariah di masa mendatang.

"Dengan menerapkan sistem manajemen modern berbasis IT, UKM dan koperasi diharapkan dapat bersaing, kuat, sehat, mandiri dan tangguh," kata Yuana pada seminar yang digelar oleh Lingkar Studi Ekonomi Syariah (Lisensi) UIN Syarif Hidayatullah dan Forum Silaturahim Ekonomi Islam (FoSSEI).

Saat ini FoSSEI berada di 14 regional mewadahi 165 kelompok studi ekonomi Islam (KSEI) perguruan tinggi didukung lebih 15.000 anggota yang tersebar di 24 provinsi. FoSSEI merupakan pelopor dan asosiasi mahasiswa di bidang ekonomi Islam terbesar di Indonesia bahkan dunia.

"Pemerintah perlu memberikan perhatian terhadap komunitas ini agar di masa depan tercipta insan ekonomi syariah yang berdaya saing di dalam negeri dan luar negeri agar dapat sejajar dengan pelaku ekonomi syariah global.," kata Yuana.

Menurutnya, IT yang berkembang pesat berpengaruh signifikan terhadap daya saing koperasi dan UKM, mendorong karena melalui pemanfaatan IT oleh pelaku KUKM berdampak pada lebih dikenalnya profil dan produk usahanya, kemudahan komunikasi dengan pelanggan, efisiensi dan efektivitas manajemen dan perluasan jangkauan dan volume pemasaran.
Jakarta (B2B) - Indonesian government supports development of sharia business incubator as the cooperatives for college students as a beginner entrepreneur with business appraisal program through synergy with the ministry of cooperatives and SMEs, with information technology so that cooperatives and UMKM have competitiveness in the era of global competition.

It was revealed from the international seminar at the State Islamic University of Syarief Hidayatullah or UIN Jakarta in Tangerang, Banten was attended by 500 participants, recently, with the keynote speech of the Deputy Minister of Financing Yuana Sutyowati representing Minister AAGN Puspayoga. It was attended by Expert Staff of Tangerang Regent, Budiawan; Rector of UIN Jakarta, Prof Dede Rosyada; Dr Adiwarman Azwar Karim; dan Mohammad Nasir Tajang dari Baznas.

Deputy Yuana Sutyowati said the government encouraged the development of scholarship and sharia economic practices among students such as the development of sharia business incubators for beginner entrepreneurs, and the development of cooperative or other corporate legal entities.

She also appreciated the Forum for Islamic Economics (FoSSEI) as an Islamic economic community, and potential for development of sharia economy in the future.

"With modern information technology-based management, SMEs and cooperatives are expected to compete, healthy and independent," Mrs Sutyowati said.

Currently, FoSSEI is spread across 14 regions accommodating 165 groups of Islamic economics studies or KSEI supported by more than 15,000 members in 24 provinces. FoSSEI is the world's largest pioneer and student association of Islamic economics.

"The government needs to pay attention to the sharia economic community that is competitive within and outside the country, and parallel to the global Islamic economic players," she said.

According to her, information technology significantly affects the competitiveness of cooperatives and SMEs, because the use of information technology has a broad impact on product marketing, ease of communication with customers, efficiency and effectiveness of management.