Penyaluran Dana Bergulir, LPDB KUKM Terapkan Pola Baru
Indonesia`s Fund Management Supported by the Local Guarantee Company
Reporter : Gusmiati Waris
Editor : Cahyani Harzi
Translator : Dhelia Gani

PUBLISHED: Jum'at, 30 Maret 2018 , 23:36:00 WIB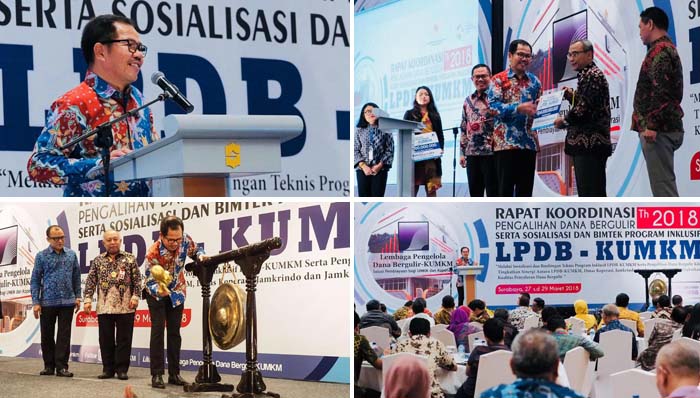 Direktur Utama LPDB-KUKM, Braman Setyo (Foto2: Humas Kemenkop UKM)
Jakarta (B2B) - Lembaga Pengelola Dana Bergulir - LPDB KUMKM mulai menyalurkan dana bergulir dengan pola baru untuk menyikapi sorotan masyarakat yang menuding lamban dalam menyalurkan dana, dengan melibatkan perusahaan penjaminan Jamkrindo dan Jamkrida sebagai pihak yang pertama menganalisa kelayakan proposal dari pemohon dana bergulir LPDB.
"Ini adalah jawaban dari berbagai pertanyaan selama ini khususnya sorotan masyarakat bagaimana sebenarnya paradigma baru yang dibangun, kami membangun kolaborasi dengan dinas koperasi dan UKM provinsi didukung dinas kabupaten/kota, Jamkrindo dan Jamkrida," kata Direktur Utama LPDB-KUKM, Braman Setyo di Surabaya, Selasa (27/3).
Dalam kesempatan itu, Braman Setyo menyerahkan secara simbolis dana bergulir kepada dua mitra, total Rp13,5 miliar.
Dia menegaskan, penyaluran dana bergulir kepada dua mitra tersebut menjadi awal dimulainya akselerasi pencapaian penyaluran 2018, dimana ditargetkan sebesar Rp 1,2 triliun.
"Kami optimis pada semester I 2018, sudah bisa tersalurkan 50 persen dari target, bahkan mungkin sampai akhir tahun bisa melebihi target karena banyaknya permintaan masuk," katanya.
Meski banyak permintaan, namun LPDB KUMKM tidak akan gegabah menyalurkan dana itu, hanya untuk sekedar mencapai target, "yang lebih penting adalah kolaborasi sistem yang dibangun bersama ini harus ditaati."
Jakarta (B2B) - Indonesia´s fund management institutions lending to cooperatives and micro, small and medium enterprises or the LPDB-KUMKM applying a new pattern of lending after being criticized by the public supported by credit guarantee company or the Jamkrindo as the first party to analyze the feasibility of the prospective debtor´s proposal.
"This is the answer of public criticism of LPDB-KUKM as a new paradigm, we cooperate with the cooperative and SME service in the region," kata President Director of LPDB-KUKM Braman Setyo in Surabaya on Tuesday (March 27).
On that occasion, Mr Setyo symbolically handed over to the two partners borrowed funds, a total of 13.5 billion rupiah.
He said the loan for two partners of the LPDB-KUKM became the new acceleration of loan disbursement this year which targeted 1.2 trillion rupiah.
"We are optimistic in the first half of 2018 to reach the target of 50 percent, perhaps until the end of the year could exceed the target as demand increases," he said.
Even so, LPDB KUMKM will not be reckless lending, just to reach the target, "more importantly, collaborative systems that are built together must be obeyed."