Serapan Rendah, LPDB KUMKM Dorong Aceh Tingkatkan Pemanfaatan Dana Bergulir
Indonesia`s Fund Management for SMEs in Aceh
Reporter : Gusmiati Waris
Editor : Cahyani Harzi
Translator : Dhelia Gani

PUBLISHED: Sabtu, 02 Juni 2018 , 23:40:00 WIB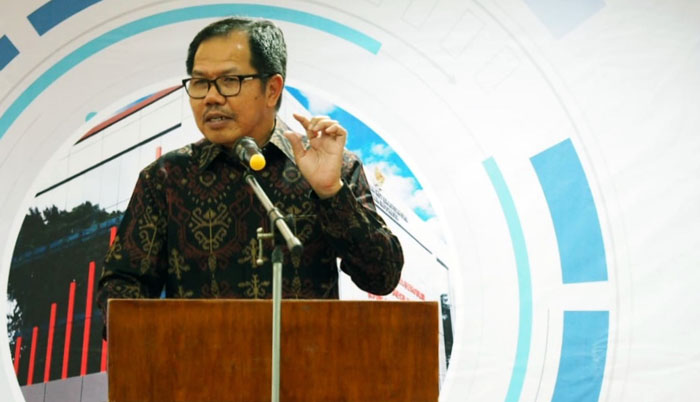 Presdir LPDB-KUMKM Braman Setyo (Foto: istimewa)
Jakarta (B2B) - Lembaga Pengelola Dana Bergulir - Koperasi, Usaha Mikro, Kecil dan Menengah (LPDB-KUMKM) menilai Provinsi Aceh belum maksimal menyerap dana bergulir yang disediakan Pemerintah RI, karena sejak 2008 hingga 2017 hanya menyerap Rp21,65 miliar. Begitu pula serapan dana bergulir 2017 sebesar Rp40,35 miliar tidak ada satu pun proposal pengajuan pinjaman dana bergulir dari KUMKM Aceh dari sektor produktif, sehingga Aceh masuk peringkat 30 dari 34 provinsi di seluruh Indonesia.
"Kami ingin menggali sektor-sektor produktif di Provinsi Aceh. Selama ini hampir 70% pembiayaan LPDB pada simpan pinjam padahal sektor produktif memiliki nilai tambah lebih besar daripada simpan pinjam, yang akan menjadi konsentrasi LPDB ke depan," kata Direktur Utama LPDB-KUMKM Braman Setyo saat membuka sosialisasi dan bimbingan teknis program inklusif LPDB-KUMKM di Banda Aceh, belum lama ini.
Menurutnya, potensi sektor produktif di Aceh cukup besar, yang akan menjadi konsentrasi LPDB ke depan sehingga perlu dilakukan kembali kegiatan sosialisasi dan bimbingan teknis kepada KUMKM di Aceh tentang tata cara mengakses dana bergulir LPDB.
Mengingat peringkat KUMKM Aceh sebagai provinsi ke-30 dari 34 provinsi yang memanfaatkan dana bergulir LPDB maka potensi sektor produktif dari subsektor perkebunan seperti kopi, nilam, karet, kelapa sawit dan sebagainya akan mendorong kebutuhan alokasi dana yang cukup besar untuk mendukung pembiayaannya.
Wakil Gubernur Aceh, Nova Iriansyah mengingatkan agar para pelaku koperasi dan UMKM di Aceh dapat memanfaatkan pembiayaan dana bergulir LPDB, khususnya pembiayaan modal kerja atau usaha dengan pola syariah yang telah disediakan oleh LPDB.
"Seiring berkembangnya pola pembiayaan syariah ini, kami berharap LPDB dapat meningkatkan pertumbuhan ekonomi di Aceh, dan meningkatkan sinergi dengan pemerintah daerah," kata Gubernur Iriansyah.
Banda Aceh (B2B) - The Indonesia´s fund management institutions lending to cooperatives and SMEs or the LPDB-KUMKM considers Aceh province has not maximally utilized the business capital provided by the Indonesian government through LPDB, because of 2008 to 2017 only disbursed 21.65 billion, according to CEO of LPDB.
"We want to support the development of productive sectors in Aceh province. Currently almost 70% of LPDB financing is on savings and loans rather than productive sectors, whose value added is higher," said President Director of LPDB-KUMKM Braman Setyo here recently.
According to him, the potential of productive sector in Aceh is the attention of LPDB in the future, so that socialization and technical guidance to cooperatives, micro-enterprises and SMEs in Aceh to the attention of LPDB.
Given the ranking of SME Aceh as the 30th province of 34 provinces that utilize LPDB funds then the potential of the productive sectors of the estate subsector such as coffee, patchouli, rubber, palm oil and so forth will encourage the need for substantial allocation of funds to support its financing.
Aceh Deputy Governor, Nova Iriansyah reminded that cooperatives and SMEs in Aceh can take advantage of LPDB financing, especially working capital financing or business with sharia pattern which has been provided by LPDB.
"With sharia economy, we hope LPDB can improve economic growth in Aceh, and synergy with local government," Mr Iriansyah said.