PDB Koperasi 4,48% Diapresiasi Presiden Jokowi pada Harkopnas 2018
Indonesian President Appreciated the Cooperative`s Gross Domestic Product Rose to 4.48%
Reporter : Gusmiati Waris
Editor : Cahyani Harzi
Translator : Dhelia Gani

PUBLISHED: Sabtu, 14 Juli 2018 , 23:44:00 WIB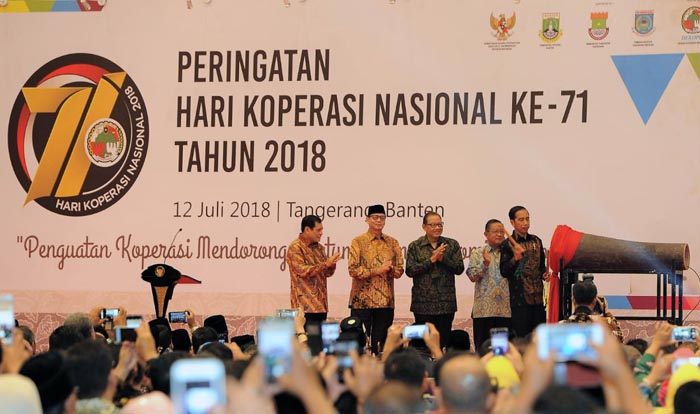 Presiden RI Joko Widodo memukul kentongan menandai peringatan Harkopnas ke-71 didampingi Menkop UKM, AAGN Puspayoga (Foto: Humas Kemenkop UKM)
Tangerang, Banten (B2B) - Presiden RI Joko Widodo mengapresiasi peningkatan kontribusi koperasi terhadap pendapatan domestik bruto (PDB) dari 3,99% menjadi 4,48%, dan mengharapkan PDB koperasi terus meningkat sehingga tercapai lompatan dari sistem ekonomi gotong-royong di Indonesia.
"Saat ini PDB koperasi mencapai 4,48 persen dari sebelumnya 3,99 persen. Ada peningkatan yang cukup baik," kata Presiden Jokowi pada peringatan Hari Koperasi Nasional ke-71 di ICE BSD, Tangerang, Kamis (12/7).
Jokowi juga mengapresiasi adanya koperasi yang masuk bursa saham yakni Kospin Jasa, dan seharusnya lebih banyak koperasi di Indonesia menjual saham di lantai bursa, mengingat perkembangan teknologi informasi yang berlangsung cepat dan dinamis.
Presiden juga mengharapkan koperasi memanfaatkan kemajuan teknologi digital khususnya media sosial seperti Facebook, YouTube, Instagram.
Dalam rangkaian Harkopnas 2018, Jokowi memberikan penghargaan kepada sejumlah tokoh koperasi, dilanjutkan kegiatan meninjau Harkopnas Expo 2018 didampingi Menko Perekonomian Darmin Nasution dan Menteri Koperasi & UKM AAGN Puspayoga.
Tangerang of Banten (B2B) - Indonesian President Joko Widodo appreciates the cooperative´s contribution to gross domestic product or GDP and expect the cooperative´s GDP to continue to rise as a mutual-economic system.
"Currently GDP cooperatives reached 4.48 percent from 3.99 percent previously. A pretty good improvement," said President Widodo on the 71nd anniversary of Indonesia´s Cooperative Day here on Thursday (July 12).
President Widodo appreciate the cooperative conduct an initial public offering or IPO on the Stock Exchange Indonesia namely Kospin Services, and should more Indonesian cooperatives do the same.
The President also expects the cooperatives to utilize digital technology, especially social media such as Facebook, YouTube, Instagram.
The President also gave awards to a number of cooperative figures accompanied by Coordinating Minister for Economic Affairs Darmin Nasution and Minister of Cooperatives & SMEs AAGN Puspayoga.