Indonesia Kembalikan Kontainer Sampah Plastik ke Prancis dan Hong Kong
Indonesia Returns Containers of Waste to France, Hong Kong
Editor : Ismail Gani
Translator : Novita Cahyadi

PUBLISHED: Selasa, 30 Juli 2019 , 23:49:00 WIB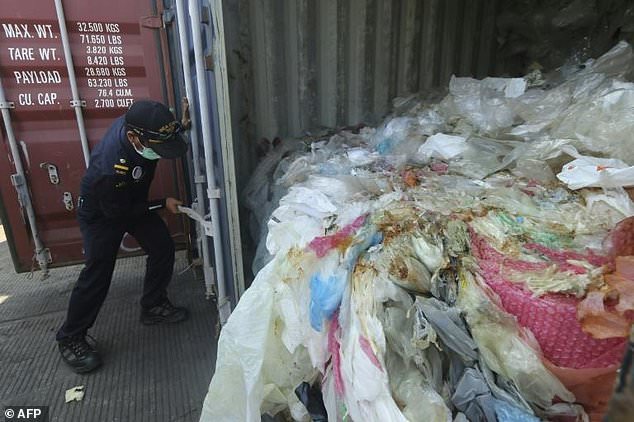 Foto: AFP/MailOnline
INDONESIA telah mengembalikan tujuh kontainer pengiriman limbah impor ilegal ke Perancis dan Hong Kong, kata seorang pejabat Selasa, menandai langkah terbaru oleh negara Asia Tenggara untuk mengirim kembali sampah ke tempat asalnya.
Kontainer-kontainer itu diisi dengan kombinasi sampah, sampah plastik, dan bahan-bahan berbahaya yang melanggar peraturan impor, menurut pejabat bea cukai di Pulau Batam dekat Singapura.
"Kontainer-kontainer itu berangkat Senin dan beberapa pejabat hadir di sana untuk memastikan kapal berangkat," kata kepala kantor bea cukai Susila Brata kepada AFP, Selasa.
Sebelumnya, juru bicara Ditjen Bea Cukai Sumarna, mengatakan kepada AFP bahwa lima kontainer diputuskan kembali ke Hong Kong dan dua kembali ke Prancis.
Pihak berwenang masih menunggu izin untuk mengembalikan 42 kontainer limbah lainnya di pelabuhan, termasuk pengiriman dari Amerika Serikat, Australia, dan Jerman.
Jakarta telah meningkatkan pemantauan limbah impor dalam beberapa bulan terakhir sebagai bagian dari upaya untuk menolak Indonesia sebagai tempat pembuangan sampah asing.
Selama bertahun-tahun China menerima sebagian besar plastik bekas dari seluruh dunia tetapi menutup pintunya bagi penolakan asing tahun lalu dalam upaya untuk membersihkan lingkungannya.
Sejak saat itu, sejumlah besar limbah telah dialihkan ke Asia Tenggara, termasuk Malaysia, Indonesia, dan Filipina.
Kekhawatiran global terhadap pencemaran plastik telah dipicu oleh gambar mengejutkan dari sungai-sungai yang tersumbat di Asia Tenggara dan laporan tentang makhluk laut mati yang ditemukan dengan kilo sampah di perut mereka.
Sekitar 300 juta ton plastik diproduksi setiap tahun, menurut Worldwide Fund for Nature (WWF), dengan sebagian besar berakhir di tempat pembuangan sampah atau mencemari laut, yang kemudian menjadi krisis internasional yang sedang berkembang seperti dikutip AFP yang dilansir MailOnline.
INDONESIA has returned seven shipping containers of illegally imported waste to France and Hong Kong, an official said Tuesday, marking the latest move by a Southeast Asian nation to send back rubbish to their wealthy places of origin.
The containers were loaded with a combination of garbage, plastic waste and hazardous materials in violation of import rules, according to customs officials on Batam Island near Singapore.
"The containers left on Monday and some officials were there to see the ship depart," head of local custom office Susila Brata told AFP Tuesday.
Earlier, customs spokesman Sumarna, who like many Indonesians goes by one name, told AFP that five containers were destined for Hong Kong and two were headed back to France.
Authorities were still waiting for clearance to return another 42 containers of waste at the port, including shipments from the United States, Australia, and Germany.
Jakarta has stepped up monitoring of imported waste in recent months as part of a push back against serving as a dumping ground for foreign trash.
For years China received the bulk of scrap plastic from around the world but closed its doors to foreign refuse last year in an effort to clean up its environment.
Huge quantities of waste have since been redirected to Southeast Asia, including Malaysia, Indonesia and to a lesser degree the Philippines.
Global concern over plastic pollution has been spurred by shocking images of waste-clogged rivers in Southeast Asia and accounts of dead sea creatures found with kilos of refuse in their stomachs.
Around 300 million tonnes of plastic are produced every year, according to the Worldwide Fund for Nature (WWF), with much of it ending up in landfills or polluting the seas, in what has become a growing international crisis.