Kemenkop dan UKM Pastikan Omnibus Law Lindungi Kepentingan KUMKM
Indonesian Cooperative and SME Regulations are Included in the Omnibus Law
Reporter : Gusmiati Waris
Editor : Cahyani Harzi
Translator : Dhelia Gani

PUBLISHED: Senin, 06 Januari 2020 , 23:55:00 WIB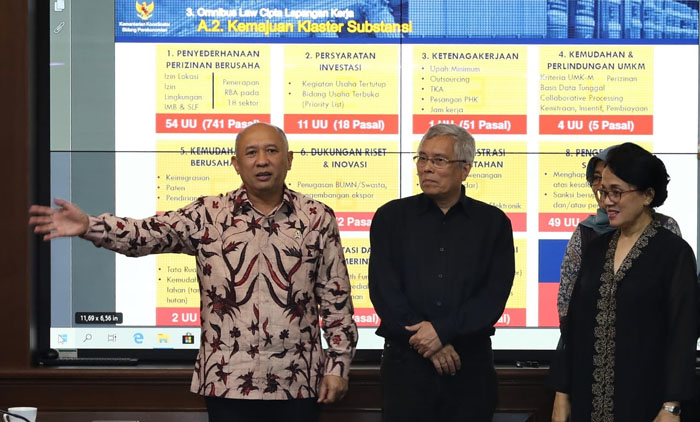 RAPAT TIM KERJA: Menkop UKM Teten Masduki [kiri] saat rapat dengan tim kerja membahas Omnibus Law Cipta Lapangan Kerja di Jakarta [Foto: Humas Kemenkop UKM]
Jakarta [B2B] - Kementerian Koperasi dan UKM melakukan pembahasan penyusunan draft Omnibus Law Cipta Lapangan Kerja, untuk memastikan substansi yang masuk dalam Omnibus Law berdampak positif terhadap koperasi dan UMKM. Kemenkop UKM membentuk tim yang terdiri dari pakar dan peneliti untuk melakukan kajian objektif terhadap substansi yang akan masuk dalam Omnibus Law Cipta Lapangan Kerja.
Menkop UKM Teten Masduki dalam rapat dengan tim tersebut, Senin [6/1], mengatakan bahwa Presiden RI Joko Widodo telah meminta secara khusus adanya kajian terhadap dampak Omnibus Law pada KUMKM.
"Presiden Jokowi meminta perlu ada kajian bagaimana dampak Omnibus Law kepada KUMKM sebelum diajukan ke DPR. Omnibus Law harus dipastikan memberi kemudahan yang sama terhadap semua pelaku usaha," kata Menkop.
Sekretaris Kementerian Koperasi dan UKM Prof Rully Indrawan usai rapat mengatakan bahwa draf Omnibus Law yang akan diajukan ke DPR RI benar-benar untuk melindungi kepentingan para pelaku koperasi dan UMKM.
"Idealnya nanti betul-betul untuk kepentingan ekonomi nasional, khususnya bagi pelaku UMKM," kata Rully.
Artinya, sejak mereka memulai usaha dengan perijinan yang lebih mudah dan simpel, masalah pengupahan, hingga urusan pajak. Jangan sampai Omnibus Law menghasilkan regulasi yang merugikan UMKM sehingga dampak negatif yang dikhawatirkan bisa diantisipasi sejak awal.
"Intinya, kita akan melindungi UMKM, karena kalau disamakan perlakuannya dengan usaha besar, tentunya akan merugikan pelaku UMKM. Untuk pajak akan ada Omnibus Law tersendiri di Kemenkeu. Yang kita bahas Omnibus Law terkait penciptaan lapangan kerja," kata Rully
Dia mengakui, Presiden Jokowi berharap Omnibus Law UMKM bisa segera diselesaikan agar bisa diserahkan ke DPR pada minggu kedua Januari 2020 ini.
Prof Rully mengatakan akan memberikan memberikan second opinion terkait pengembangan koperasi dan UMKM di Indonesia. "Insya Allah, Sabtu besok baru bisa kita sampaikan apa saja Omnibus Law terkait KUMKM."
Jakarta [B2B] - The Indonesian Ministry of Cooperatives and SMEs will try to include cooperative regulations in the drafting of the Omnibus Law on Employment, to ensure the substance in the Omnibus Law will have a positive impact on cooperatives and MSMEs, according to Minister Teten Masduki.