Unggul 54,5%, Jokowi Deklarasikan Kemenangan Pilpres 2019
Indonesia`s Widodo Declares Victory in Presidential Election
Editor : Ismail Gani
Translator : Novita Cahyadi

PUBLISHED: Jum'at, 19 April 2019 , 02:44:00 WIB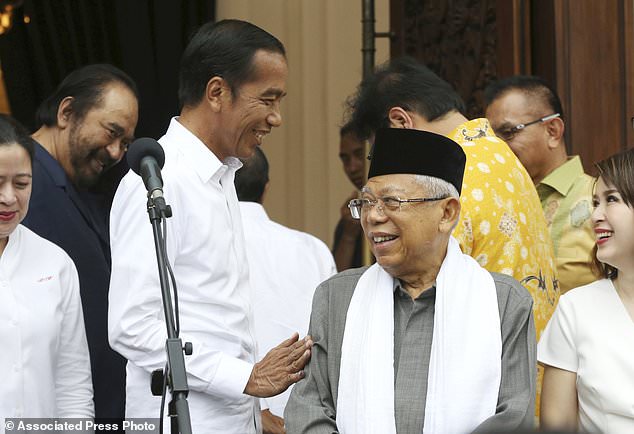 Foto: Associated Press/MailOnline
PRESIDEN RI Joko Widodo mendeklarasikan kemenangannya pada Pemilihan Presiden 2019 [Pilpres] setelah mengantungi kemenangan sekitar 54,5% suara, dan memutuskan untuk menunda perayaan kemenangan seraya menunggu pengumuman resmi setelah Prabowo menyatakan kemenangan serupa yang disebut media asing sebagai hasil yang mustahil.
Jokowi setelah bertemu dengan partai-partai di koalisinya, mengatakan kepada wartawan bahwa para pemimpin Malaysia, Singapura, Turki dan banyak negara lainnya telah memberi selamat kepadanya atas terpilihnya kembali sebagai presiden untuk periode kedua.
Deklarasi kemenangan Jokowi dengan raihan suara 54,5% mengacu pada hasil hitung cepat [quick count] dari 12 lembaga survei setelah suara masuk hampir mencapai 100%. Hasil hitung cepat terbukti akurat dalam pemilihan umum sebelumnya.
"Kita semua tahu bahwa penghitungan QC (penghitungan cepat) adalah metode penghitungan ilmiah. Dari pengalaman Indonesia pada pemilihan sebelumnya, akurasinya adalah 99,9%, hampir sama dengan hasil penghitungan KPU," kata Jokowi.
Lawan Jokowi, Prabowo Subianto, telah mengklaim ia memenangkan 62% suara dalam pemilihan hari Rabu berdasarkan jumlah tim internal, mengulangi klaim yang sama ketika ia kalah dari Jokowi pada 2014.
Komisi Pemilihan Umum diwajibkan untuk merilis hasil resmi sebelum 22 Mei seperti dikutip Associated Press yang dilansir MailOnline.
INDONESIAN President Joko Widodo said Thursday he has won re-election after receiving an estimated 54% of the vote, backtracking on an earlier vow to wait for official results after his challenger made improbable claims of victory.
Widodo, after meeting with parties in his coalition, told reporters that the leaders of Malaysia, Singapore, Turkey and numerous other nations have congratulated him on securing a second term.
The vote estimate is based on so-called quick counts of a sample of polling stations by a dozen reputable survey organizations. Widodo said that 100% of sample polling stations have now been counted or close to that. The quick counts have been accurate in previous elections.
"We all know that the QC (quick count) calculation is a scientific calculation method. From the country's experiences of past elections the accuracy is 99.9%, almost the same as real count results," Widodo said.
Widodo's rival, former Gen. Prabowo Subianto, has claimed he won 62% of the vote in Wednesday's election based on his campaign's own counts, repeating a similar claim when he lost to Widodo in 2014.
The Election Commission is required to release official results by May 22.