Kemenkop UKM: Koperasi Wadah Ideal Generasi Milenial Realisasi Ide Bisnis
Cooperative Ideal for Indonesian Youth Generation Realize Business Ideas
Reporter : Gusmiati Waris
Editor : Cahyani Harzi
Translator : Dhelia Gani

PUBLISHED: Kamis, 17 Oktober 2019 , 02:49:00 WIB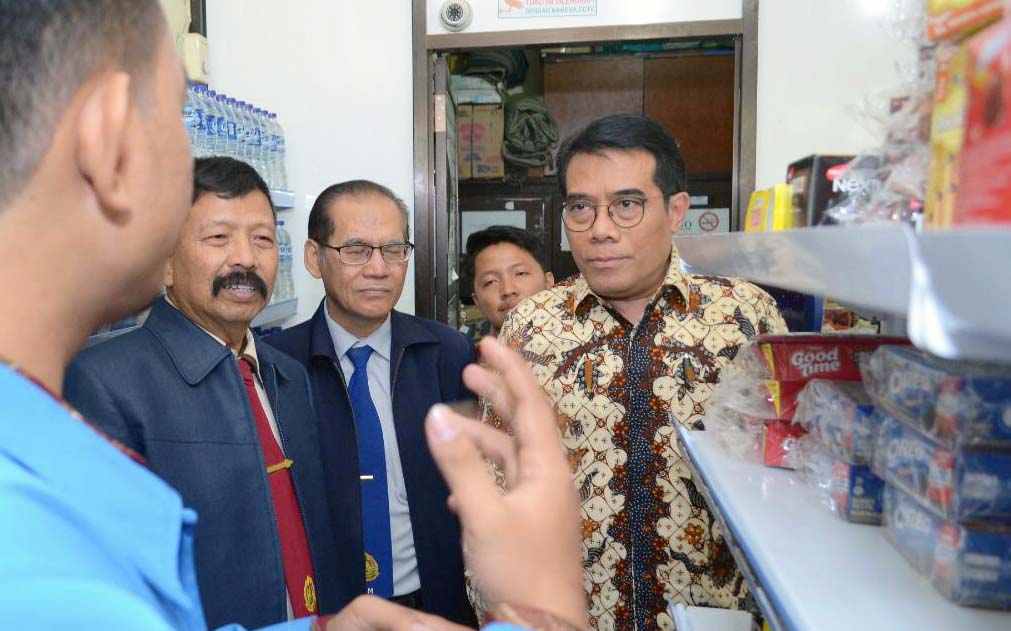 KOPERASI MAHASISWA: Deputi Bidang pengembangan SDM, Kementerian Koperasi dan UKM, Rulli Nuryanto [kanan] berbincang dengan pengurus Kopma Kopima Universitas Semarang [Foto: Humas Kemenkop UKM]
Semarang, Jateng [B2B] - Koperasi merupakan wadah yang tepat bagi generasi milenial Indonesia untuk merealisasikan ide bisnisnya secara bersama-sama, karena dalam koperasi terhimpun anak-anak muda yang memiliki kesamaan visi yakni ingin mengembangkan usaha.
Deputi Bidang Pengembangan SDM, Kementerian Koperasi dan UKM Rulli Nuryanto mengakui bahwa banyak anak muda yang bergabung dalam komunitas yang memililki kesamaan, baik itu kesamaan hobi atau kesamaan profesi atau kesamaan lingkungan.
"Apabila komunitas tersebut ingin mengembangkan bisnis yang dimiliki dan dikelola bersama atas dasar equalitas maka koperasi menjadi pilihan yang tepat," kata Rulli Nuryanto pada ´Gebyar Pendidikan Anggota ke-II Kopma Kopima Universitas Semarang´ di Semarang, Jawa Tengah pada Selasa [15/10].
Apalagi di era Revolusi Industri 4.0, katanya, berkembang apa yang disebut sharing economic yang didasarkan atas kolaborasi atau kerja sama diantara pelaku usaha. Nilai kolaborasi ini sejalan dengan nilai dan karakteristik koperasi sehingga seharusnya koperasi bisa berkembang baik di era saat ini dan akan datang.
"Artinya koperasi itu adalah organisasi atau entitas usaha yang sesuai dengan kebutuhan pelaku usaha yang ingin berkolaborasi di era disruptive dan sharing economy dewasa ini," papar Rulli.
Wakil Rektor 3 Bidang Kemahasiswaan Universitas Semarang, Supoyo mengatakan keberadaan koperasi mahasiswa sebagai wadah dan sarana belajar mahasiswa dalam mengelola suatu usaha, selain kepentingan bisnis, karena itu menurutnya, keberadaan Kopma diharapkan mampu mencetak wirausaha muda dan kader gerakan koperasi di kampus-kampus perguruan tinggi yang nantinya akan memajukan perekonomian bangsa.
Ketua Umum Kopma Kopima Enggiy Irfan Bachtiar mengatakan tujuan acara ini diadakan agar para anggota dapat menumbuhkembangkan semangat kelembagaan yang bersikap swadaya, swakarsa, dan swasembada sebagai pencerminan dari rasa percaya kepada diri sendiri.
"Hal itu pada gilirannya akan menumbuhkan sikap kemandirian lembaga dalam setiap aspek tata kehidupan organisasi," kata Enggiy Irfan Bachtiar.
Semarang of Central Java [B2B] - Cooperatives are the right institution for Indonesia's millennial generation to realize their business ideas together, because in the cooperative gathered young people who have the same vision to develop the business, according to the senior official of Indonesian Cooperatives and SMEs Ministry.