Idul Adha 1440 H, Jamsyar Salurkan 16 ekor Sapi Kurban
Indonesia`s Sharia Credit Guarantee Company Celebrating Eid al-Adha
Reporter : Gusmiati Waris
Editor : Cahyani Harzi
Translator : Dhelia Gani

PUBLISHED: Selasa, 13 Agustus 2019 , 03:12:00 WIB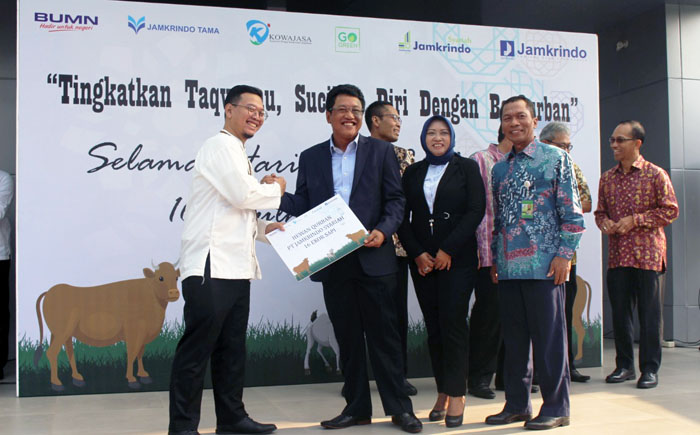 SERAHKAN KURBAN: Plt Direktur Utama, Gatot Suprabowo menyerahkan sertifikat hewan kurban kepada panitia kurban didampingi Direktur Endang Sri Winarni [hijab hitam] dan Direktur Achmad Sonhaji [Foto: Humas Jamsyar]
Jakarta [B2B] - Perusahaan penjaminan kredit berbasis syariah, PT Jamkrindo Syariah atau Jamsyar menyalurkan 15 ekor sapi kurban mengatasnamakan dewan komisaris, dewan direksi dan karyawan serta seekor sapi kurban dari mitra agen, Panji untuk melaksanakan ibadah kurban Hari Raya Idul Adha 1440 H di Jakarta, Minggu [11/8].
Penyaluran hewan kurban diserahkan secara simbolis oleh Plt Direktur Utama, Gatot Suprabowo kepada panitia kurban Jamsyar, yang kemudian dilakukan pendistribusian kepada yang berhak menerima.
"Kegiatan penyaluran hewan kurban sebagai aktualisasi wujud syukur kepada Allah SWT atas seluruh pencapaian positif Jamsyar hingga akhir 2018 dan semester pertama 2019," kata Gatot Suprabowo kepada pers.
Turut hadir Direktur Operasional, Achmad Sonhadji dan Direktur Keuangan, SDM dan Umum, Endang Sri Winarni.
"Jamsyar selalu malampaui target yang diharapkan. Begitu pula, apresiasi dari pihak eksternal yang diberikan pada Jamsyar sebagai salah satu lembaga keuangan syariah terdepan dalam bisnis penjaminan," kata Gatot Suprabowo.
Achmad Sonhaji menambahkan Jamsyar menjadi entitas perusahaan penjaminan berbasis syariah yang selalu tumbuh dan berkembang baik dalam lingkup portofolio bisnis maupun kemitraan dengan pihak lain.
Jamsyar yang akan memperingati Milad kelima pada 19 September 2019 telah didukung jaringan kerja pada lima kantor cabang: Medan, Palembang, Bandung, Surabaya dan Makasar serta delapan kantor unit pelayanan di Banda Aceh, Pekanbaru, Lampung, Semarang, Pontianak, Banjarmasin, Balikpapan dan Mataram.
Jakarta [B2B] - Muslim around the world are celebrating Islam´s biggest holiday with prayers, gifts, traditional visits with family and friends, and feasts include Indonesia. Eid al-Adha, or Feast of Sacrifice, commemorates what Muslims believe was Prophet Abraham's willingness to sacrifice his son in accordance with God's will, though in the end God provides him with a sheep to sacrifice instead.