Pemerintah Fasilitator, Kampus Harus Aktif Dukung Pengembangan Koperasi
Indonesian Students Asks to Support Cooperative Development
Reporter : Gusmiati Waris
Editor : Cahyani Harzi
Translator : Dhelia Gani

PUBLISHED: Rabu, 06 Februari 2019 , 03:03:00 WIB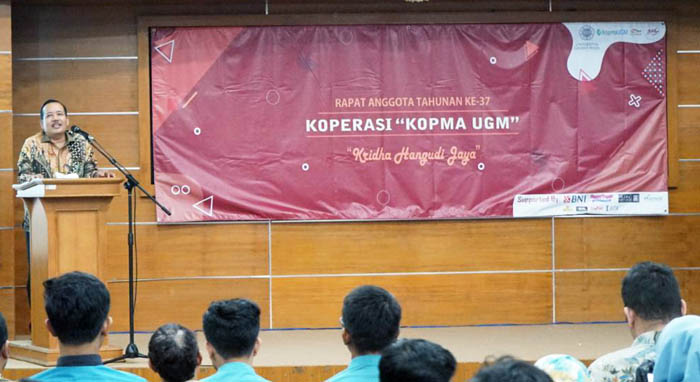 KOPMA UGM: Deputi Pengawasan Kemenkop dan UKM, Suparno mewakili Menkop UKM AAGN Puspayoga membuka RAT Kopma UGM di Yogyakarta (Foto: Humas Kemenkop UKM)
Jakarta (B2B) - Pengembangan koperasi bukan semata-mata urusan pemerintah mengingat sifat koperasi sebagai entitas ekonomi yang otonom dan independen maka seyogyanya perguruan tinggi berperan aktif mendukung penyiapan SDM andal sekaligus menjadi pelopor maupun penggerak pembangunan ekonomi daerah. Peran pemerintah hanya fasilitator dan motivator pengembangan koperasi di tanah air.
Menteri Koperasi dan UKM, AAGN Puspayoga mengatakan Koperasi Mahasiswa Universitas Gadjah Mada (Kopma UGM) layak menjadi rujukan sebagai organisasi/unit kegiatan mahasiswa yang berfungsi ganda, sebagai wahana pelayanan dan peningkatan kesejahteraan mahasiswa, juga menjadi laboratorium dan wahana pendidikan kader-kader koperasi andal dan berkompetensi.
"Pemerintah berharap perguruan tinggi khususnya UGM dapat menjadi pionir membentuk pusat studi perkoperasian dan mengembangkan koperasi civitas academica, yang dapat mengakomodir anggota lebih besar sehingga dapat berfungsi sebagai pusat pembelajaran bagi koperasi mahasiswa lainnya dari perguruan tinggi lain," kata Menteri Puspayoga dalam arahannya yang dibacakan Deputi Pengawasan Kemenkop dan UKM, Suparno pada pembukaan rapat anggota tahunan (RAT) Kopma UGM di Yogyakarta, Senin (4/2).
Pada RAT Kopma UGM, Suparno sempat mempertanyakan kehadiran anggota koperasi yang tergolong minim, "yang saya tahu jumlah anggota Kopma UGM mencapai 900-an orang, tapi yang hadir di RAT kok sedikit. Apakah ini sudah kuorum?"
Ketua Umum Kopma UGM, Mohammad Anharul Fikri menjawab bahwa sebagian besar anggota koperasi masih kuliah, dan akan hadir setelah pembukaan RAT.
Jakarta (B2B) - Cooperative development is not only the responsibility of the Indonesian government because cooperatives are autonomous and independent economic entities then universities must actively support HR development and become a pioneer and driver of regional economic development. The government is only a facilitator and motivator for developing cooperatives in the country.
Indonesian Minister of Cooperatives and SMEs, AAGN Puspayoga said the Yogyakarta´s Gadjah Mada Student Cooperative or the Kopma UGM worthy of being a reference as a student activity unit that plays a dual role, as the center for student economic activities and the development of reliable and competent human resource cooperatives.
"The government hopes that the university, especially UGM, will become a pioneer in forming cooperative study center, which can accommodate more members so that it can function as a learning center for student cooperatives from other universities," said Minister Puspayoga was quoted by ministry´s Deputy for Supervision, Suparno while opened the annual Kopma UGM member meeting here on Monday (February 4).
Suparno had questioned the members of Kopma UGM Kopma cooperative at the annual member meeting, "as far as I know, there are 900 members, is this a quorum?"
Chairman of the UGM Kopma, Mohammad Anharul Fikri replied that most cooperative members were still in college, and would attend after the opening of the RAT.