PMK Menyebar, Kemenag Siapkan Ketentuan Hewan Kurban Idul Adha
Indonesian Govt Prepares Provisions for Eid Al-Adha Sacrificial Animals
Editor : Ismail Gani
Translator : Novita Cahyadi

PUBLISHED: Jum'at, 24 Juni 2022 , 02:22:00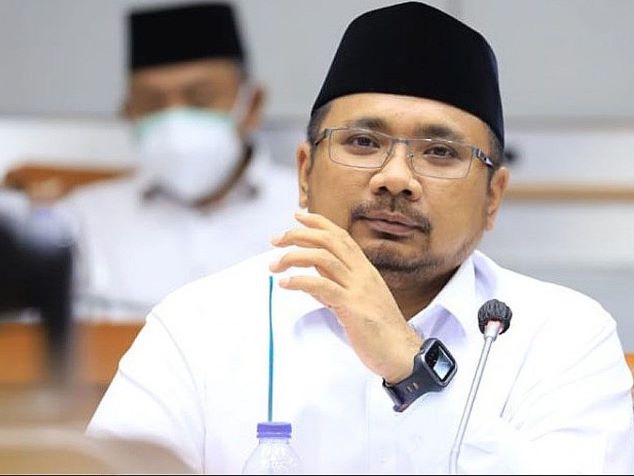 Ilustrasi: Menteri Agama Yaqut Cholil Qoumas menyampaikan pidato.
Bogor, Jabar [B2B] - Menteri Agama Yaqut Cholil Qoumas akan melakukan pengaturan terkait hewan kurban dalam situasi merebaknya penyakit mulut dan kuku [PMK] yang menyerang hewan ternak di tanah air. Mengingat, kebutuhan hewan ternak yang meningkat menjelang perayaan Idul Adha 1443 H.
"Kementerian Agama akan melakukan pengaturan terkait bagaimana kurban hewan-hewan ternak dalam masa pandemi PMK ini," ujar Menag Yaqut, dikutip melalui Youtube Sekretarian Presiden, Kamis [23/6].
Menag menjelaskan bahwa pihaknya akan terus berkoordinasi dengan ormas Islam di seluruh Indonesia untuk menyosialisasikan ketentuan hewan kurban di masa PMK kepada masyarakat. Menag menyebut hal utama yang harus dipahami bahwa hukum kurban adalah sunnah muakad atau sunnah yang dianjurkan.
"Artinya, jika dalam kondisi tertentu kurban ini tidak bisa dilaksanakan maka kita tidak boleh memaksakan, akan dicarikan alternatif yang lain tentu saja," jelasnya.
Lebih lanjut, Yaqut menyatakan pihaknya akan melakukan koordinasi dengan ormas Islam dalam dua hari ke depan agar ketentuan hewan kurban dalam situasi sekarang ini dapat segera disampaikan kepada masyarakat.
"Selebihnya tentu kita akan mengikuti aturan-aturan yang dikeluarkan oleh BNPB dan arahan Pak Menko," tambahnya.
Bogor of West Java [B2B] - Minister of Religion Yaqut Cholil Qoumas will make arrangements regarding sacrificial animals in the situation of the spread of mouth and nail disease [FMD] that attacks livestock in the country. In view of the increasing need for livestock ahead of the celebration of Eid al-Adha 1443 H.
"The Ministry of Religion will make arrangements regarding how to sacrifice livestock during this PMK pandemic," said Minister of Religion Yaqut, quoted through the Presidential Secretariat Youtube, Thursday [23/6].
The Minister of Religion explained that his party will continue to coordinate with Islamic organizations throughout Indonesia to disseminate the provisions for sacrificial animals during the PMK period to the public. The Minister of Religion said that the main thing that must be understood is that the law of sacrifice is the sunnah of muakad or the recommended sunnah.
"It means, if under certain conditions this sacrifice cannot be carried out, then we cannot force it, other alternatives will be found, of course," he explained.