Bergejala PMK, Ratusan Liter Susu Sapi Dibuang
Symptoms of PMK, Hundreds of Liters of Cow´s Milk are Thrown Away
Editor : Ismail Gani
Translator : Novita Cahyadi

PUBLISHED: Rabu, 01 Juni 2022 , 01:39:00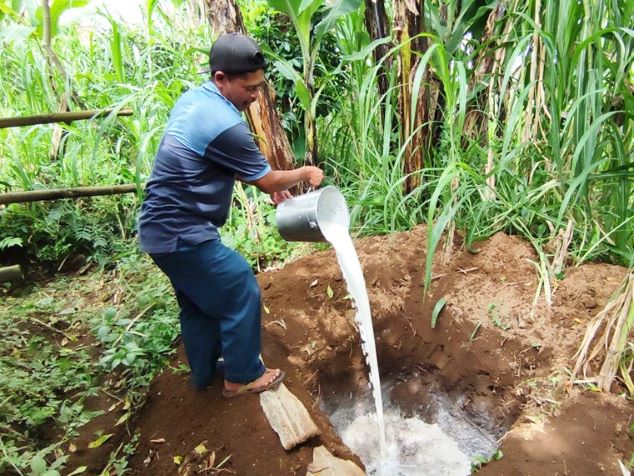 GEJALA PMK: Peternak membuang susu sapi perah yang mengalami gejala PMK.
Ponorogo, Jatim [B2B] - Puluhan ekor sapi perah alami gejala Penyakit Mulut dan Kuku di Kecamatan Pudak Ponorogo. Berdasarkan data terakhir pemerintah desa setempat, terdapat 86 sapi yang sudah bergejala PMK di 14 kandang di wilayah Kecamatan Pudak Ponorogo.
"Dari jumlah 86 yang suspek PMK itu, ada tiga sampel yang sudah dikirimkan ke laboratorium, yakni sapi milik Pak Ambar Suyanto," kata Kepala Desa Pudak Kulon, Sujadi Eko Admojo, Selasa [31/5].
Kebanyakan sapi perah yang bergejala PMK, mengalami gejala kaki bergetar, melepuh, mulutnya berlendir dan tidak mau makan. Hal iniyang menjurus ke penyakit PMK, sehingga para peternak kerugian, sebab tidak ada susu yang dapat dikirim.
"Peternak yang sapinya suspek ini juga terkena sanksi sosial dari peternak yang belum kena. Mereka dikucilkan, karena kalau ketemu bisa menular. Praktis warga tidak punya pemasukan, karena 90 persen warga sini menggantungkan mata pencaharian beternak sapi perah," pungkasnya.
Sementara itu, Peternak Kecamatan Pudak Ponorogo, Ambar Suyanto mengaku dirinya harus rela ratusan liter susu segar dari sapi perahnya setiap hari terbuang sia-sia. Dia bercerita bahwa sapi perahnya ada 24 ekor, yang suspek PMK ada 3 ekor. Untuk mengantisipasi supaya tidak menular ke sapi perah lainnya, Ia berinisiatif untuk memberikan antibiotik kepada semua sapinya.
"Kalau sapi dikasih antibiotik, dari perusahaan susunya tidak mau menerima. Karena tidak bisa dikonsumsi manusia. Ya apa boleh buat, akhirnya dibuang saja," katanya.
Dirinya membuang susu hasil perasan sapinya sejak hari Kamis lalu. Dia memperkirakan pembuangan susu ini akan dilakukan selama 14 hari. Sebab, kata Ambar menurut petugas dari Dipertahankan Ponorogo penyembuhan sapi yang bergejala PMK ini selama 14 hari.
"Ya bisa dihitung sendiri, kerugian Rp 1,2 juta dikalikan 14 hari selama masa penyembuhan. Wabah ini sangat merugikan para peternak. Kami minta pendampingan dari Pemerintah segera," pungkasnya.
Ponorogo of East Java [B2B] - Dozens of dairy cows are experiencing symptoms of Mouth and Nail Disease in Pudak Ponorogo District. Based on the latest data from the local village government, there are 86 cows with FMD symptoms in 14 cages in the Pudak Ponorogo District.
"Of the 86 suspected PMKs, three samples have been sent to the laboratory, namely a cow belonging to Mr. Ambar Suyanto," said Pudak Kulon Village Head, Sujadi Eko Admojo, Tuesday (31/5).
Most dairy cows with FMD symptoms experience symptoms of shaking legs, blisters, a slimy mouth and will not eat. This is what leads to FMD disease, so that farmers lose money, because there is no milk that can be sent.
"Farmers whose cows are suspect are also subject to social sanctions from breeders who have not. They were ostracized, because if they met they could be contagious. Practically, residents have no income, because 90 percent of the people here depend on dairy farming for their livelihoods," he concluded.