Polri Tangkap Tersangka Penyiram Air Keras Novel Baswedan
Indonesia Arrests 2 Policemen Suspected in Acid Attack
Editor : Ismail Gani
Translator : Novita Cahyadi

PUBLISHED: Sabtu, 28 Desember 2019 , 05:18:00 WIB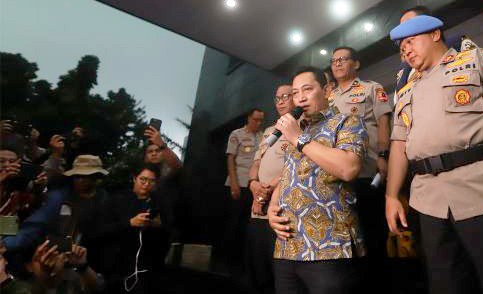 Kepala Bareskrim Mabes Polri, Irjen Listyo Sigit Prabowo mengatakan dua anggota brigade mobil polisi [Brimob] ditangkap Kamis malam di kota Depok di pinggiran ibukota, Jakarta [Foto: istimewa]
KEPOLISIAN RI [Polri] mengatakan pada Jumat bahwa telah menangkap dua personel polisi yang dicurigai melakukan serangan air keras terhadap penyidik senior Komisi Pemberantasan Korupsi [KPK] hampir tiga tahun lalu.

Novel Baswedan, penyidik senior KPK hampir buta ketika dua pria menyerangnya dengan air keras di dekat sebuah masjid ketika ia usai menunaikan Shalat Subuh pada April 2017.

Serangan itu menuai kecaman nasional di Indonesia, yang dicekam praktik korupsi endemik. KPK, salah satu dari sedikit institusi efektif di negara berpenduduk lebih dari 260 juta orang ini, kerap menjadi target legislator di parlemen yang ngotot mengurangi kewenangan KPK menangani kasus korupsi.

Kepala Bareskrim Mabes Polri, Irjen Listyo Sigit Prabowo mengatakan dua anggota brigade mobil polisi [Brimob] ditangkap Kamis malam di kota Depok di pinggiran ibukota, Jakarta.

Dia menolak untuk memberikan rincian lebih lanjut, mengatakan polisi masih menginterogasi para tersangka, hanya diidentifikasi dengan inisial mereka, RM dan RB.

"Ini hanya interogasi awal dan kami tidak dapat memberikan rincian lebih lanjut sebelum proses interogasi kami selesai," kata Karopenmas Mabes Polri, Kombes Argo Yuwono.

Dia mengatakan penangkapan itu mengikuti penyelidikan panjang yang mencakup tim medis, forensik dan teknis dan melibatkan pemeriksaan 73 saksi.

Penyidik senior KPK, Novel Baswedan memimpin investigasi kasus korupsi KTP elektronik [e-KTP] yang melibatkan 80 orang, sebagian besar pejabat dan legislator, dan beberapa perusahaan diduga menggunakan pengenalan sistem kartu identitas elektronik senilai US$440 juta pada 2011 dan 2012 untuk mencuri lebih dari sepertiga anggaran.

Mantan Ketua Umum Golkar dan Ketua DPR RI Setya Novanto dijatuhi hukuman 15 tahun penjara pada April tahun lalu karena mengoordinasikan korupsi US$170 juta anggaran e-KTP.

Baswedan juga menyelidiki korupsi oleh polisi.

Setelah serangan itu, ia menjalani perawatan medis berbulan-bulan di Singapura karena matanya yang rusak.

Novel Baswedan kerap mengritik penyelidikan polisi karena tidak ada yang ditangkap ketika dia kembali bekerja tahun lalu, 16 bulan setelah serangan itu.

Serangan itu, yang menggarisbawahi tantangan negara dalam memerangi korupsi, mengancam kredibilitas Presiden Joko Widodo, yang baru-baru ini memenangkan masa jabatan kedua setelah berkampanye untuk pemerintahan yang bersih.

Joko Widodo membentuk tim pencari fakta untuk menyelesaikan kasus menjelang pemilihan April setelah serangkaian penyelidikan polisi tidak dapat mengidentifikasi para penyerang.

Ketua KPK Firli Bahuri, menyatakan apresiasinya kepada polisi pada Jumat atas penyelidikan dan penangkapan pelakunya.

"Ini adalah jawaban yang sudah lama ditunggu-tunggu oleh semua orang Indonesia," kata Firli Bahuri seperti dikutip Associated Press yang dilansir MailOnline.
INDONESIAN authorities said Friday they have arrested two elite police officers suspected in an acid attack on a senior anti-corruption investigator nearly three years ago.

Novel Baswedan, a leading investigator at the Corruption Eradication Commission, known by its Indonesian abbreviation KPK, was almost blinded when two men attacked him with acid near a mosque as he left dawn prayers in April 2017.

The attack drew nationwide condemnation in Indonesia, which suffers from endemic corruption. KPK, one of the few effective institutions in the nation of more than 260 million people, is frequently under legislative attack by lawmakers who want to reduce its powers.

National Police chief of detectives Listyo Sigit Prabowo said two members of an elite police mobile brigade were arrested late Thursday in Depok city on the outskirts of the capital, Jakarta.

He declined to provide more details, saying police were still interrogating the suspects, identified only by their initials, RM and RB.

"This is just a preliminary interrogation and we cannot provide more details before our questioning process is completed," National Police spokesman Argo Yuwono said.

He said the arrests followed a long investigation that included medical, forensic and technical teams and involved the questioning of 73 witnesses.

Baswedan was leading the investigation of a case in which 80 people, mostly officials and legislators, and several companies allegedly used the introduction of a $440 million electronic identity card system in 2011 and 2012 to steal more than a third of the funds.

Senior Golkar party politician and former Speaker of Parliament Setya Novanto was sentenced in April last year to 15 years in prison for coordinating the $170 million theft of public money.

Baswedan also investigated police corruption.

After the attack, he underwent months of medical treatment in Singapore for his damaged eyes.

Baswedan has criticized the police investigation because no one had been arrested when he returned to work last year, 16 months after the attack.

The attack, which underlines the country's challenges in fighting graft, threatened the credibility of President Joko Widodo, who recently won a second term after campaigning for clean governance.

Widodo set up a fact-finding team to solve the case ahead of the April election after a string of police investigations were unable to identify the attackers.

Firli Bahuri, the KPK chief, expressed his appreciation to police on Friday for the investigation.

"This is the long-awaited answer for all Indonesian people," Bahuri said.