Ekosistem Start Up, Kolaborasi RI - Korea Dukung Koperasi dan UKM di Era 4.0
South Korea Supports Indonesian Cooperatives and SMEs to Develop Startup Businesses
Reporter : Gusmiati Waris
Editor : Cahyani Harzi
Translator : Dhelia Gani

PUBLISHED: Kamis, 24 Oktober 2019 , 23:32:00 WIB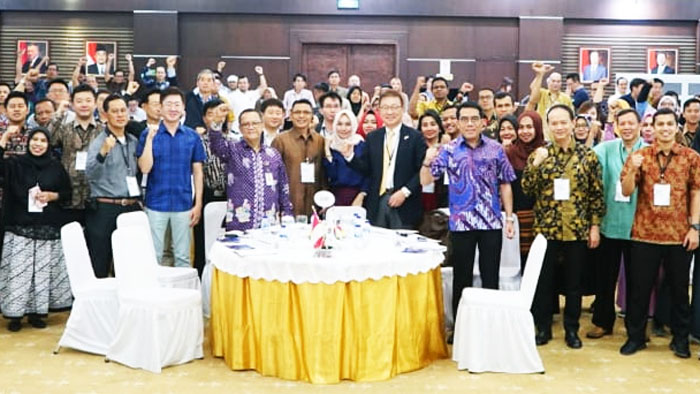 FORUM DIALOG ASEIC: Deputi Bidang Restrukturisasi Usaha Kemenkop UKM, Abdul Kadir Damanik [batik biru kiri] bersama peserta The ASEM SMEs Eco-Innovation Center (ASEIC) di Jakarta [Foto: Humas Kemenkop UKM]
Jakarta [B2B] - Pemerintah RI akan terus meningkatkan kerjasama dengan Pemerintah Korea Selatan, khususnya The ASEM SMEs Eco-Innovation Center (ASEIC) untuk mendorong koperasi dan UKM Indonesia mengembangkan ekosistem startup [perusahaan rintisan] di bidang teknologi dan informasi [IT] dengan mendirikan Green Business Center [GBC] di Jakarta. Indonesia dan Korsel juga merupakan anggota Asia Europe Meeting [Asem] sebagai forum dialog Asia dan Eropa mengembangkan UKM, begitu pula dalam keanggotaan APEC SME Working Group.
"Forum-forum diskusi semacam ini sudah dilakukan sejak 2016 sebagai ajang bertukar wawasan dan pengalaman mengenai inovasi teknologi UKM," kata Abdul Kadir Damanik, Deputi Bidang Restrukturisasi Usaha Kementerian Koperasi dan UKM di Jakarta, Rabu [23/10] pada The 4th Indonesia - Korea SMEs Business Innovation Forum [Growth of Start-up in the Era of Industry 4.0].
Menurut Damanik, dengan perkembangan global dan teknologi yang sangat cepat dan dinamis, maka kolaborasi, inovasi, dan daya saing menjadi kunci bagi kemajuan dan keberhasilan suatu negara. Mengacu pada hasil penelitian Google dan termasuk dalam e-Conomy SEA 2018, indikasi bahwa Indonesia akan menjadi negara dengan pertumbuhan ekosistem startup paling cepat dan ukuran pasar paling besar di Asia Tenggara pada 2025, kontribusinya US$100 miliar.
"Pertumbuhan startup di Indonesia sangat signifikan. Pada 2016, ada 302 start up, 2017 meningkat ke 661 startup, dan 2018 menjadi 956 startup. Ini berarti bahwa inovasi Indonesia memiliki perkembangan yang sangat baik untuk mendorong pertumbuhan ekonomi masyarakat", katanya.
Sekjen ASEIC Cho Choong-lai mengatakan bahwa kerjasama ekonomi Korea dan Indonesia dimulai sejak 2017 dilanjutkan 2018 ditandai dengan kunjungan Presiden RI Joko Widodo ke Korea untuk lebih mempererat kerjasama ekonomi antar kedua negara.
"Indonesia merupakan mitra paling penting bagi kebijakan ekonomi Korea, terutama dalam pengembangan koperasi dan UKM. Kita harus membangun dan mengembangkan lingkungan bisnis startup yang kondusif di Indonesia. Kami ingin bermitra secara berkelanjutan dengan Indonesia dalam wadah Green Business Center," kata Choong-lai.
Sementara Commercial Concelor Kedubes Korea untuk Indonesia Moon Yang-taek mengatakan, pengembangan UKM merupakan langkah strategis menciptakan lapangan kerja bagi masyarakat. "Namun tantangan di era industri 4.0 bukan pekerjaan mudah. Saya berharap pelaku UKM dan bisnis startup mampu bertransformasi di era sekarang," katanya.
Yang-taek menambahkan bahwa pelaku bisnis startup Korea bisa berbagi pengalaman dan teknologi dengan startup Indonesia. "Saya akui, lingkungan startup di Indonesia sudah baik. Untuk itu, pemerintah harus hadir, terutama menyangkut persoalan hak cipta dan paten."
Jakarta [B2B] - The Indonesian government will continue to enhance cooperation with the government of South Korea, specifically The ASEM SMEs Eco-Innovation Center (ASEIC) to encourage Indonesian cooperatives and SMEs to develop a startup ecosystem. Indonesia and South Korea are members of the Asia Europe Meeting [Asem] as a forum for Asian and European dialogue to develop SMEs, as well as in the membership of the APEC SME Working Group.