Bangkai Babi di Deli Serdang jadi Sorotan Dunia
Indonesia Buries over 1,000 Cholera-hit Pigs
Editor : Ismail Gani
Translator : Novita Cahyadi

PUBLISHED: Selasa, 12 November 2019 , 23:53:00 WIB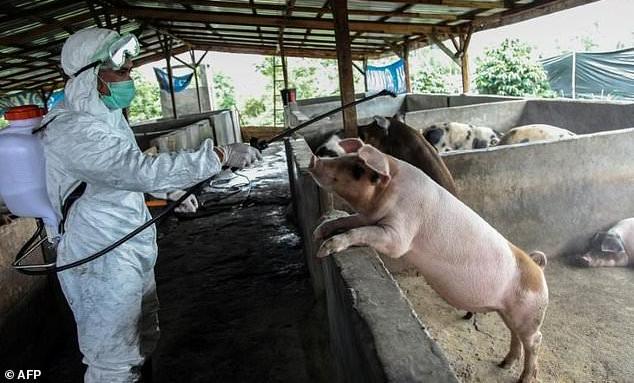 Sekitar 6.000 babi mati di seluruh Sumatera Utara sejak September dan sebagian besar dibuang ke saluran air [Foto: AFP/MailOnline]
LEBIH DARI 1.000 babi yang dilanda kolera di Kabupaten Deli Serdang, Provinsi Sumatera Utara telah dikubur, Selasa [12/11] setelah bangkainya yang membusuk diambil dari saluran air setempat, menjadi sorotan dunia seperti dikutip media asing, AFP.
Ratusan babi lagi masih mengambang di sungai dan danau dekat Medan, ibukota provinsi Sumatera Utara, ketika polisi mencari tersangka yang membuang bangkai-bangkai babi tersebut.
"Mereka ditinggalkan sekitar delapan hari yang lalu sehingga membusuk dan baunya sangat menyengat," kata Camat Medan Marelan, Muhammad Yunus kepada AFP.
"Kami akan terus membersihkan bangkai dan mengubur bangkai sampai tuntas karena dikeluhkan warga sekitar," tambahnya.
Sekitar 6.000 babi mati di seluruh Sumatera Utara sejak September dan sebagian besar dibuang ke saluran air.
Tes laboratorium menemukan bahwa bangkai-bangkai, tetapi para pejabat kesehatan mengatakan mereka juga sedang menguji untuk melihat apakah ada yang terserang demam babi Afrika. Tidak ada yang diyakini berisiko bagi manusia.
Pada 2017, wabah kolera babi di provinsi Nusa Tenggara Timur [NTT] menewaskan lebih dari 10.000 ekor babi, menyebabkan kerugian keuangan yang parah bagi petani lokal seperti dikutip AFP yang dilansir MailOnline.
MORE THAN 1,000 cholera-stricken pigs have been buried in Indonesia after their decaying carcasses were plucked from local waterways, a government official said Tuesday.
Hundreds more swines are still floating in rivers and a lake near Medan, the capital of North Sumatra province, as police search for suspects who discarded their bodies.
"They were abandoned about eight days ago so they're decaying and it smelled very bad," local official Muhammad Yunus told AFP.
"We will keep cleaning them up and burying the carcasses until they're gone because people have been complaining about it," he added.
Some 6,000 pigs have died across North Sumatra since September with many dumped into local waterways.
Lab tests found that the animals died of hog cholera but officials said they are also testing to see if any were stricken with African swine fever. Neither are believed to pose a risk to humans.
In 2017, a hog cholera outbreak in Indonesia's East Nusa Tenggara province killed more than 10,000 pigs, causing severe financial losses for local farmers.