Malaysia Desak Indonesia Cegah Kebakaran Hutan demi Kelancaran SEA Games
SEA Games: Malaysia Urges Indonesia to Keep a Lid on Haze
Editor : Ismail Gani
Translator : Novita Cahyadi

PUBLISHED: Jum'at, 11 Agustus 2017 , 00:20:00 WIB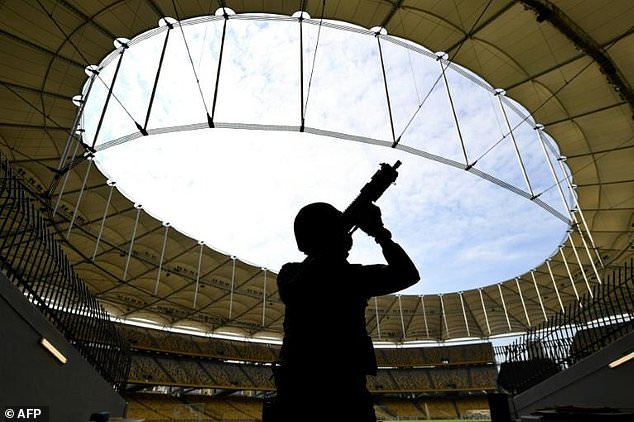 Foto: AFP/MailOnline
MENTERI Olahraga Malaysia mendesak Indonesia untuk memastikan bahwa kabut asap dari kebakaran hutan dan lahan tidak mempengaruhi penyelenggaraan Pekan Olahraga Asia Tenggara (SEA Games) bulan ini.

Malaysia akan menjadi tuan rumah SEA Games pada 19-30 Agustus, yang diikuti ribuan atlet dari seluruh negara di kawasan Asia Tenggara di Kuala Lumpur.

Namun muncul kekhawatiran pesta olahraga tersebut terancam kabut asap dari Indonesia yang akan mengganggu kelancaran kompetisi.

Kabut merupakan menjadi problem tahunan akibat kebakaran hutan dan lahan yang digunakan sebagai jalan pintas membersihkan lahan untuk kelapa sawit dan hutan tanaman industri untuk pabrik kertas. Kabut asap melanda Malaysia dan Singapura, yang mengganggu kelancaran penerbangan, kegiatan sekolah dan meningkatnya infeksi saluran pernafasan atas.

Menteri Olahraga Malaysia Khairy Jamaluddin memperkirakan kabut asap tidak akan mengganggu kelancaran kompetisi, dia mengatakan tidak yakin bahwa hal itu menjadi ancaman karena meyakini keseriusan Indonesia untuk mengatasi kebakaran hutan dan lahan.

Namun dia mengingatkan pemerintah pusat untuk bertindak cepat melakukan pencegahan.

"Saya berharap Indonesia akan mampu mengendalikan masalah ini sehingga tidak mempengaruhi (kompetisi)," katanya seperti dikutip di surat kabar New Straits Times yang dikutip AFP.

"Saya percaya Indonesia akan dibuat malu apabila kabut asap mempengaruhi SEA Games karena juga bertanding di sini."

Kebakaran hutan dan lahan biasanya mencapai puncaknya pada September dan Oktober.

Namun mulai terjadi meluasnya titik api (hotspots) di Sumatera - salah satu pulau yang paling terdampak kebakaran hutan dan lahan setiap tahun - dengan puluhan orang dirawat karena infeksi paru-paru dan beberapa sekolah ditutup di provinsi Aceh bulan lalu.

Badan Nasional Penanggulangan Bencana (BNPB) mengatakan saat ini ada sekitar 160 hotspot di seluruh Indonesia. Kawasan rawan tersebut hasil dari pantauan satelit terhadap kawasan yang terbakar atau sangat panas sehingga rawan menjadi kebakaran hutan dan lahan.

Hal ini secara signifikan lebih rendah dari angka pada 2015, ketika kebakaran besar memicu bencana lingkungan hingga berminggu-minggu yang mengakibatkan kepulan asap mencapai Thailand selatan, mengakibatkan ribuan warga jatuh sakit dan memicu ketegangan diplomatik seperti dilansir MailOnline.
MALAYSIA'S sports minister has urged Indonesia to ensure that haze from raging forest fires does not affect the Southeast Asian Games this month, a report said Wednesday.

Malaysia will host the major multi-sport event from August 19-30, with thousands of athletes from across the region descending on the capital Kuala Lumpur to take part.

However there have been fears that choking smog from the fires in neighbouring Indonesia could float over Malaysia during the games.

The haze is an annual problem caused by slash-and-burn fires started to clear land for palm oil and pulp and paper plantations. It often blows over Malaysia and Singapore, causing flight cancellations, school closures and soaring rates of respiratory illness.

Malaysian Sports Minister Khairy Jamaluddin played down fears that the games would be affected by haze, saying he did not believe there was currently a threat and Indonesia had improved efforts to tackle the problem.

But he said Jakarta still needed to take precautions.

"I hope Indonesia will be able to control this problem so it does not affect (the games)," he was quoted as saying in the New Straits Times newspaper.

"I believe they will be embarrassed if it does affect the SEA Games as they, too, are competing here."

The blazes normally peak in September and October.

But there has already been an early spike on Indonesia's western island of Sumatra -- one of the main areas hit by blazes each year -- with dozens of people treated for lung infections and some schools closed in Aceh province last month.

Indonesia's national disaster agency says there are currently about 160 "hotspots" across the country. These are areas detected by satellite that are either on fire or intensely hot and likely soon to go up in flames.

This is significantly lower than the number in 2015, when huge fires triggered a weeks-long environmental catastrophe that sent haze billowing as far as southern Thailand, causing thousands to fall ill and sending diplomatic tensions soaring.