Tari Saman di Aceh Pecahkan Rekor Muri yang Diikuti 10.000 Penari
A Record-breaking 10,000 men Gathered in Indonesia to Perform Traditional Dance
Editor : Ismail Gani
Translator : Novita Cahyadi

PUBLISHED: Senin, 14 Agustus 2017 , 03:10:00 WIB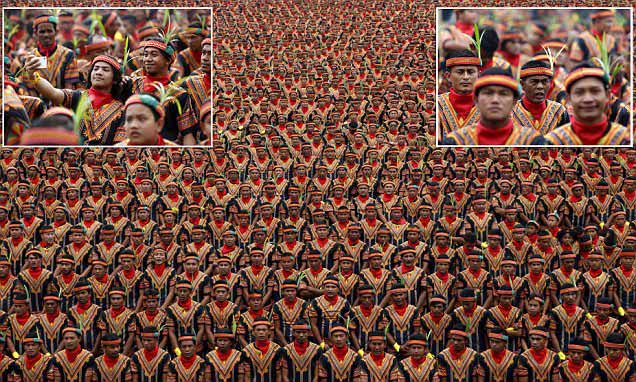 Museum Rekor Indonesia memberi sertifikat memecahkan rekor nasional dengan 10.001 peserta - mengalahkan rekor tahun lalu yang hanya 6.600 orang (Foto: MailOnline)
PEMECAHAN rekor 10.000 orang tampil bersama membawakan tarian tradisional di Banda Aceh, Provinsi Aceh pada Minggu.

Mereka tampil mengenakan kostum tradisional hitam dan kuning yang unik, duduk berbaris rapi, menepuk pundak dan memutar tubuh mereka dan bergerak dalam ritme yang semakin cepat mengikuti irama lagu tradisional.

Tari Saman, atau ´tarian seribu tangan´, adalah salah satu tarian yang populer di Indonesia. Tari Saman pada 2011 termasuk dalam daftar UNESCO sebagai warisan budaya takbenda (intangible cultural heritage).

Penampilan tarian tersebut bertujuan untuk menarik lebih banyak wisatawan ke Aceh, kata kepala dinas pariwisata provinsi, Syafruddin.

Para penari, sebagian besar berasal dari komunitas etnik Gayo, terkadang melakukan gerakan seperti ombak dalam harmonisasi yang menarik.

Lirik lagu menekankan pada pentingnya melindungi Taman Nasional Gunung Leuser di Aceh, habitat bagi harimau dan gajah sumatera sebagai hewan langka yang dilindungi, yang terancam oleh perburuan dan penghancuran hutan yang merajalela karena perluasan perkebunan kelapa sawit.

Ribuan penonton berbondong-bondong datang ke lapangan terbuka yang berada di tengah perbukitan hijau subur di Kabupaten Gayo Lues untuk menyaksikan pertunjukan tersebut.

Museum Rekor Indonesia memberi sertifikat memecahkan rekor nasional dengan 10.001 peserta - mengalahkan rekor tahun lalu yang hanya 6.600 orang.

Tarian ini biasanya disertai dengan sebuah lagu yang serempak. Ini menekankan kekompakan tim, simbol kesatuan.

´Dulu, liriknya biasanya menyebarkan ajaran Islam. Hari ini kita bisa menyesuaikan lirik untuk menyampaikan pesan yang ingin kita sampaikan kepada penonton," kata Syafruddin.

Citra Aceh menjadi sorotan internasional dengan penerapan hukuman berdasarkan hukum Syariah, seperti pencambukan untuk homoseksualitas.

´Saya sangat terkesan dengan penampilannya, para penari tampil baik dan kompak dan itu membuat saya bangga sebagai orang Indonesia. Luar biasa," kata Sarah, salah satu penonton yang datang dari Jakarta, kepada AFP yang dilansir MailOnline.
A RECORD-BREAKING 10,000 people turned out in Indonesia´s Aceh province on Sunday to stage a traditional dance.

The men, clad in elaborate black and yellow traditional costumes, sat in neat rows, clapping their hands on their shoulders and laps and moving in an increasingly fast-paced rhythm to a traditional song.

The saman, or ´the dance of a thousand hands´, is one of the country´s most popular. In 2011 it was included in the UNESCO list of items of intangible cultural heritage.

The event was aimed at attracting more visitors to the province the head of local tourism agency, Syafruddin, said.

The men, mostly from the ethnic Gayo community, made occasional wave-like movements without breaking formation.

Their song focused on the importance of protecting the province´s Mount Leuser National Park, home to rare Sumatran tigers and elephants, which is threatened by rampant poaching and rainforest destruction due to the expansion of palmoil plantations.

Thousands of spectators flocked to an open field tucked amid lush green hills in Gayo Lues district to watch the performance.

The Indonesian Museum of Record certified it as breaking a national record with 10,001 participants - beating last year´s record of 6,600.

The dance is usually accompanied by a song performed in unison. It emphasises teamwork, a symbol of unity.

´In the old days the lyrics were usually about spreading Islamic teachings. These days we can adjust the lyrics to deliver any message we wish to convey to the audience,´ Syafruddin said.

Aceh´s international image has been tarnished by its public punishments under Sharia law, such as caning for homosexuality.

´I am very impressed with the performance, the dancers synchronised very well and it makes me proud as an Indonesian. It was incredible,´ Sarah, a visitor from Jakarta, told AFP.