2 Tewas Akibat Ledakan di Perairan Balikpapan Diselidiki Polisi
Oil Spill Cleanup Fire Kills Two in Indonesia
Editor : Ismail Gani
Translator : Novita Cahyadi

PUBLISHED: Minggu, 01 April 2018 , 12:56:00 WIB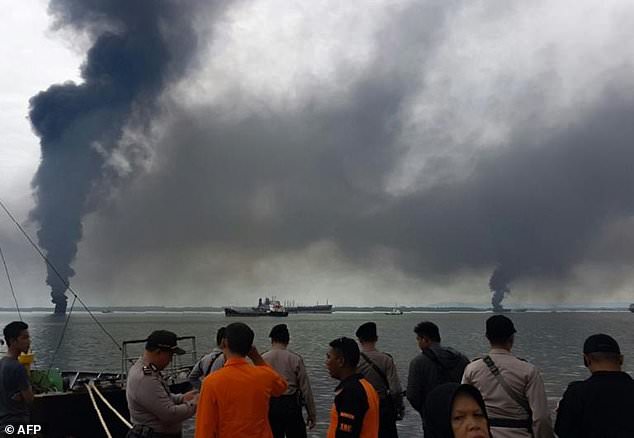 Foto: AFP/MailOnline
SEDIKITNYA dua orang tewas di tengah peristiwa terbakarnya kapal landing craft tank (LCT) bermuatan solar di perairan teluk Balikpapan, Kalimantan Timur, Sabtu.

Ledakan terjadi ketika para awak kapal berusaha membersihkan tumpahan solar di perairan dekat Kota Balikpapan dengan cara membakar.

Dua orang - diyakini nelayan - terperangkap dalam api dan meninggal, kata juru bicara badan SAR setempat.

"Api itu cukup besar, sekitar dua kilometer tingginya. Itu bisa dilihat dari kota Balikpapan dan baunya tersebar kemana-mana," kata Octavianto, petugas Badan SAR Kaltim.

Pihak berwenang telah berhasil memadamkan api tetapi masih ada tumpahan minyak di perairan.

Tidak diketahui berapa banyak minyak yang tumpah atau dari mana asalnya.

Sebuah kapal yang membawa batu bara sementara terjebak di dekat api, Octavianto mengatakan kepada AFP, tetapi tim pencarian dan penyelamatan berhasil mengevakuasi 20 awak kapal.

Indonesia sangat bergantung pada kapal untuk mengangkut orang dan barang di sekitar kepulauannya yang luas sekitar 17.000 pulau.

Kecelakaan kapal sering terjadi, tetapi kecelakaan pembersihan tumpahan minyak jarang terjadi seperti dilansir MailOnline.
AT LEAST two people died in a fire as Indonesian authorities tried to cleanup an oil spill off Borneo island Saturday, an official said.

The blaze was sparked as workers tried to clear the spill in waters near Balikpapan City by burning it.

Two people -- believed to be fishermen -- were caught in the fire and died, a spokesman of the local search and rescue agency said.

"The fire was quite big, about two kilometres high. It can be seen from Balikpapan city and the smell was all over the place," said Octavianto, a senior official of East Borneo search and rescue agency, who like many Indonesians go by one name.

Authorities have managed to put out the fire but there was still an oil spill in the waters.

It was not known how much oil was spilled or where it came from.

A boat carrying coal was temporarily stuck near the fire, Octavianto told AFP, but the search and rescue teams successfully evacuated all 20 crew on board.

Indonesia relies heavily on boats to ferry people and goods around its vast archipelago of about 17,000 islands.

Boat accidents are common, but oil spill cleanup accidents are rare.